Climbing onboard, stepping onto a dock, moving down below, navigating a slippery deck, getting up out of the water, or climbing up the mast – there is always the chance of a misstep. These boat ladders and steps aim to make stepping on/off/up/down easier and safer.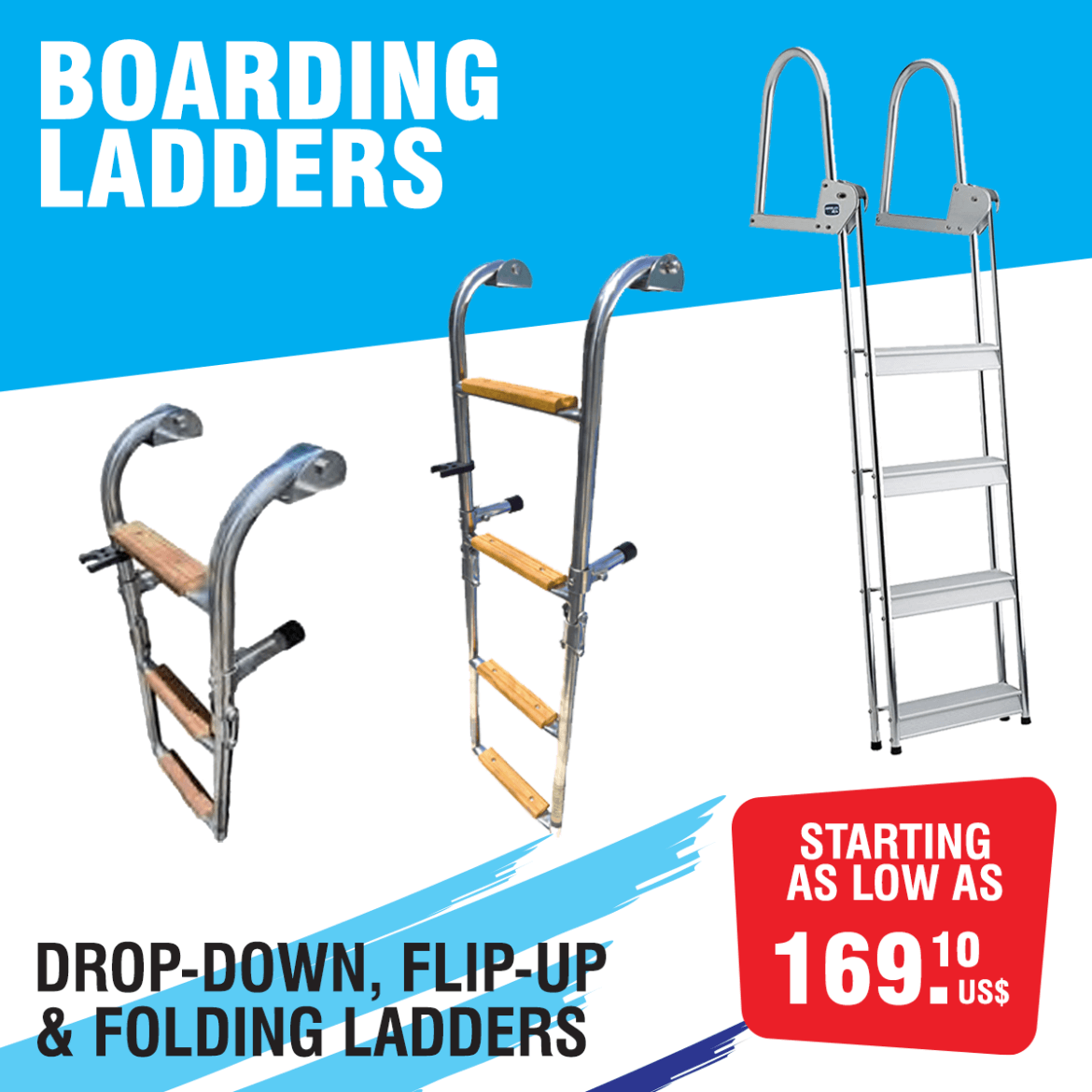 Transom Ladders are suitable for mono hull sailboats or power boats lacking a swim platform. They can be 'flip out' or 'retractable/telescopic'. Often custom built to fit between sturdy stanchions, they can mount on top of the transom with rails or hooks, or fit flush on the side or rear of your boat.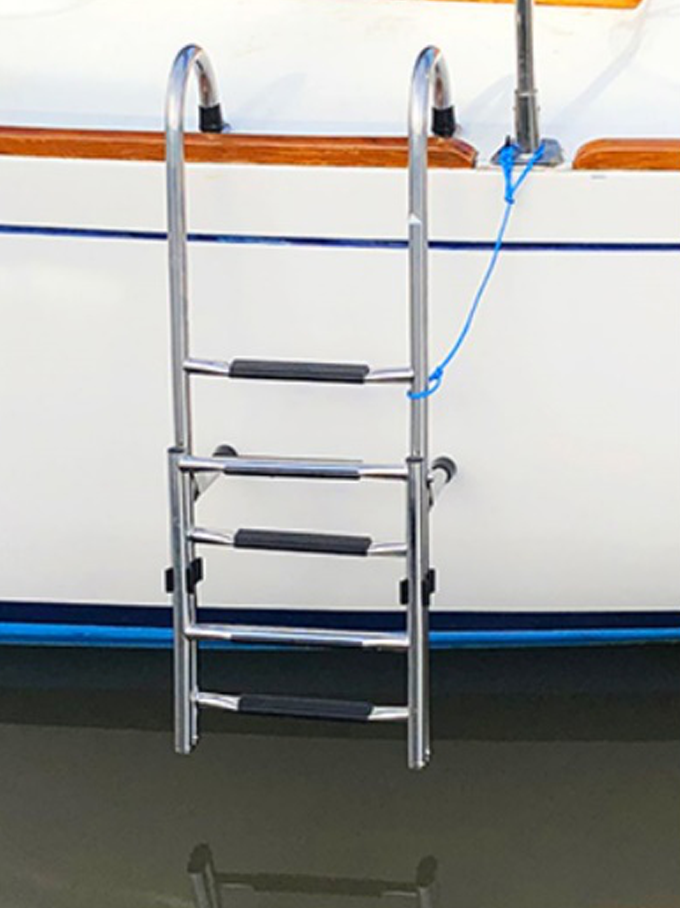 Pontoon Ladders are designed to help you climb in and out of the boat from the pontoon, and often clip over the boat's handrail.
International Standards for boarding ladders: ISO 15085 section 16 says: 'Any craft shall be provided with a means of re-boarding. Either it shall be equipped with a specific means of re-boarding from the water, e.g., ladders, steps, handholds, brackets; or it need not be equipped with a specific device if its characteristics (e.g., low freeboard or part of the hull) facilitate re-boarding from the water without a specific device.'
Installation/Maintenance Tips
The bottom rung should be deep enough to be comfortably reached.
Standoffs should keep the ladder vertical against a curved/sloped hull.
Ladder treads must be firmly clamped so they won't rotate.
Drop down ladders need a pull line for deployment from the water.
Telescoping ladders must be kept lubricated for easy deployment.
Sturdy stainless-steel handles to pull oneself up to deck/platform level increase safety.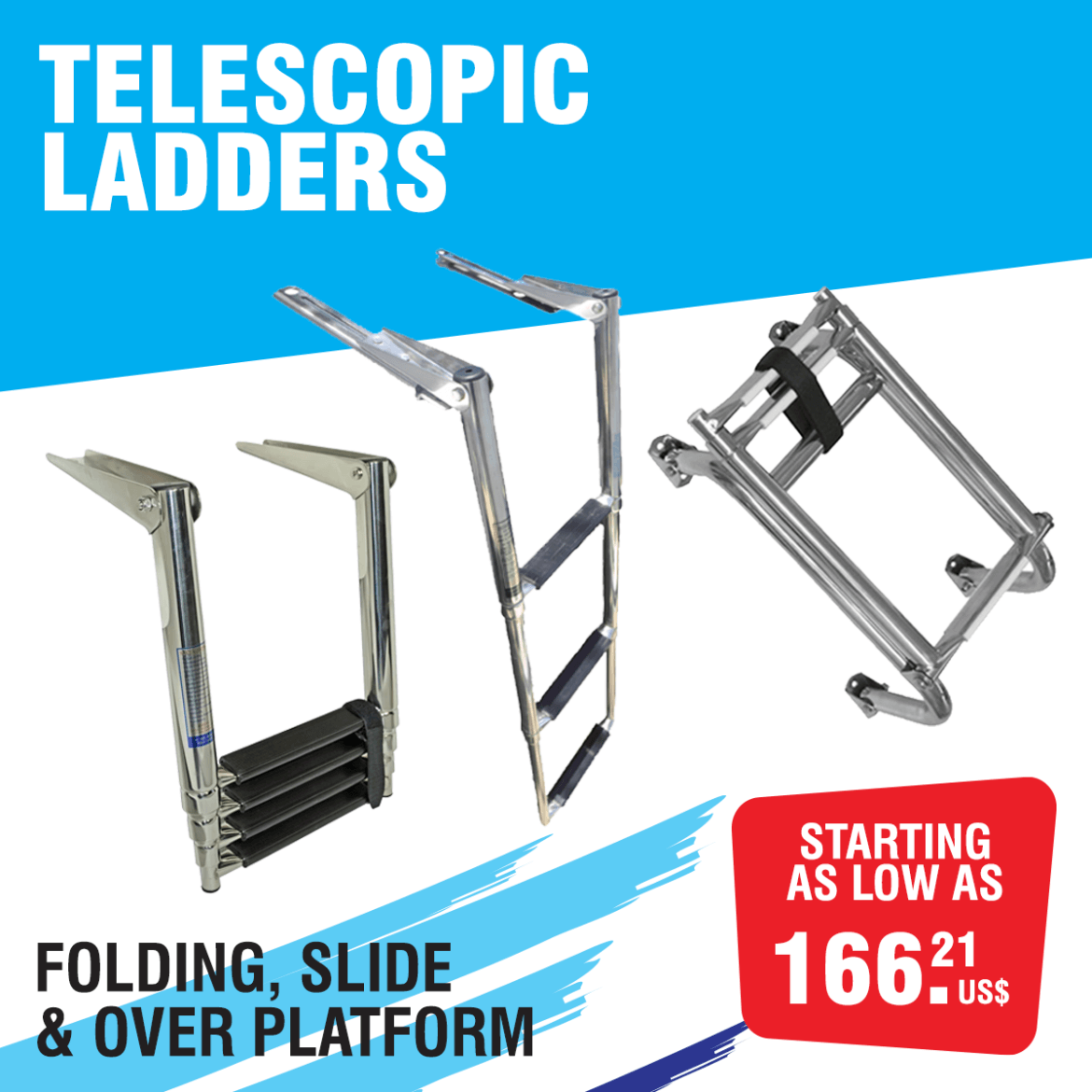 Platform Ladders require a sturdy boat platform for mounting and are great for all water sports. Usually mounted permanently, they can fold on top or slide into housing underneath the platform when not in use.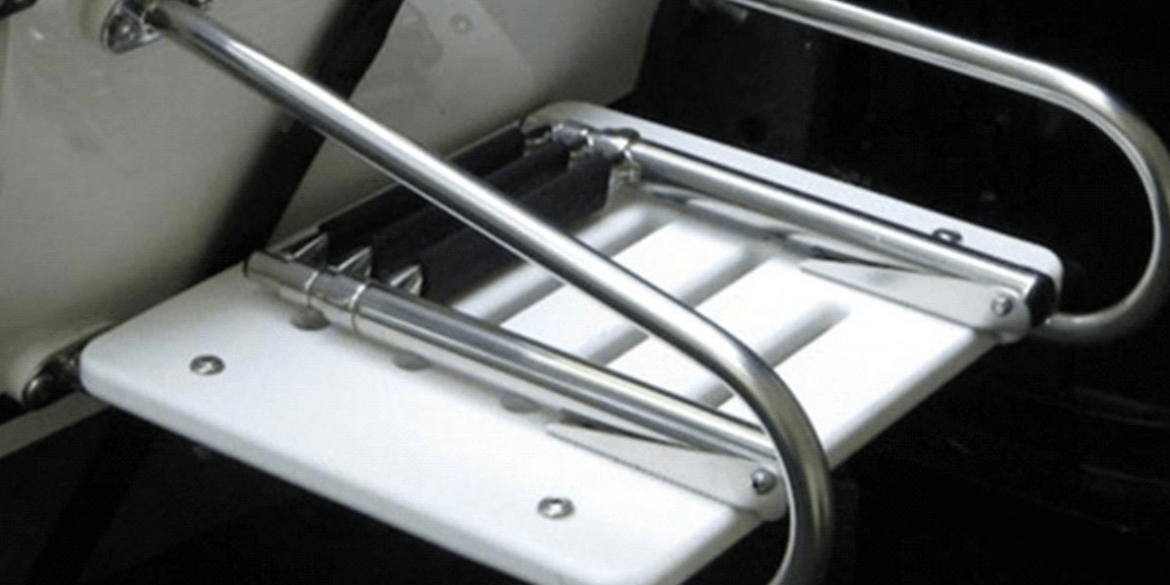 Boat Swim Ladders attached to a platform close to the water may require only a few steps, but the lowest step should still be deep enough for easy access.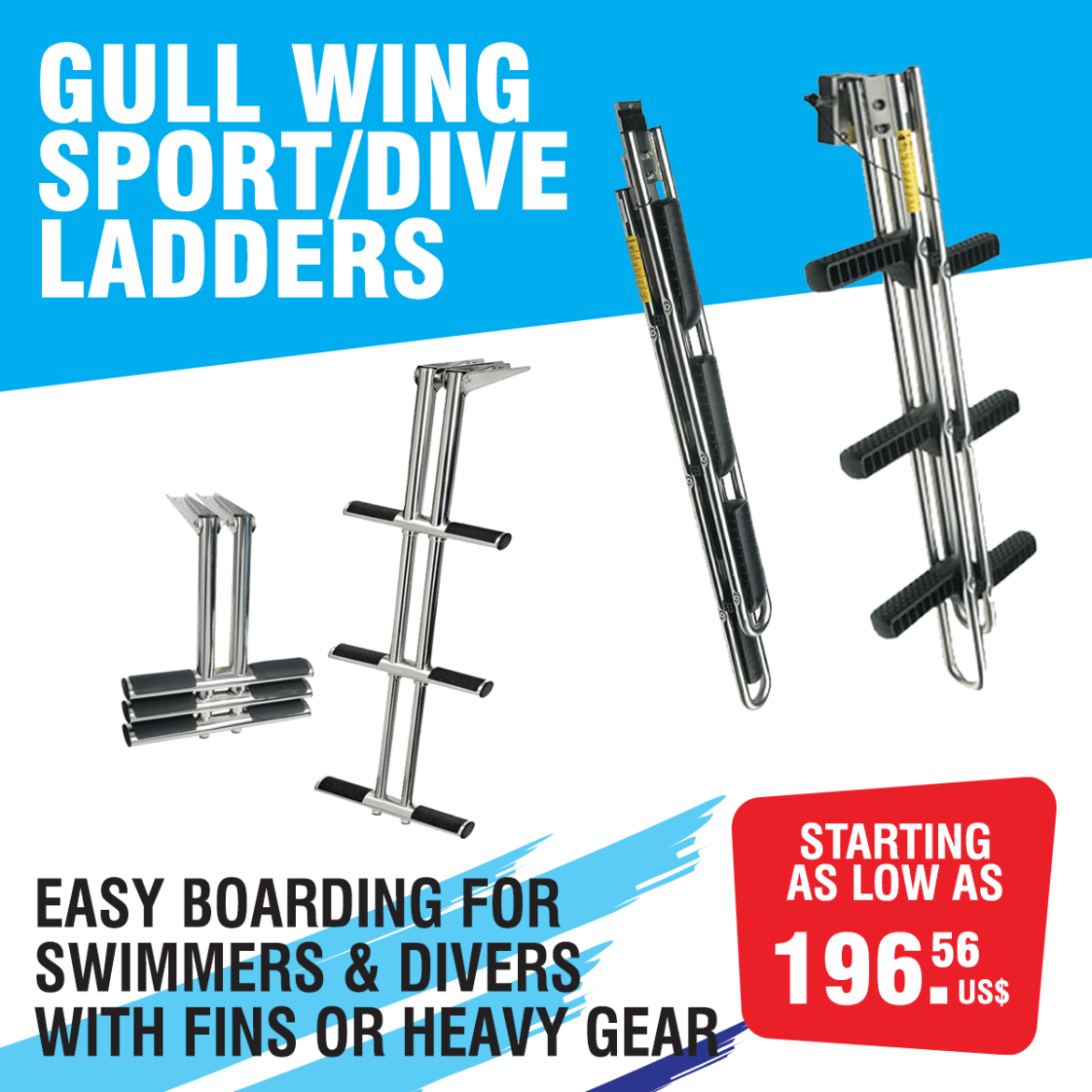 Gull Wing Dive Ladders detach easily and are well suited to skiing and scuba diving. The main advantage is you can exit the water without having to remove your diving gear first. They should be heavy duty to hold the weight of diver plus dive equipment.
These ladders can have telescopic or fold away steps, a mounting bracket with locking tabs for stowage and a "Kick-up" feature if boat takes off with ladder in down position.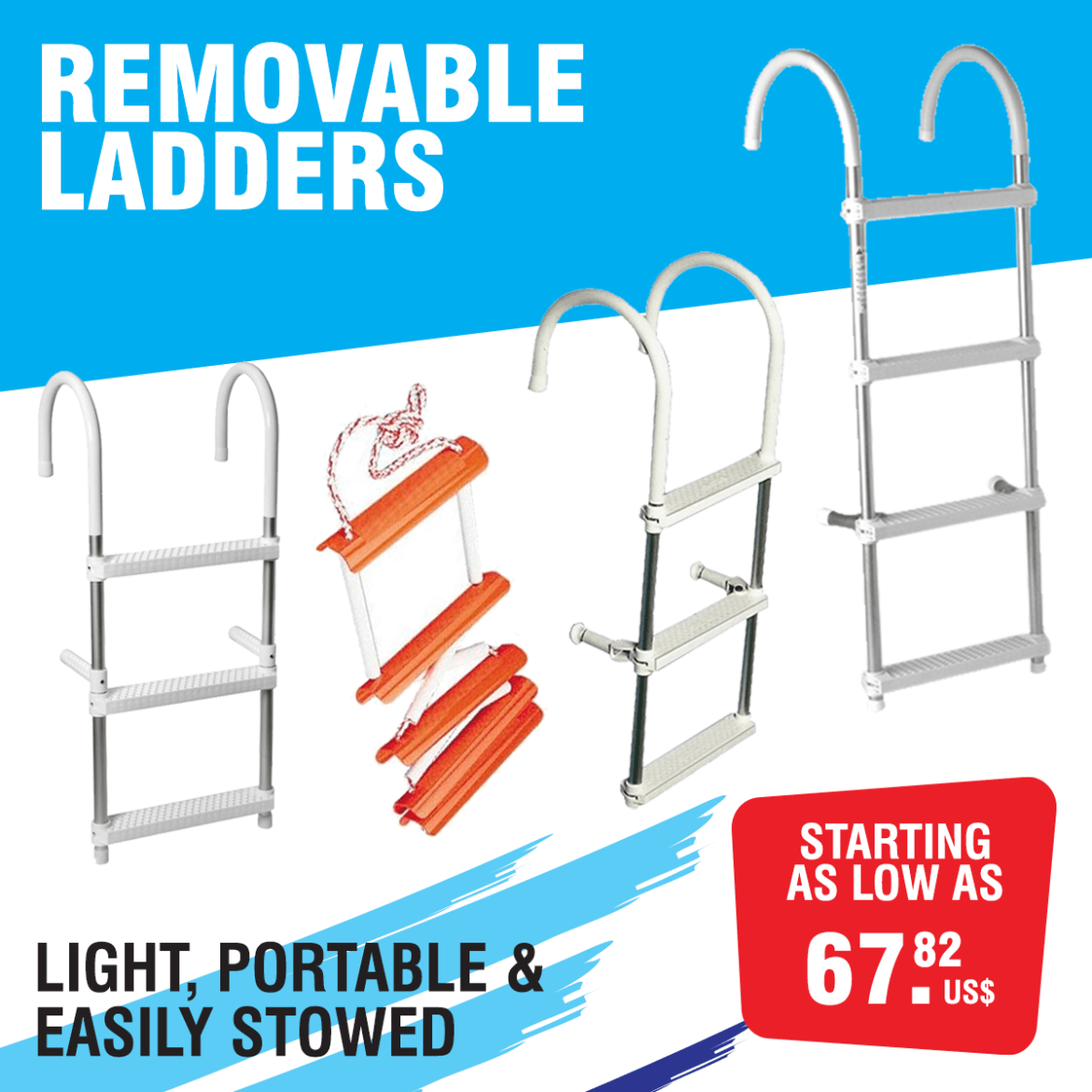 Osculati's and Garelick's portable ladders are floating and foldable. They hook over the gunwale of your boat and can be easily stowed.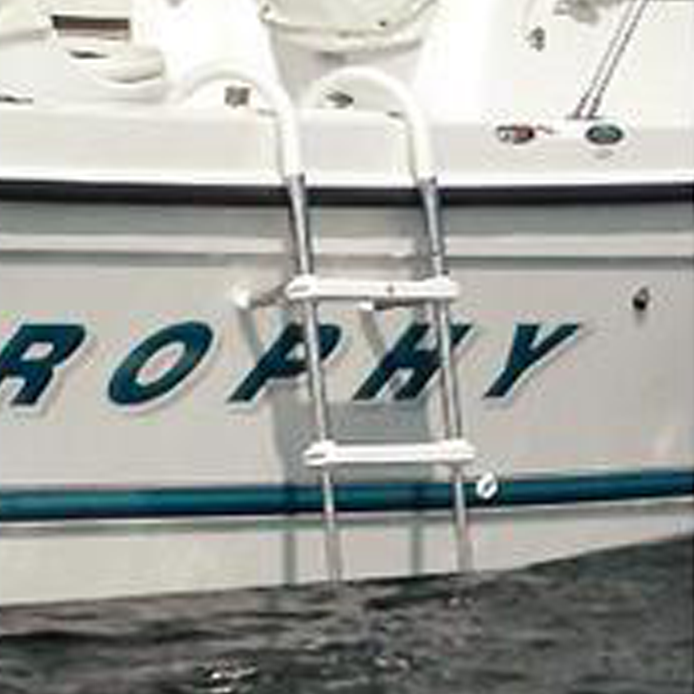 Rope ladders that can be deployed at any point, are a good backup for emergency rescue, and take very little space.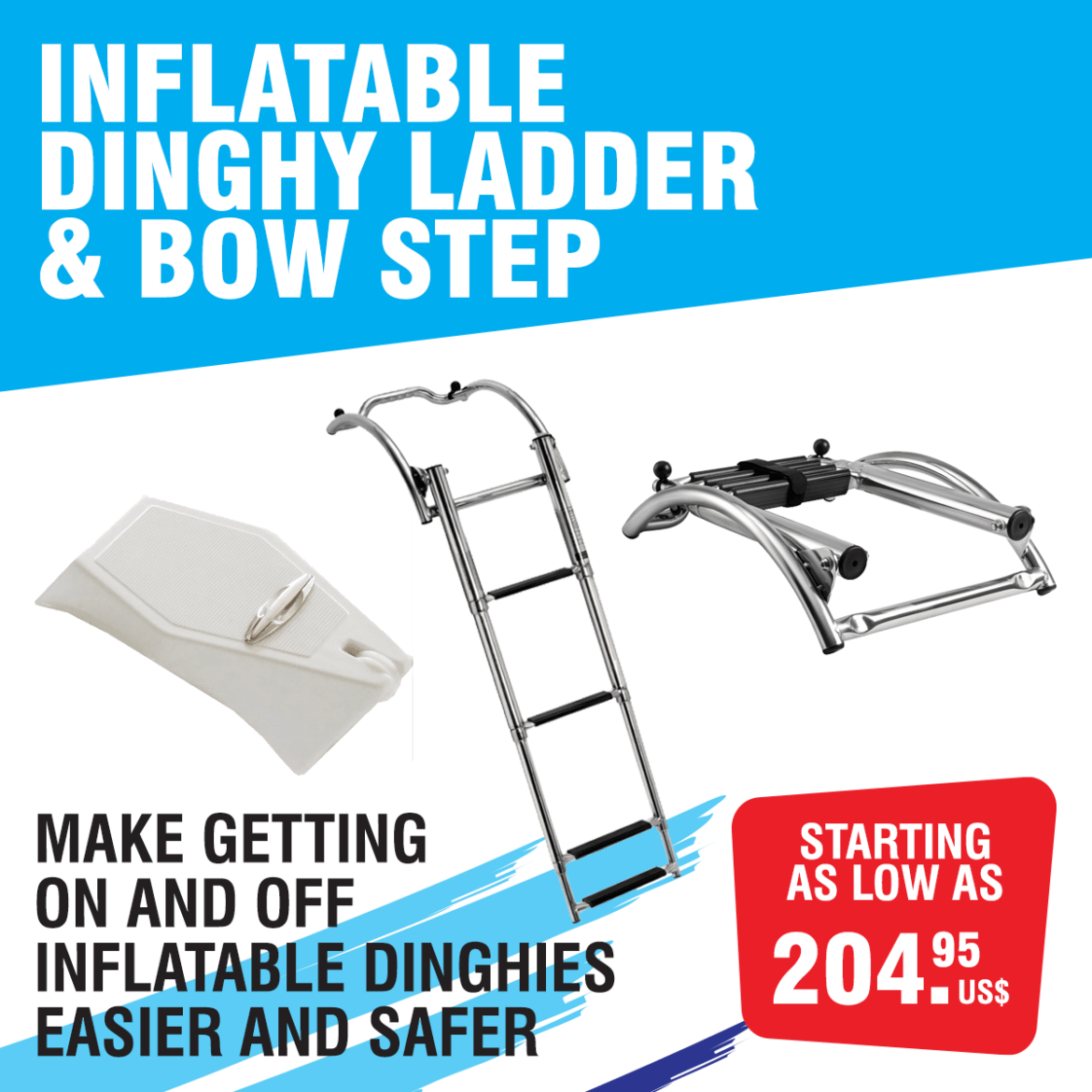 Climbing into an inflatable dinghy from the water can be difficult, even for the young and fit. Osculati's neatly curved quick-release ladder, with telescoping footrests and climb handle, solves that problem. Made of mirror-polished SS with footboards of anti-skid plastic, it fits dinghy tubes up to 500-mm in diameter.
Carib Marine's bow step with roller guide provides secure footing when stepping off the bow tube of your inflatable, as well as housing for your anchor roller.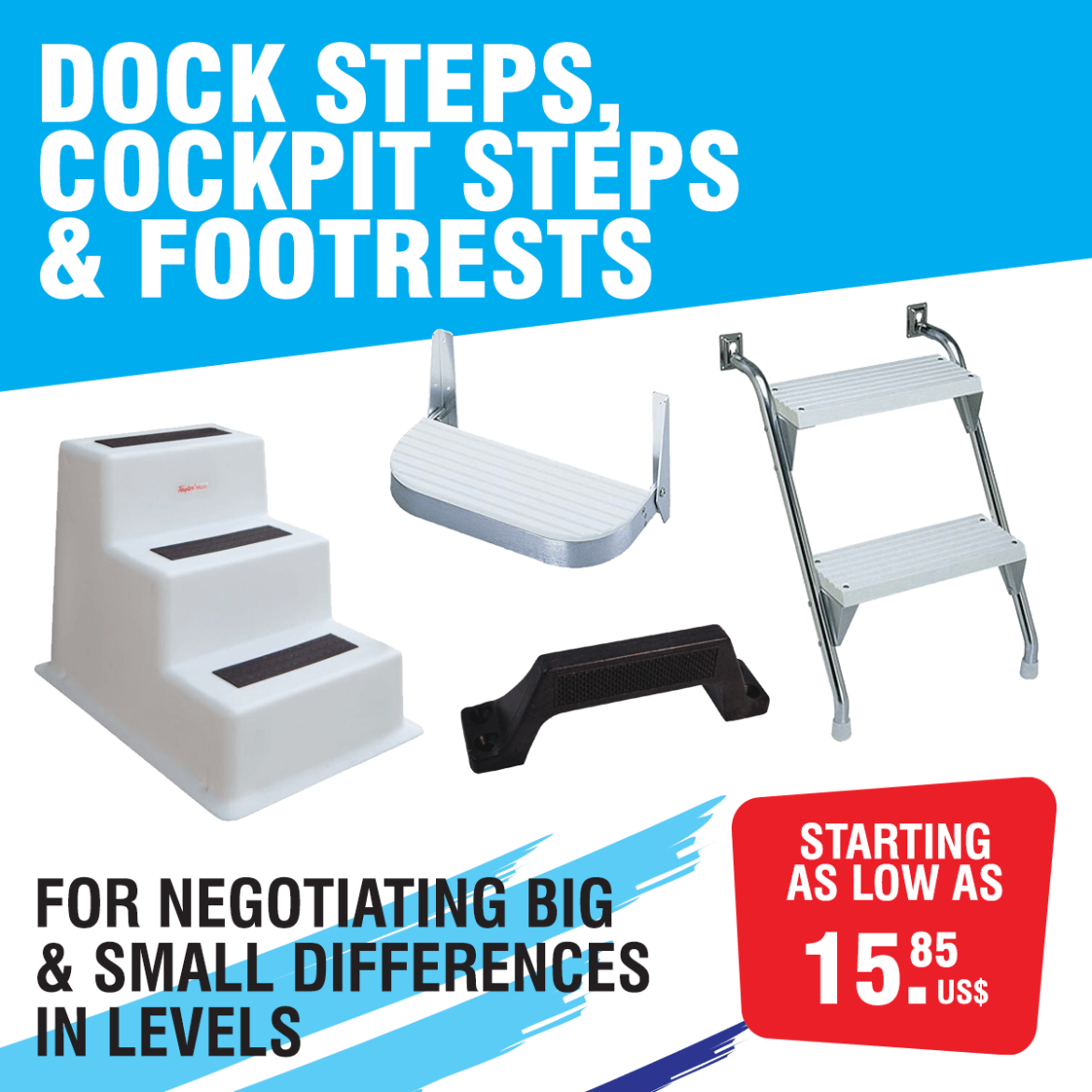 The bigger the boat the bigger the gap between dock and deck. Moulded in durable UV-resistant polyethylene, sturdy Taylor Made Dock Steps are offered in 3 different tread step models.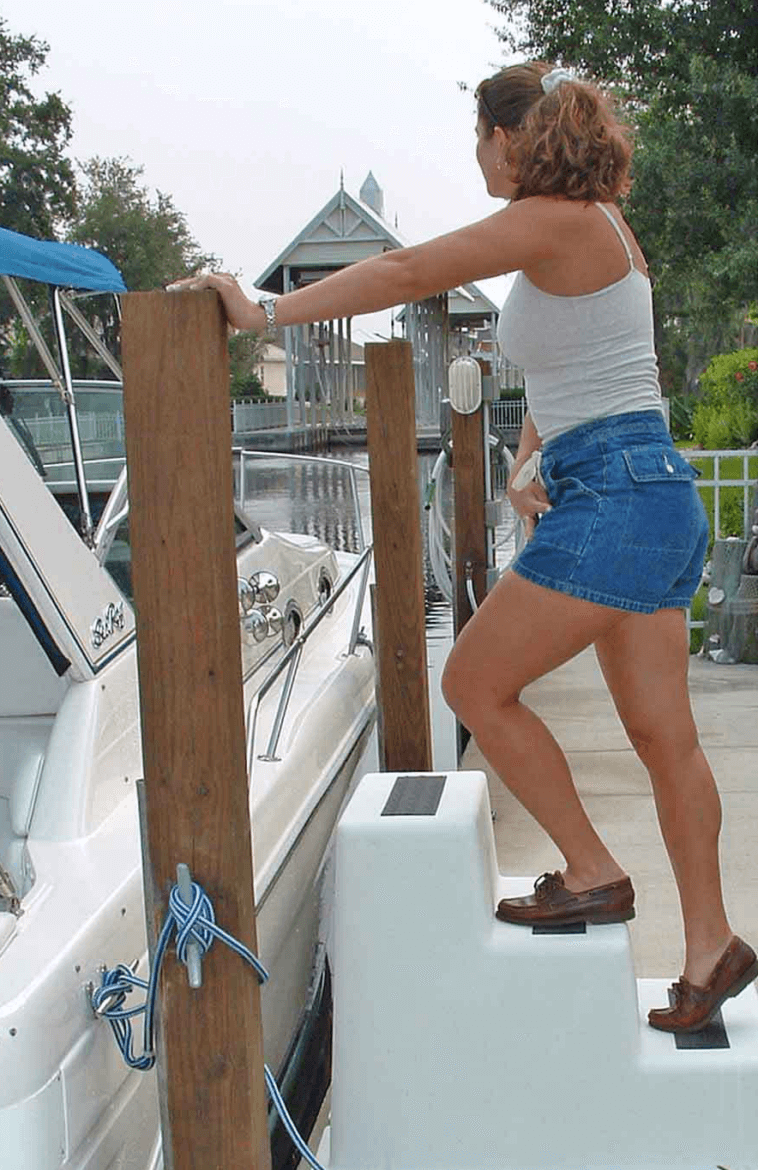 Each step has a StepSafe™ non-slip pad for protection while boarding. The 1-1/2″ wide flange provides adequate mounting surface for docks. They are easily cleaned with soap and water and can take a maximum weight of up to 300 lbs.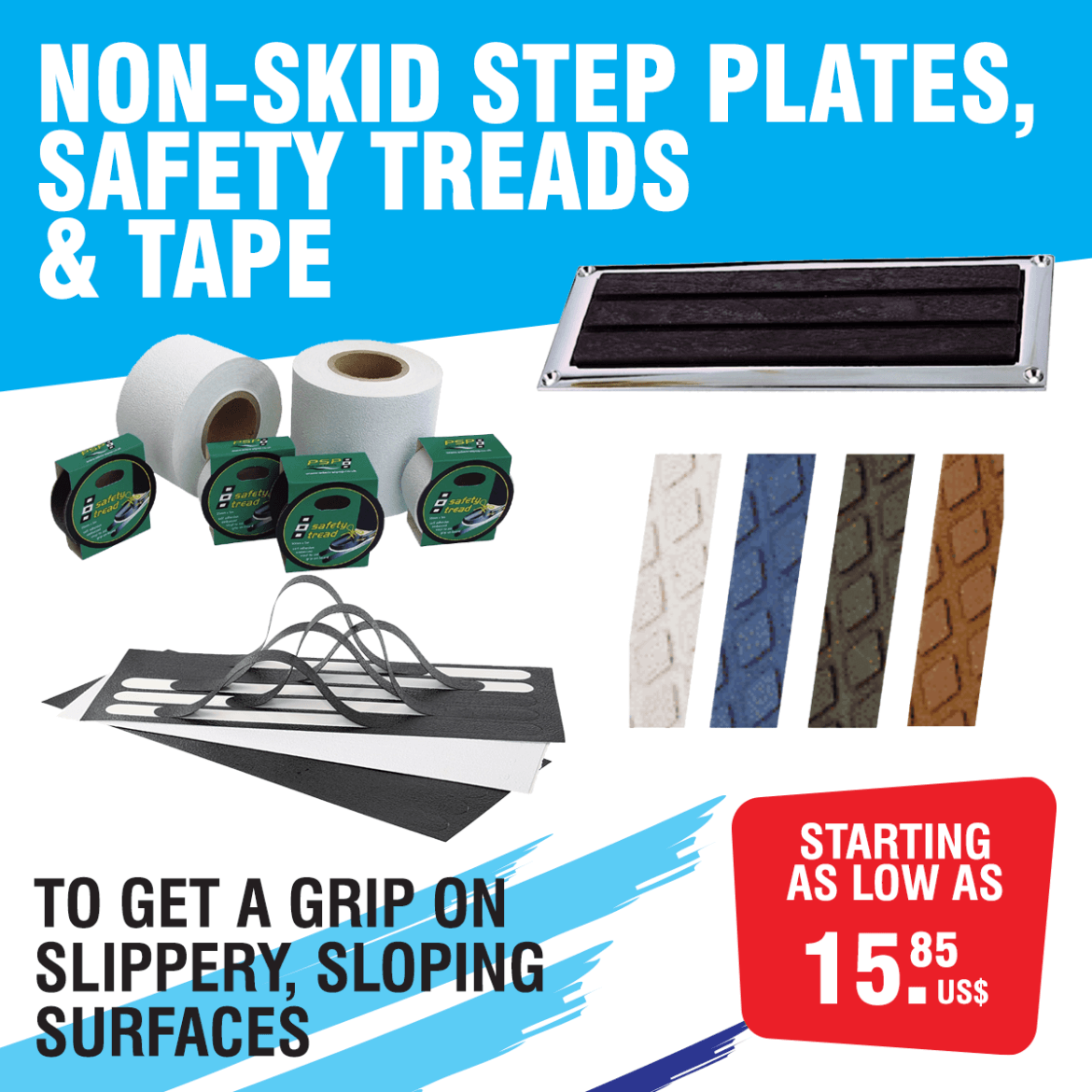 When your feet are wet and the boat is at an angle or bouncing through waves, steps can be treacherous.
Add safety with Treadmaster floor/deck covering, PSP Deck Strips & Safety-Tread Tape, 3M Non skid Safety-Walk Tape or a hard wearing Perko Step Plate that will lengthen the life of the wooden steps in your companionway.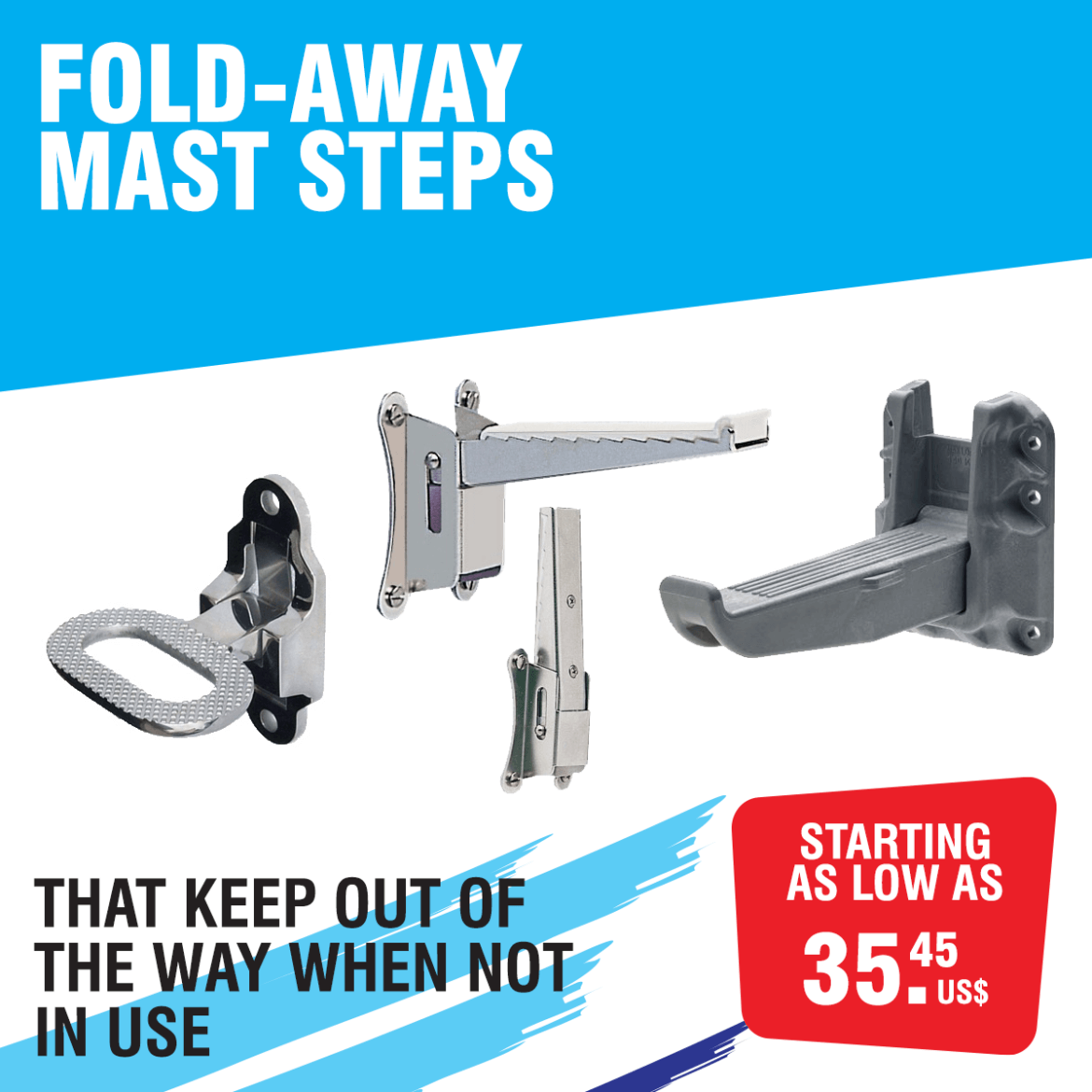 Wichard's UV-resistant folding mast step is easy to install and suitable for mast profiles with a radius greater than 270 mm. It locks shut, keeping out of the way until needed and does not generate noise or vibration. The notched surface provides stable support for your feet. When closed it is designed to avoid catching on clothes and sheets. Maximum crew member weight for the system is 140 kg.
The downside of folding mast steps is that if you forget to close them, they can snag sheets.