Budget Marine Grenada
Budget Marine Grenada
True Blue
St. Georges
Grenada
T: +473-439-1983
F: +1-473-439-2037
Whatsapp: +1-473-535-5131
Opening Hours
Mon-Fri
8:00 AM – 5:00 PM
Sat
9:00 AM – 2:00 PM
About
Budget Marine, Grenada, is conveniently located in the full service Spice Island Marine boatyard. Our chandlery has expanded substantially over the past few years, and offers an extensive range of maintenance & repair supplies for Yachts, Fishing Vessels & Pleasure Boats. We pride ourselves on our dedication to exceptional customer service. Our staff is always willing to go the extra (nautical) mile to ensure that you're completely satisfied!
First Business in the Grenada Marine Industry to be nominated for the Excellence in Tourism Award (2016).
Accessibility
By dinghy, Budget Marine, Grenada, is seconds away from the popular Prickly Bay Anchorage and there's a dinghy dock located directly in front of the store.
By land, we're easily accessible by taxi or bus with only a two minute walk from the major St. George's Bus route.
If you come by car, we have ample parking in front of the store. Ample customer parking and dinghy dock.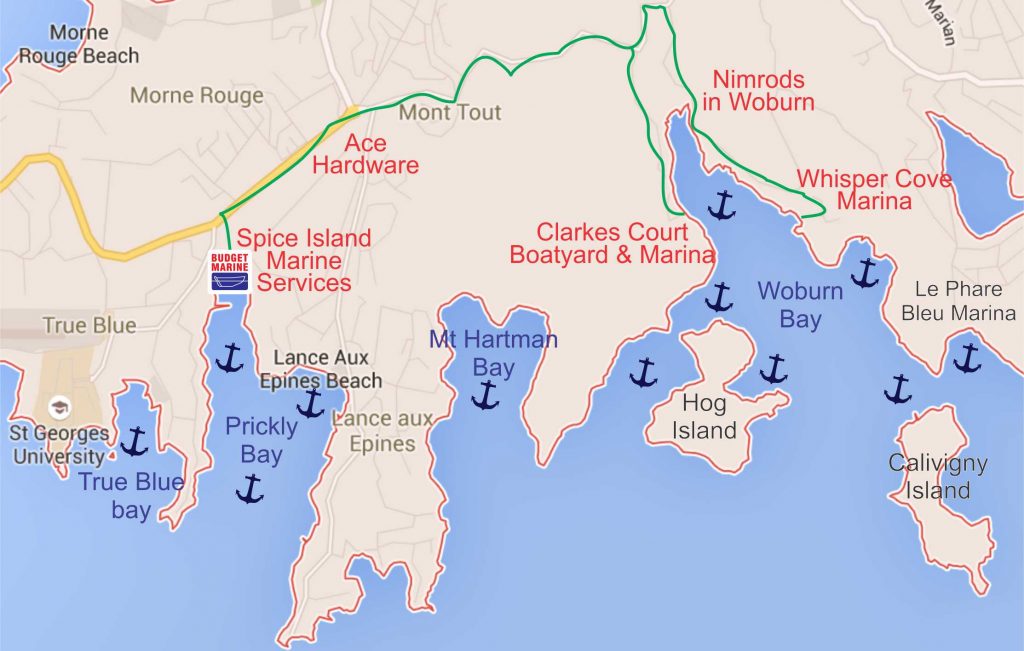 FREE bus every saturday
Starts at: Whisper Cove Marina at 9.30 am
Pick-up: Whisper Cove Marina, Nimrods Rum Shop and the entrance to Clarkes Coart Boatyard & Marina.
Stops: Budget Marine Grenada with a complimentary stop at ACE Hardware after.
Languages
We speak English.
Services
Free Wifi in store.
Free Battery Disposal.
Free Bike Stand for Customers.
Free Weekly Shuttle Service (see details above by Accessibility)
Talk to us about your project – we can give you a starting discount based on the size of your project.
We have a reliable Special Order Service that is quick and efficient for any items you need and can't find in store.
Give one of our Budget Marine Gift Cards: The perfect boaters gift. They are available upon request and can be purchased from the cashier.
Free informational brochures, supplier catalogs, marine trade directories, magazines and newspapers are frequently distributed in our store.
Boatyard Partner
Shipping & Export
On Island Delivery
Arrangements can be made for on island delivery by truck or by dinghy of bulk buys and heavy products, as and when the company vehicle is available.
Delivery to Carriacou
Daily service to Carriacou. Products can be order via BM Carriacou Agent, Technical Marine Management.
Payment Methods
Cash
We accept US, EC, Barbados dollars, the British Pound and Euros. Prices in the store are listed in both EC and US dollars.
Credit Accounts
Customers can open prepaid or pay as you go accounts with Budget Marine Grenada, discounts will apply to both. Credit extended from other locations is not valid here.
Cheques
We accept local, bank draft and traveler's cheques.
Credit Cards


We accept Mastercard and Visa.
Wire Transfers
Budget Marine Grenada
True Blue
Grenada
Pricing
The price stated on our website are in US dollars and applies to the St. Maarten location for those customers that are Yacht In Transit, Export Customers or Non Residents that provide proof of this status. Prices in Grenada will vary due to local taxes and duties as well as different shipping costs. We are committed to giving you the best possible pricing.