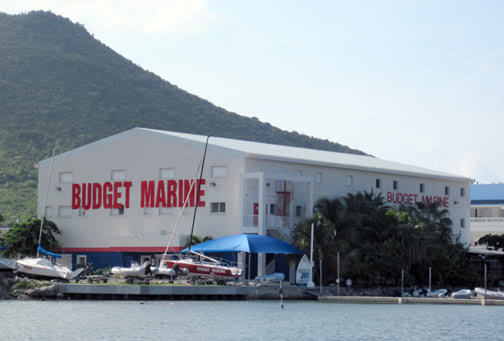 Budget Marine
St. Maarten
Budget Marine St. Maarten
Waterfront Road 25B
Cole Bay, St. Maarten
Dutch Caribbean
T: +1-721-544-3134
Whatsapp: +1-721-559-2863
Opening Hours
Mon-Sat
8:00 AM – 5:00 PM

About
The Budget Marine's flagship store, regional headquarters as well warehouse of the Budget Marine group of companies. It carries the largest selection of marine products anywhere in the Caribbean. Our staff is knowledgeable and dedicated to customer service. Visit us by land or sea. We're located in Cole Bay at the far eastern end of the Simpson Bay Lagoon. The Budget Marine store is easy to spot.
Accessibility
We have ample customer parking in our parking lot and at our dinghy dock.

Languages
English, French, Dutch, Spanish and Papiamentu.
At this Store
Reputed Service Department for your Outboard Engine Repairs & Service / Inflatable Repairs & Services
Shrink Wrapping Service. Cost Material $3 per ft. (price may vary) plus cost labor $40.
Dock Rental for dinghies, limited spaces available. Cost $10 per ft. per month.
Ramp Usage: Cost $15
Oil Disposal. Cost $2 per gallon.
Services
Duty Free pricing for visiting yachts. Bring in your boat registration and a valid picture ID to set up an account in store.
Enjoy Free Wifi in our store.

Talk to us about your project – we can give you a starting discount based on the size of your project.
We have a reliable Special Order Service that is quick and efficient for any items you need and can't find in store.
Give one of our Budget Marine Gift Cards: The perfect boaters gift. They are available upon request and can be purchased from the cashier.

Free informational brochures, supplier catalogs, marine trade directories, magazines and newspapers are frequently distributed in our store.
Epirb Programming available. We organize this to an outsourced contact. Inquire in store.
Caribbean Yacht Program
Budget Marine has tailored their inventory to include the best range of products for their Super Yacht customers. Through this unique program, we offer specialized, one-stop, shopping for mega yachts wherever they are in the Caribbean. Patricia Boisard can help you find what you need in our St.Maarten store and Thierry can help you with any special orders from around the globe if we do not have it in-store. You can reach them both for mega yacht related product information. E-mail: patricia.boisard@budgetmarine.com or thierry.vigneron@budgetmarine.com. Phone Patricia :+1721-544 3134 – ext.1252 or Thierry +1721-544 3134-1276.
Shipping & Export
On island delivery
Arrangements can be made for on island delivery of bulk buys and heavy products by truck or by dinghy for purchases that meet the minimum.
Delivery to other islands
If you are unable to get to one of our locations, Budget Marine can assist in getting your supplies or parts shipped directly to you via ocean, air or express shipping. For more information on our shipping procedures see the Shipping and Export page.
Payment Methods
Cash
We accept US dollars, Antillean Guilders and Euros. Prices in the store are listed in US dollars and Antillean Guilders.
Cheques
We accept local and US and bank drafts.
Credit Cards



We accept Mastercard, Visa and American Express.
Wire Transfers
We also accept wire transfers for customers that would like to purchase items without being present in store. We will provide you with any wire transfer information if this is the case.
Pricing
The price stated on our website are in US dollars and applies to the St. Maarten location for those customers that are Yacht In Transit, Export Customers or Non Residents that provide proof of this status. Regular store prices will include local taxes. We are committed to giving you the best possible pricing.
---
Information for Simpson Bay Bridges
Causeway Swing Bridge
Average Height when closed is 6.2 m (varies according to the Tide)
Bridge width 23.0 m
Controlling depth 6.0 m
VHF 12
Tel. +1 721 545 5230 / + 1 721-545-3183
Simpson Bay Bridge
Average Height when closed is 2·4m (varies according to the Tide)
Bridge width 17·0m
Controlling depth 6·0m
VHF 12
Tel. +1 721 545 5230 / + 1 721-545-3183
Simpson Bay Bridge
Causeway Bridge
8.30 hrs
Outbound Traffic
8.15 hrs
In & Outbound traffic
9.30 hrs
Inbound traffic
9.45 hrs
In & Outbound traffic
10.30 hrs
Outbound Traffic
10.15 hrs
In & Outbound traffic
11.30 hrs
Inbound traffic
11.45 hrs
In & Outbound traffic
15.00 hrs
Inbound Traffic
15.15 hrs
On Call for In & Outbound traffic
16.00 hrs
Outbound Traffic
15.45 hrs
In & Outbound traffic
17.00 hrs
Inbound Traffic
17.15 hrs
In & Outbound traffic