With the large array of shackles available in the chandlery, it can be difficult to know exactly what shackle is best for each application. This technical corner will walk you through different types of shackles and where to use them.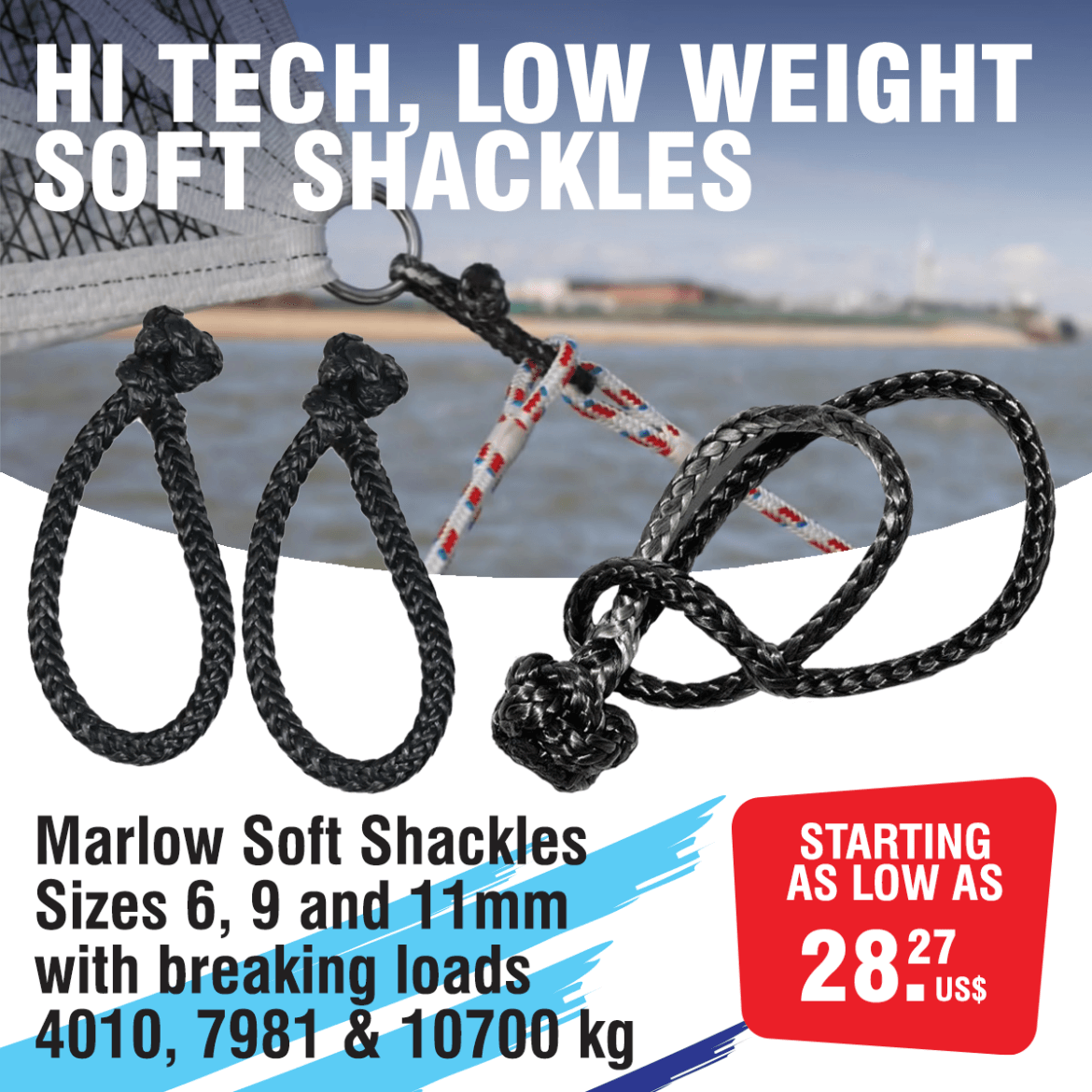 This soft shackle is made from 12-strand Dyneema® technical fiber that forms a closed loop that can be opened via the use of a noose and a big stopper knot. Easy to install, remove and handle, they offer excellent energy absorption for safety and high strength, even though a fraction of the weight of conventional steel shackles. Low in cost, they can be an economical way to upgrade.
SOME USES: Genoa sheet attachment, chain snubber connection, tie downs, halyard shackles, mainsail clew straps, barber haulers, twin blocks, cunninghams, tack pendants, attaching reefing blocks to clews, sail hanks for fibre stays.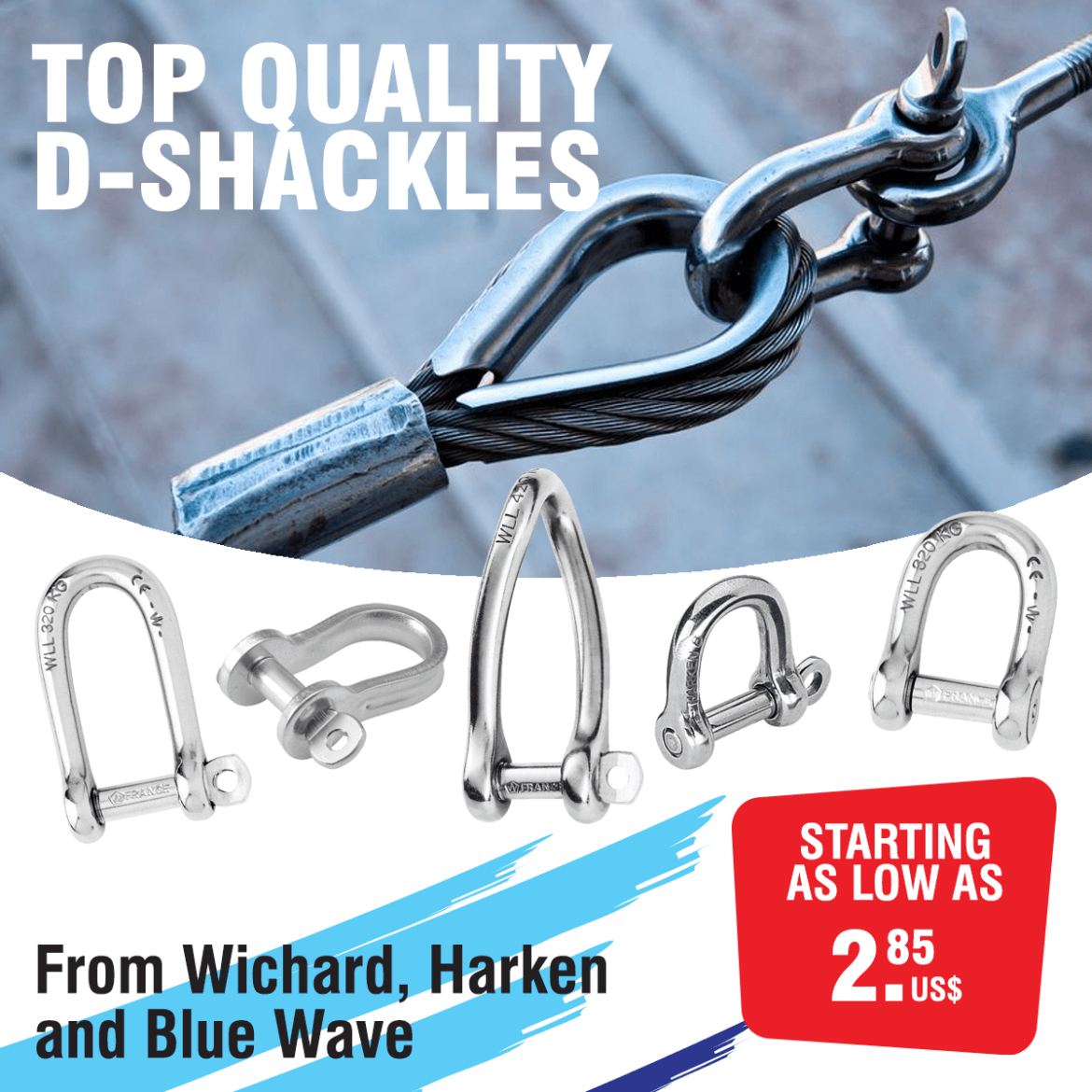 D-shackles – have a high Safe Working Load when the load is in line but are not designed for side loading which could stretch/bend the shackle.
Long Shackles – useful for attaching an outhaul line to a pressed ring on a sail.
Wide/Large Opening Shackles – can accommodate thick ropes, thimbles, or multiple ropes from a bridle.
Twisted D Shackles – attach systems, such as blocks, at a 90-degree angle to the orientation of the attachment point.
Key Pin Shackles –open/close by rotating the pin a ½ turn with no risk of losing the pin – for halyards and applications that open/close often.
High Resistance SS Shackles – for attaching high loads, but not suitable for mooring applications.
Flat Head/Sailmaker Shackles – have a clean profile that cannot catch on anything.
Self-locking shackles from Wichard have the pin locked into an indentation to prevent it from accidentally backing out due to vibration.
Captive pin shackles have the pin connected to the body at all times, so even when opened there is no risk of losing it.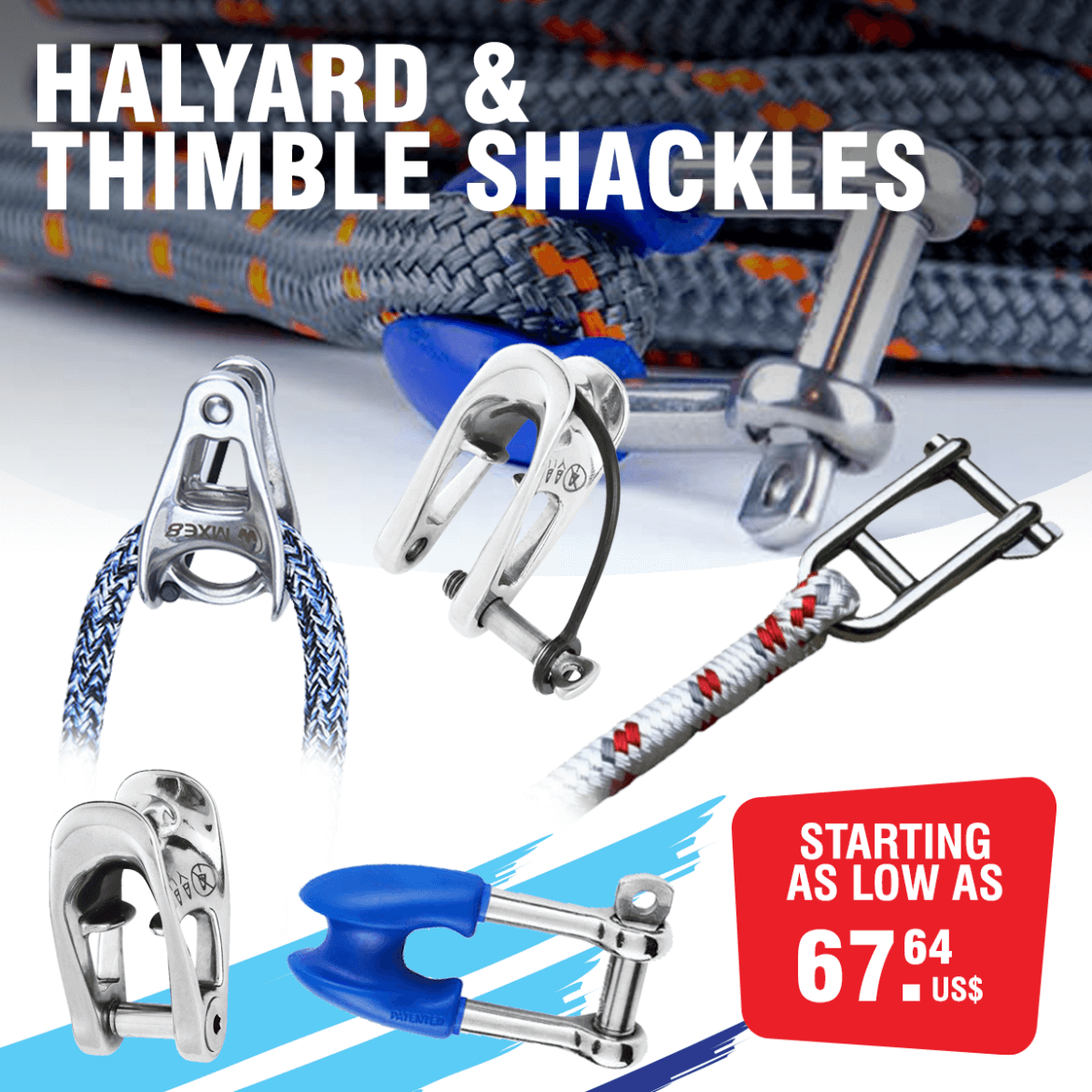 The MX Evo is the new generation of one-piece blocks developed by Wichard for highly loaded halyard applications. There is limited rope wear thanks to the low friction track conception. Available with captive pin on a leash or Allen Head Pin. Applications: 2:1 halyard purchase – mainsail, spinnaker & gennaker, and flying sail furler terminals – tensioning at the top or from the bottom.
Halyard shackles have a closed eye section at the top of the shackle designed to be permanently spliced to the end of the halyard. The pin at the bottom is removable to allow it to be attached to the mainsail headboard plate.
The Thimble Shackle with captive pin allows spliced rope to be inserted, supporting and protecting the line without the addition of a thimble – good for mainsheet halyards.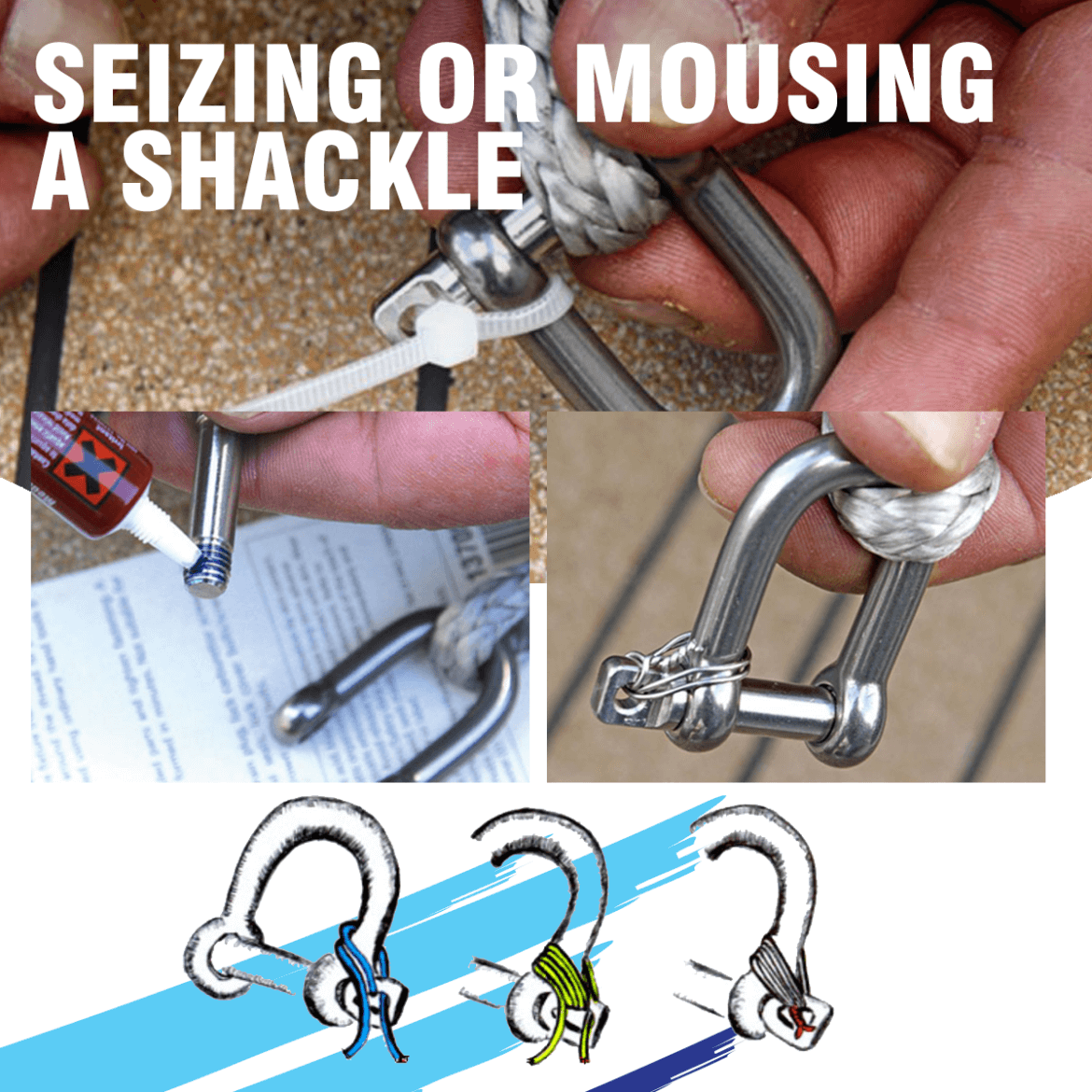 SEIZING METHODS to secure the pin so that it simply can't loosen:
1. Using a threadlocker to glue the pin in place, but with medium strength, such as Permatex 24225 or Locktite 243, rather than 'super-glue' adhesion, so it can be undone with standard tools.
2. Using electrical cable ties but remember they probably won't last long if always in the sun. Cut them square to cable lock to avoid a sharp tail end.
3. Using Monel wire – the gold standard method that isn't subject to UV degradation and has excellent corrosion resistance properties. Fold twisted wire so that it cannot catch on anything.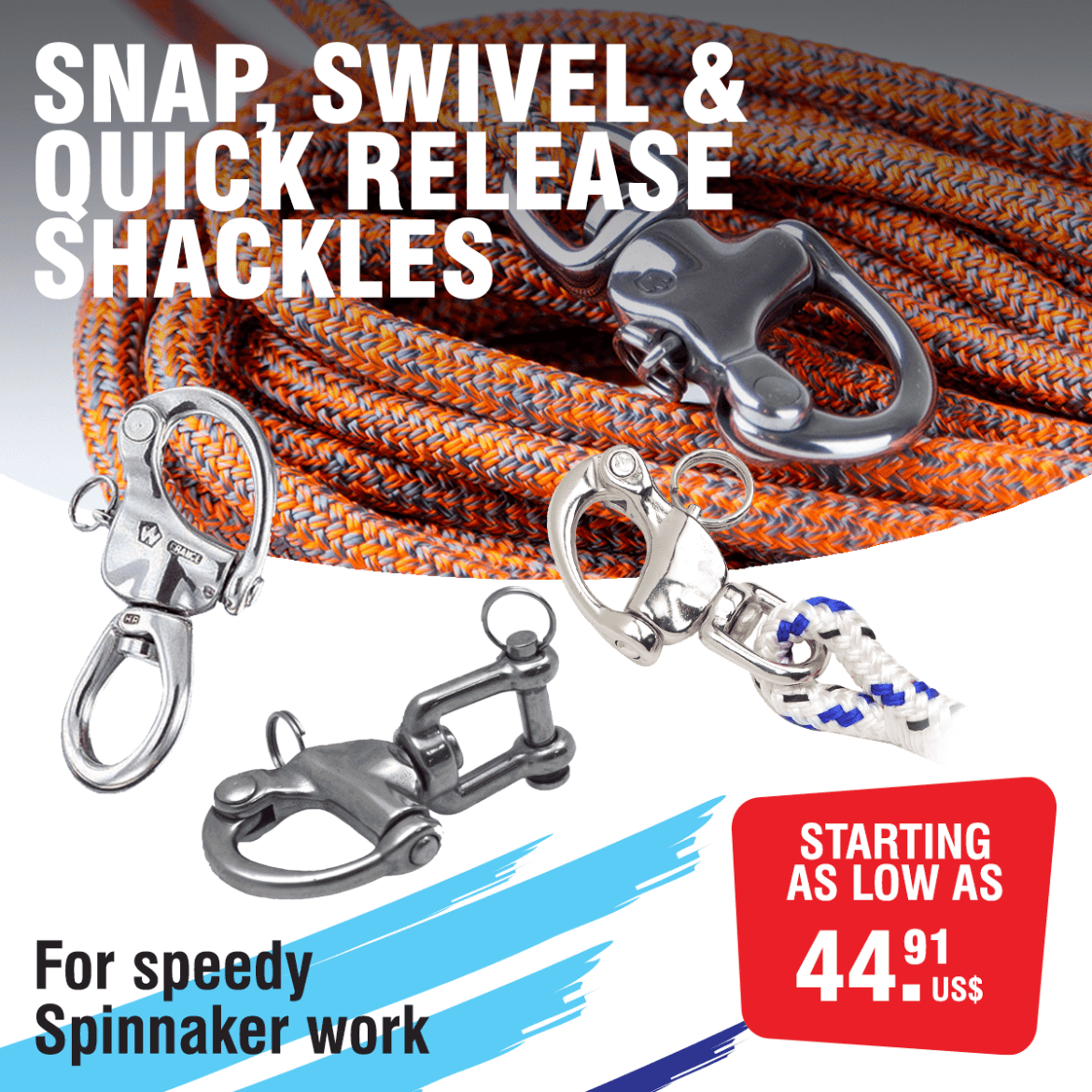 Snap Shackles are spring locked fasteners that can be quickly and easily attached to a line and can also be released under load. While snap shackles are not as strong or secure as other shackles, they are great for use on dynamic lines or anywhere that your shackle needs to be repeatedly connected and disconnected, for example, spinnaker sheets and guys. Quick-release snap shackles can be released effortlessly using a control line.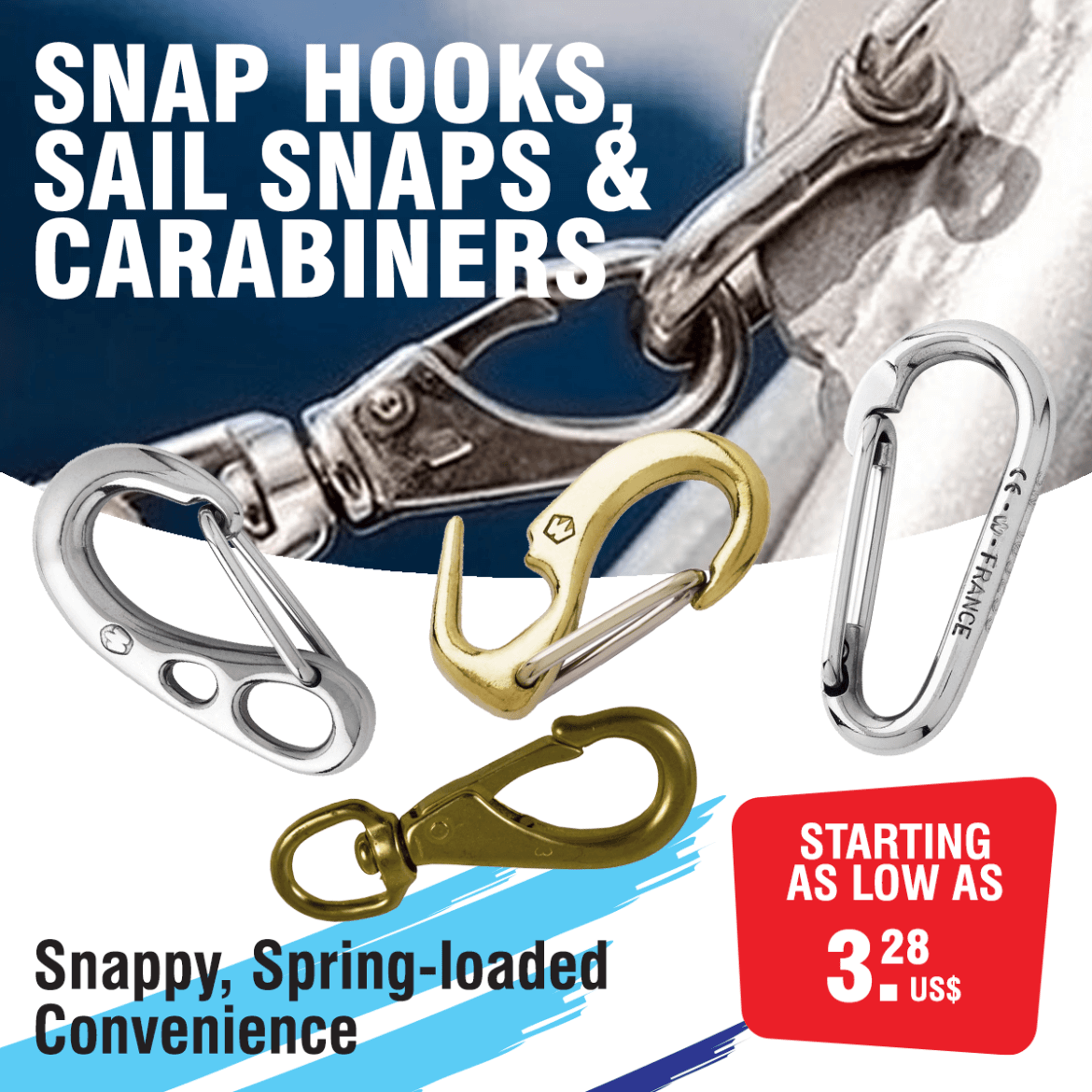 Snap Hooks vary slightly from Carabiners, having a permanent attachment to a fixed point. In some cases, this is closed for attaching to the end of a small diameter control line, and in other cases open (often called knock-on snap hooks), designed to be permanently attached to another opening and commonly used as sail hanks.
Carabiners have the same closure mechanism, but all lines on a carabiner go through the central hole. Designed to conveniently snap on using one hand, they are only suitable for low load applications, but great for anything needing to be safely fastened down.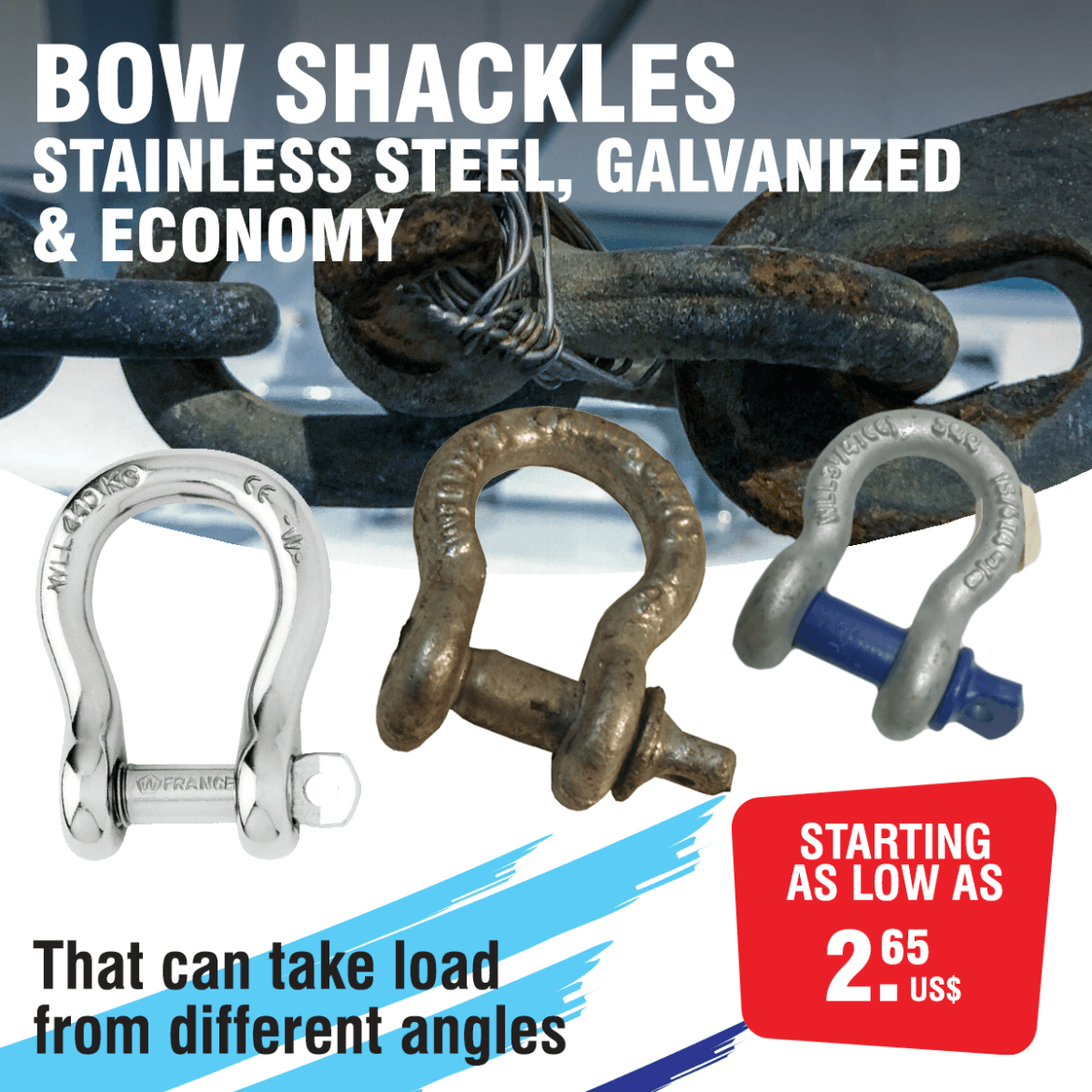 The Bow Shackle has a rounded (lightbulb) shape so that it can be used in applications where the load is not from a constant direction, for example, a boat swinging on a mooring. It is also ideal for attaching anchoring or mooring bridles to a single line. However, when compared to D shackles, the larger shape of the loop does reduce the overall strength of the shackle from a single point, for the same pin size.
N.B. Stainless steel bow shackles are not suitable for anchoring applications. Heavy-duty galvanized bow shackles are preferred.
ECONOMY SHACKLES – For applications where breaking load is not critical, Budget Marine has a range of D and Bow shackles that won't break the bank.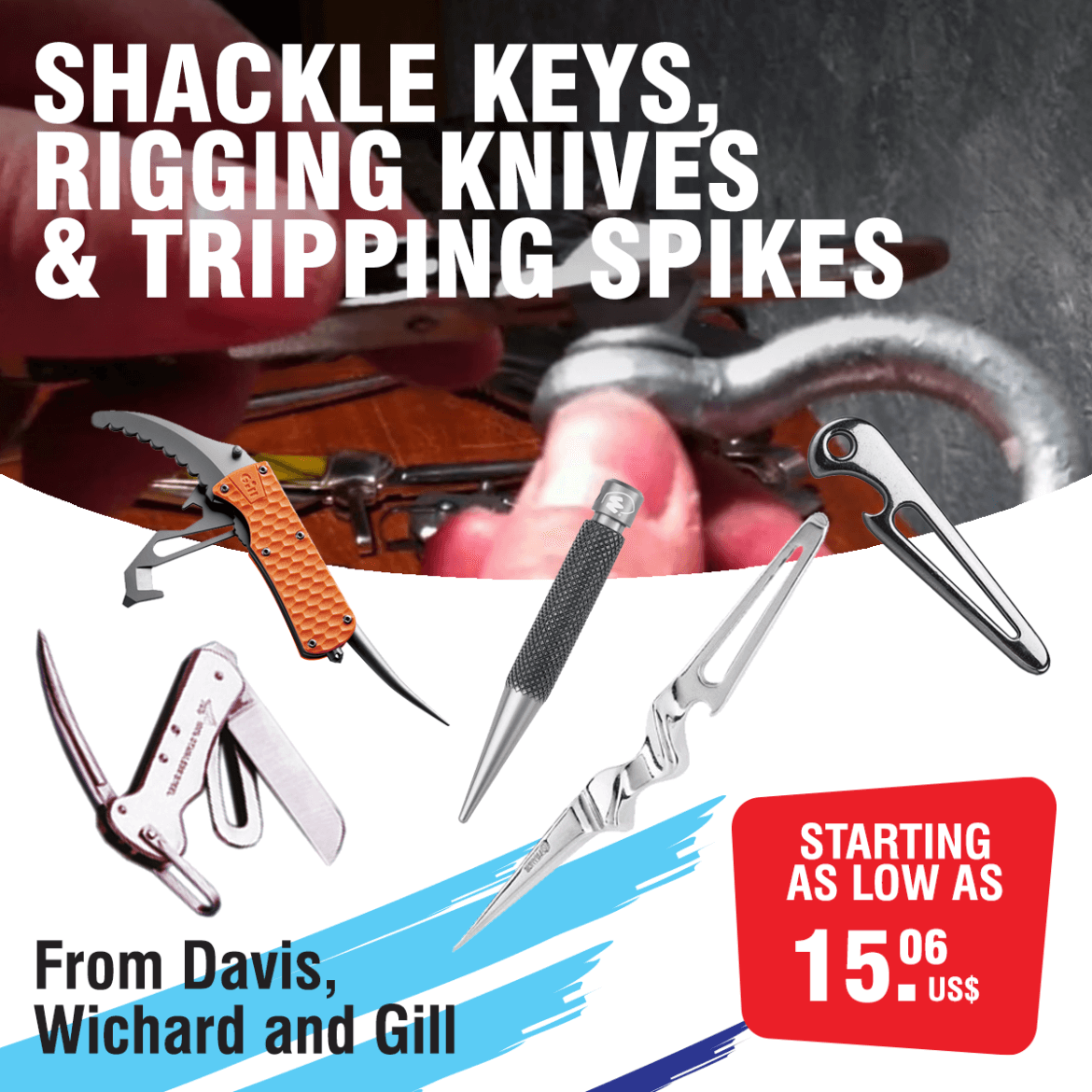 These small but effective tools come in handy when you need to release a seized shackle or trigger a snap shackle under load.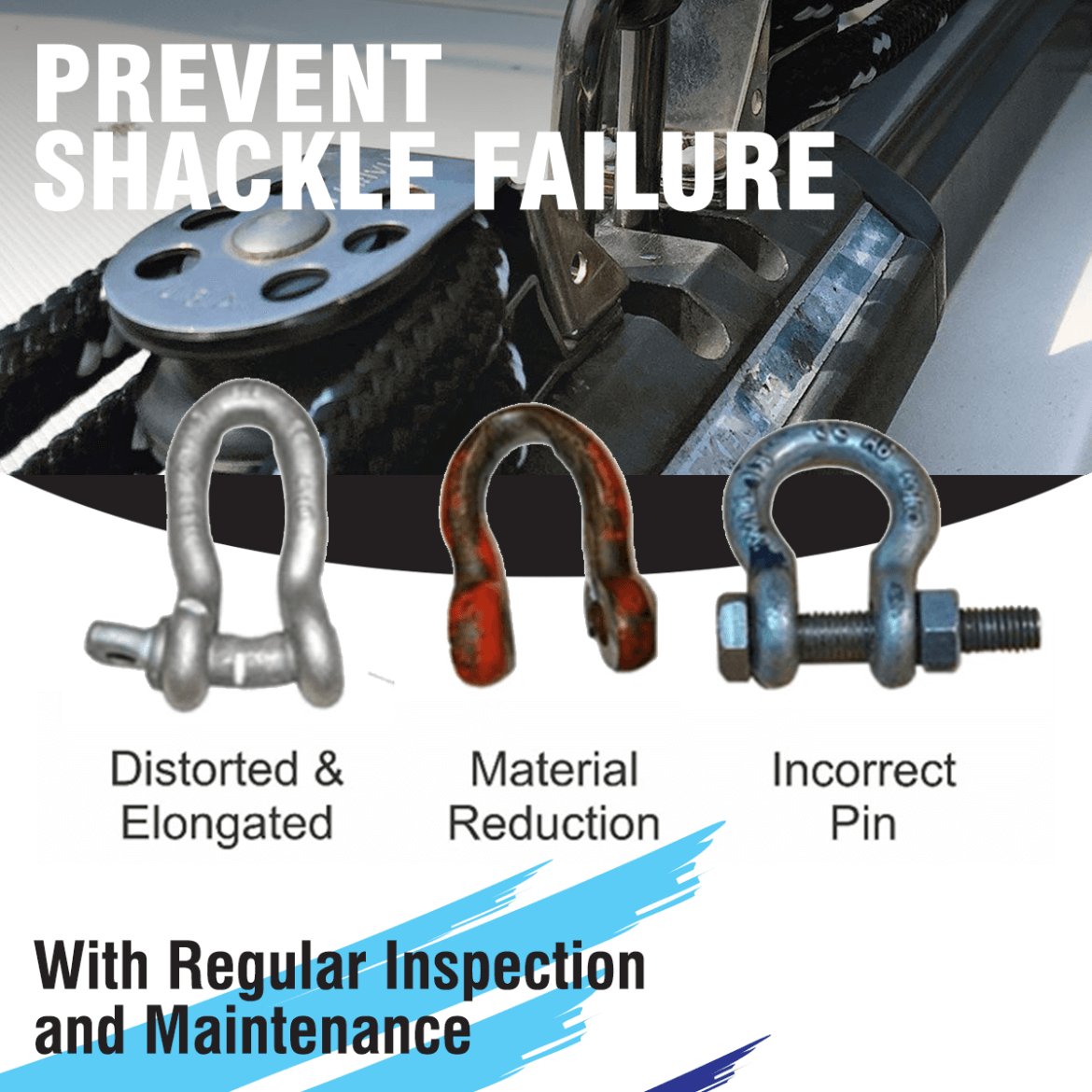 With galvanized metal, what you see is what you get – but with stainless steel hidden corrosion can weaken the structure. Use a magnifying glass to discern tiny fractures and discoloration of the stainless steel. Light brown rust can be removed with surface cleaning, but dark brown discoloration may indicate more serious internal deterioration. Extend shackle life by rinsing off sea salt/grime with freshwater.
Worn out shackles can cause sudden sail control or anchoring failure. Keep spares onboard to replace those that are bent, show excessive wear (> 10% of original diameter), or have elongated eye/shackle pin holes. Don't replace a shackle pin with a bolt/unidentified pin. Load can bend a bolt designed to withstand sheer and tensile loads – not bending moments.