Enhance your time on the water with world-class marine audio entertainment, whether out there on your own or enjoying the company of family and friends.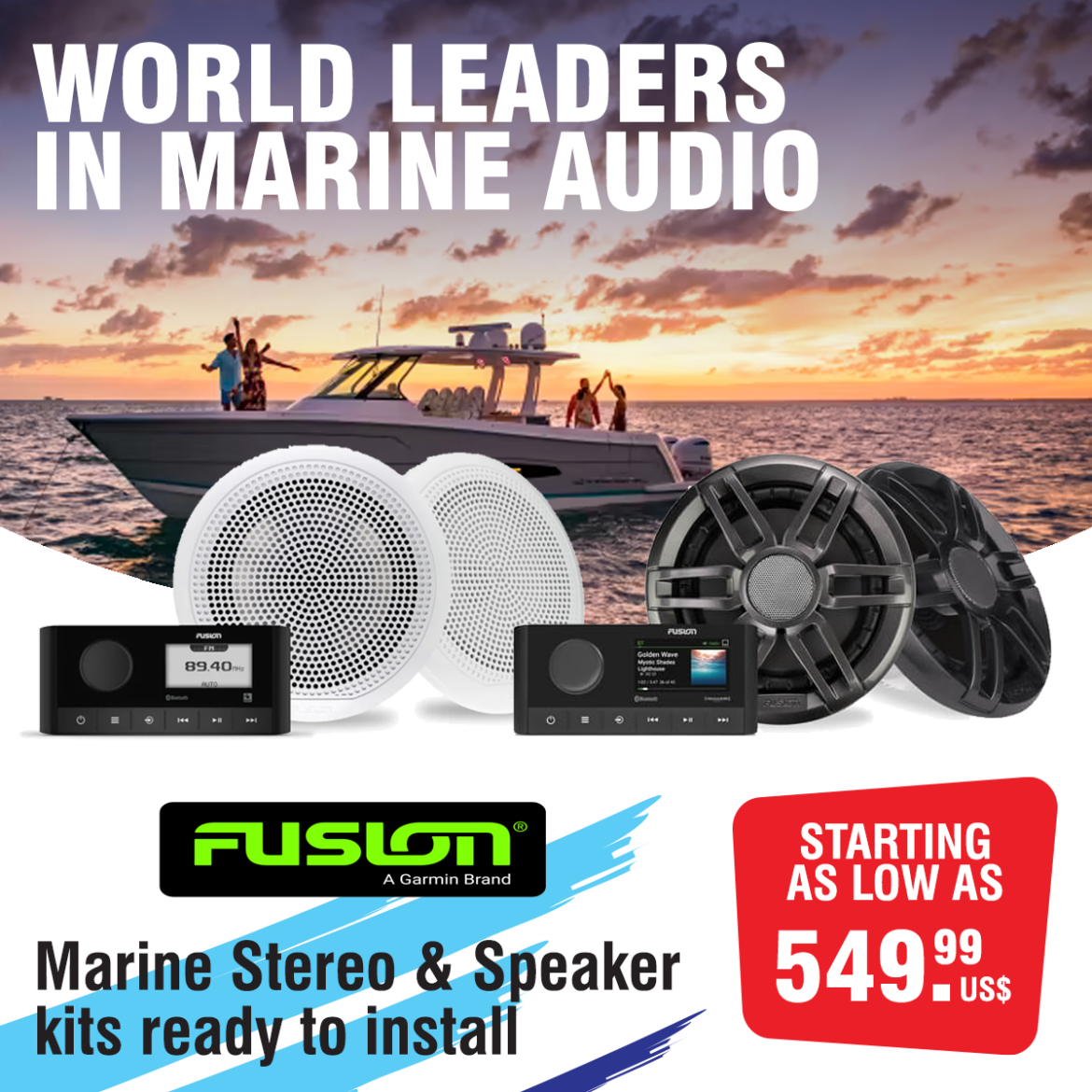 Outfit your boat with an exceptional sound system at outstanding value. Put the perfect soundtrack at your fingertips, with one of the following: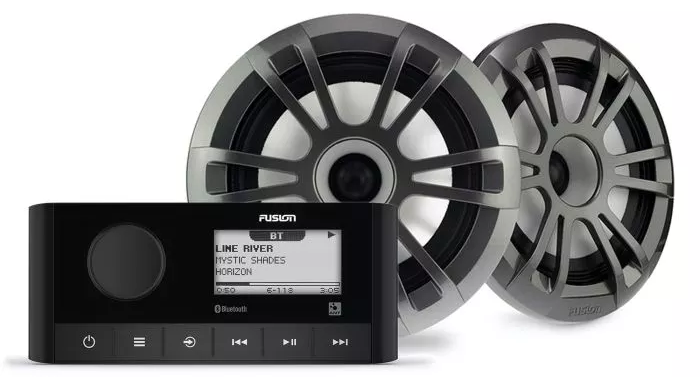 A Fusion® MS-RA60 Marine Stereo plus EL Classic OR XS Sport Series speaker kit
OR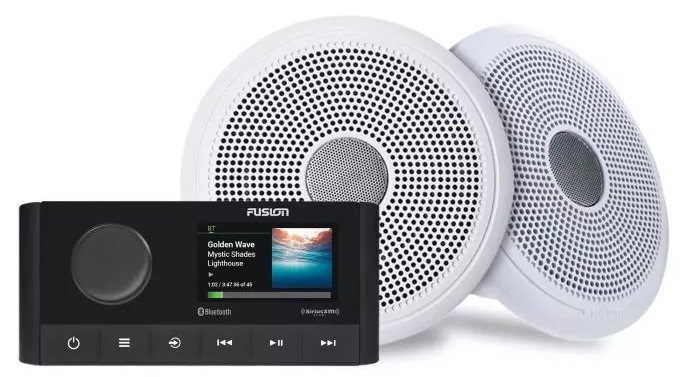 A Fusion® MS-RA210 Marine Stereo plus EL Classic OR XS Sport Series speaker kit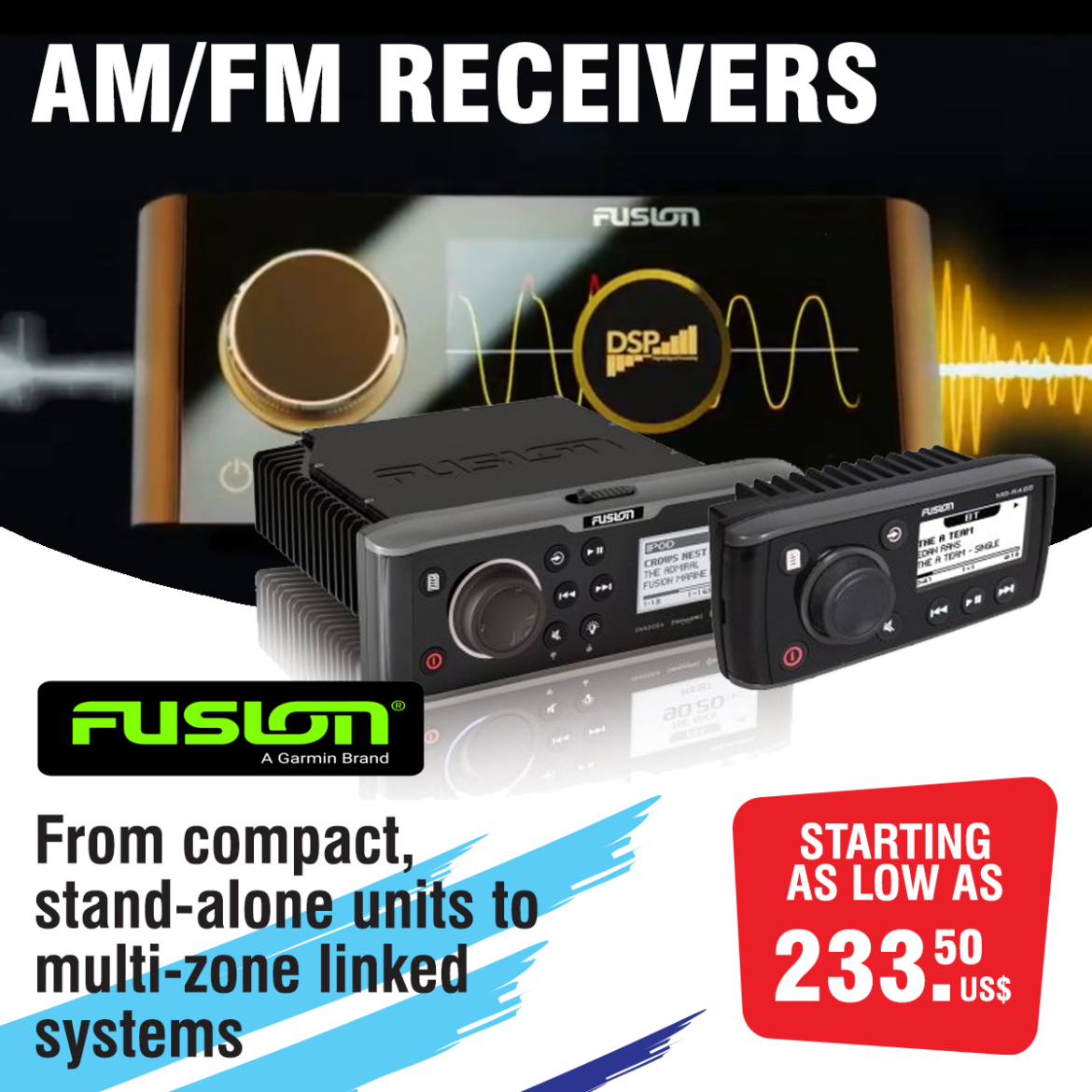 Fusion Electronics marine audio technology has been accepted by major marine instrumentation manufacturers. Raymarine and Garmin, amongst others, have embraced the Fusion-Link standard to interface Multi-Function Displays (MFD's) to the Fusion Marine Audio System. A connected MFD can become a control hub for your onboard audio with full remote control and play displayed on its screen.
Fusion's top range systems feature touch screens, DSP technology, can link to your multifunction display, smart device, or Garmin watch, and send perfect sound to multiple zones on your craft. Check the Apollo series:
Their small, economical, stand-alone head units such as the RA60, are ideal for small boats and personal watercraft: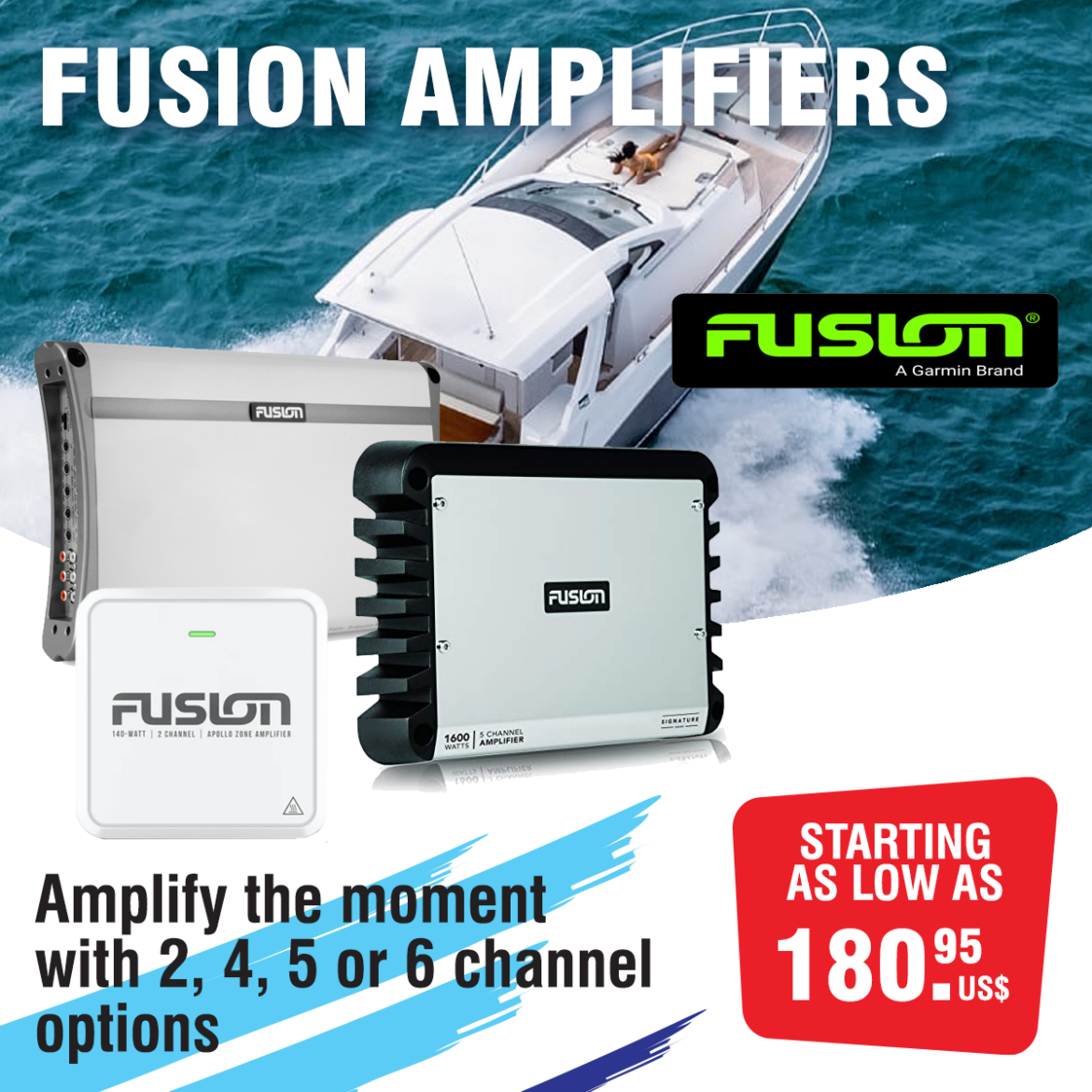 Fusion's Apollo, Signature & AM Series Amplifiers power up your speakers in pairs, zones and different configurations and power levels, depending on your boat's requirements.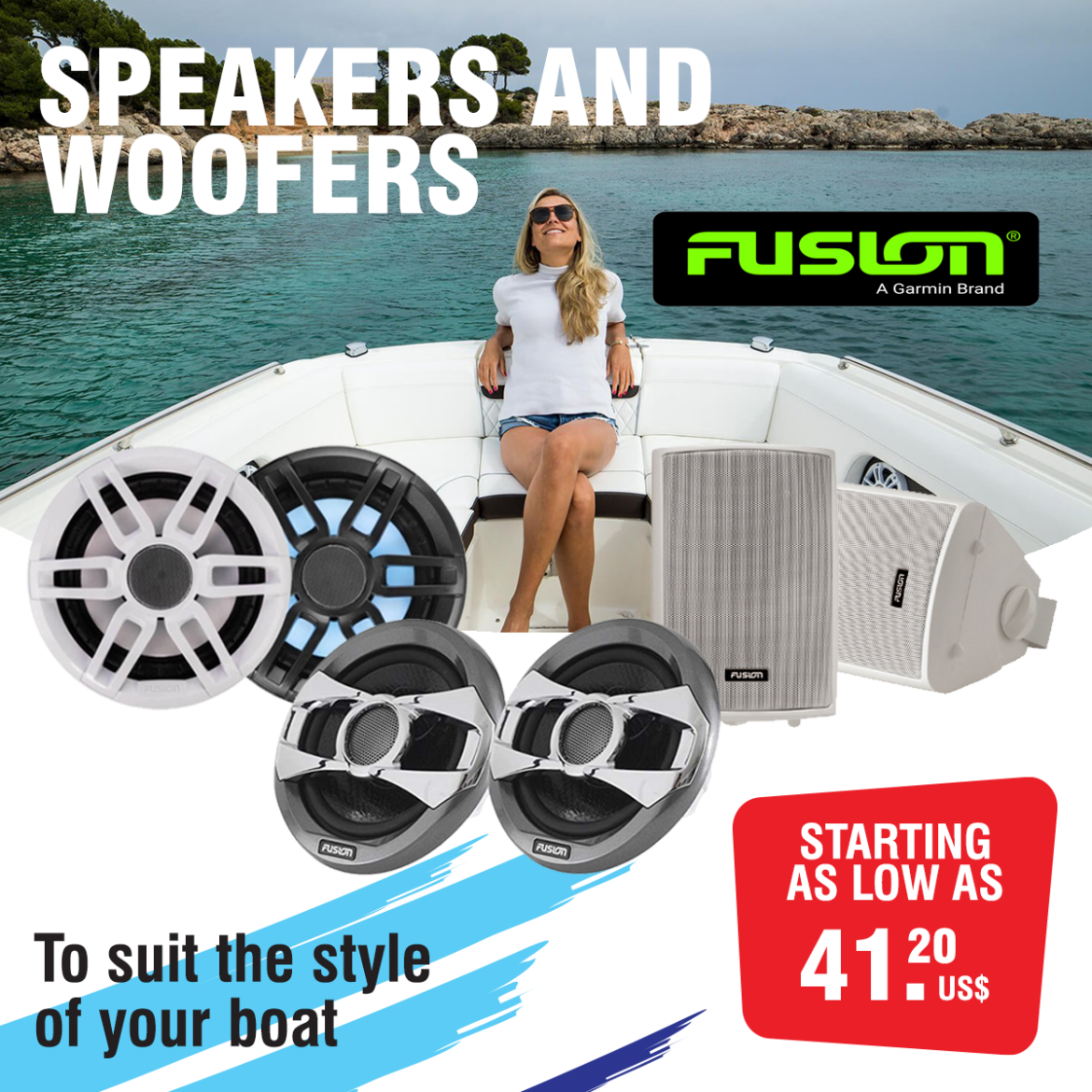 Combining 'CURV' Cone composite technology with a Silk Dome tweeter and fully sealed crossover components, the Sports Industrial Chrome Signature 7.7" Speaker system is a stylish solution for premium on-water listening. Sports style Signature Series speakers feature dual-colour diffused LED lighting options that illuminate Striking Blue or Sparkling White, to either set the mood or start the party.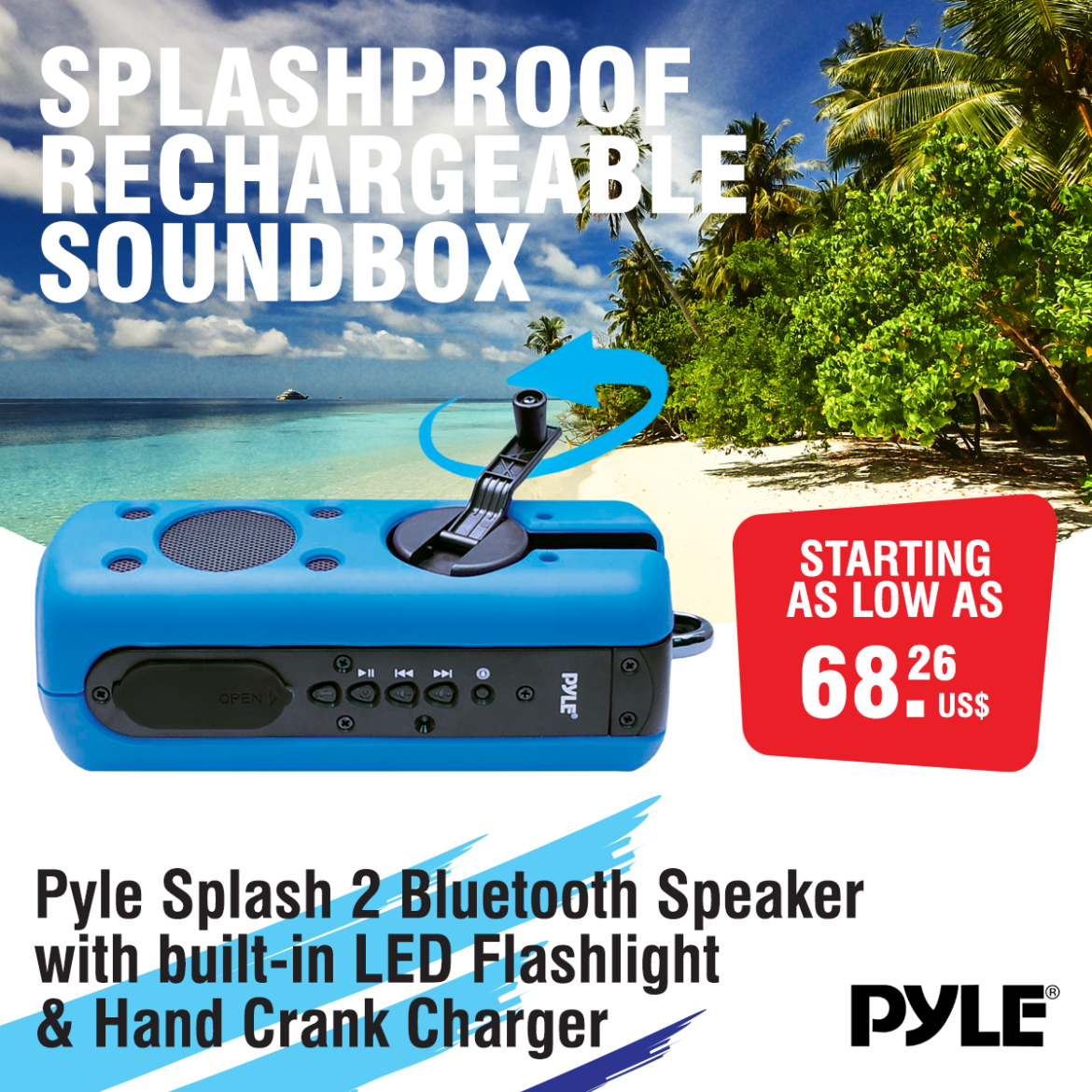 Play your favourite music wherever you are – indoors or out on the boat! This multi-function Bluetooth Speaker System combines wireless music streaming capability, built-in LED Flashlight, and a rechargeable battery that can be charged up and ready to go instantly – thanks to the Hand Crank Turbine Charger.
Rugged construction and splash-proof marine grade design allow you to take the Soundbox from the dinner table straight to the pool party! Wirelessly stream stereo music or internet radio stations like Pandora or Spotify directly from your favorite devices via Bluetooth – quickly and easily.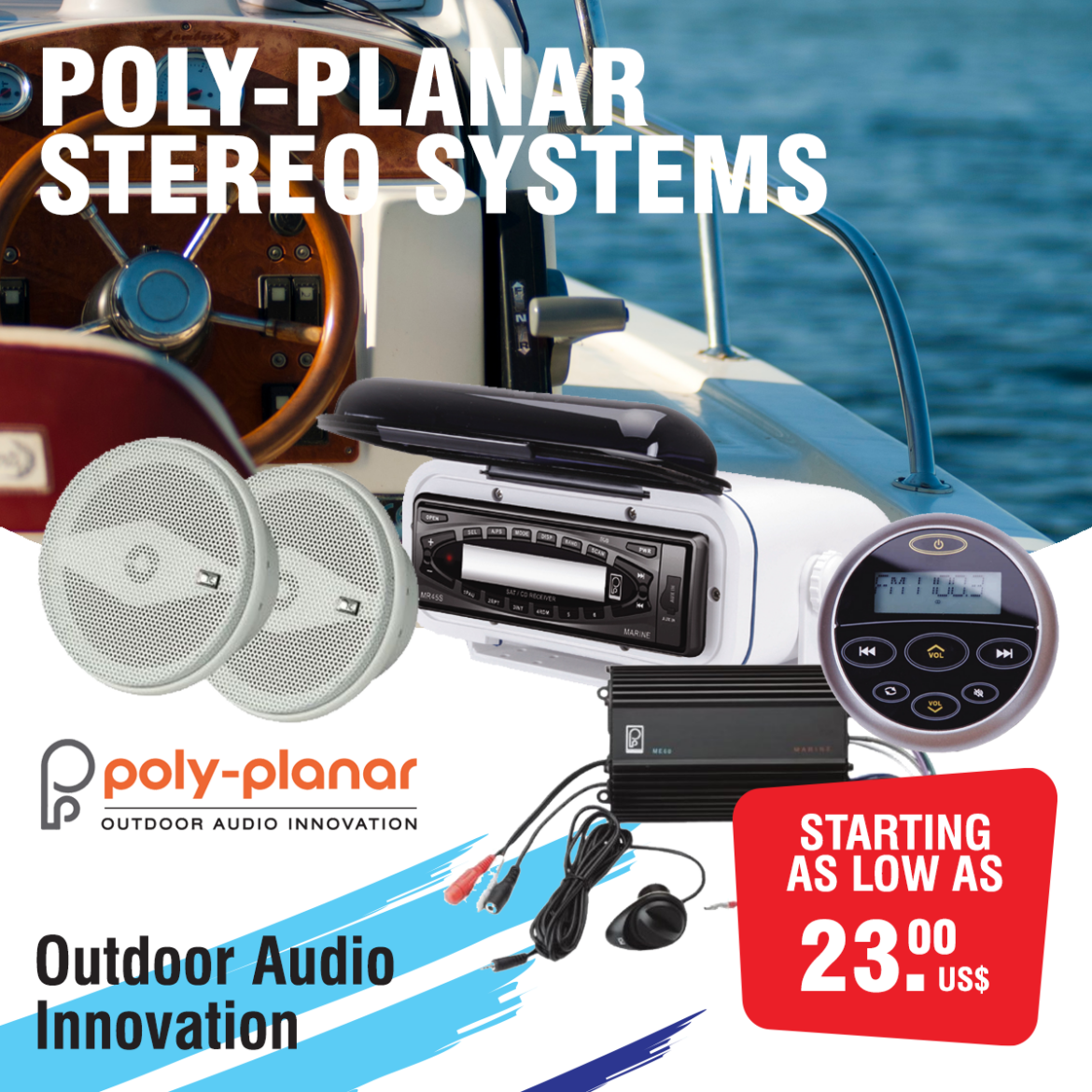 SPEAKER "SPEAK"
A 2-way speaker has a woofer and tweeter. The woofer is a speaker built exclusively for low-frequency sounds, while the tweeter is designed for high-frequency sounds.
A 3-way speaker generates sound from three individual devices known as the mid-range, woofer and tweeter drivers.
A subwoofer is a speaker that delivers the lower frequencies, specifically 20-200 Hz.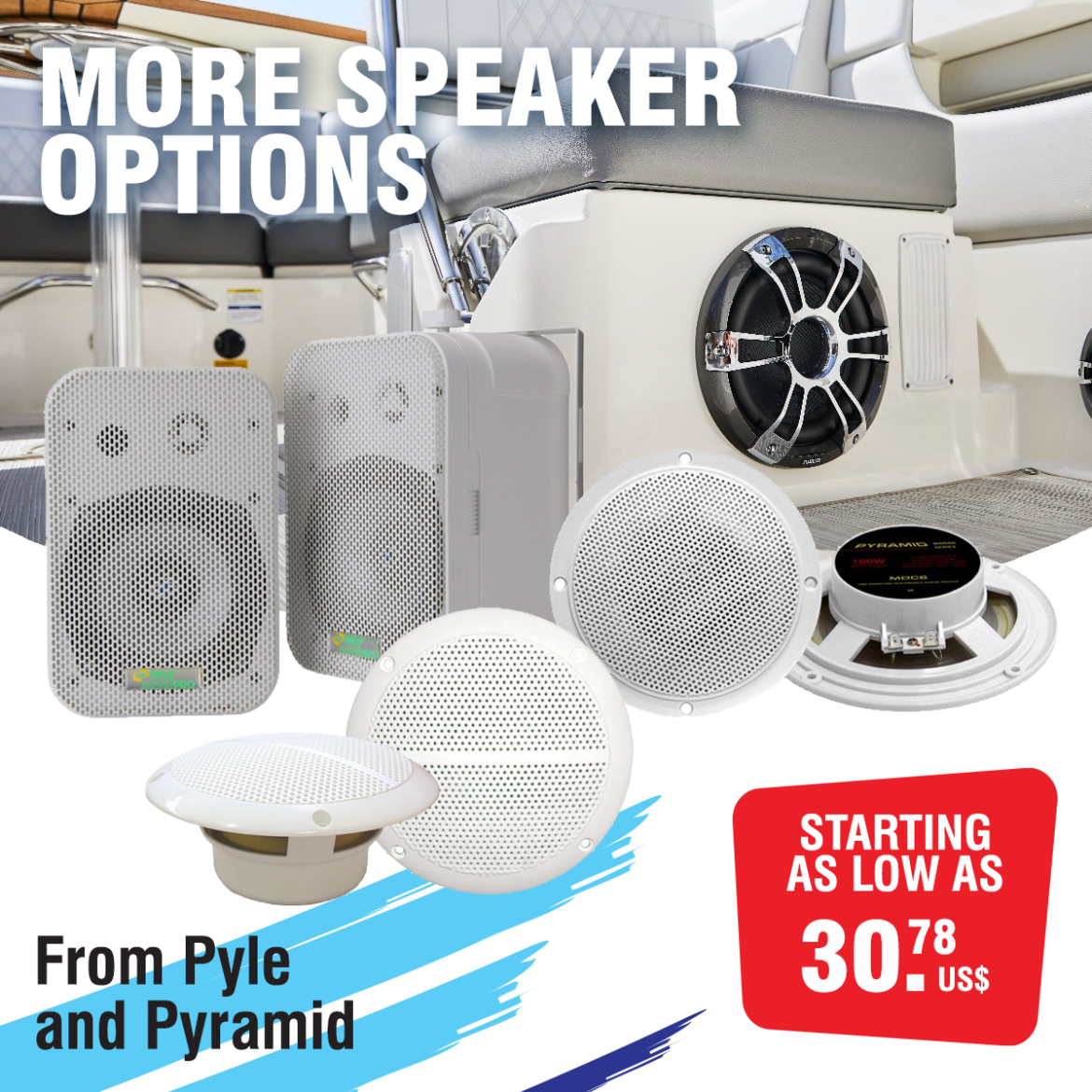 Before Buying Boat Speakers consider installation size, Bluetooth capability, speaker quality, and watts. Avoid spending money on speakers that might simply break or get water damaged.
Select speakers that blend in aesthetically and are waterproof and weather-resistant for safety and longevity. Compare speaker size, power levels and audio performance to find models that work for you. Bigger boats may need higher-powered speakers.
Consider installation factors – the safe distance from any compass and optimum size for the enclosed space housing your speaker. Research extra features like remote controls, dash control systems, and Bluetooth connectivity.
Generally, marine speakers have an IP65 rating (Dust and water Ingress Protection from splash and spray). If speakers are installed in the less exposed dash or trim of a boat, their construction doesn't require the protective housing that tower speakers do. However, they are built to withstand UV rays and moisture.
Marine/Wake Tower speakers installed in more exposed positions have a protective cone housing so that UV rays, wind, moisture, and salt don't infiltrate.
Fusion's XSeries Wake Tower speakers have an IP67 waterproof rating (theoretically protected from temporary immersion in liquids up to 1 meter in depth).