Everyone loves a steak, no doubt. Roast chicken for dinner, yes please!
So many times you catch yourself breaking the ice with a fellow cruiser over a discussion of meat and where you can source it in the most obscure places one sails to. I do love meat, no question about that, but I feel that the least credit is given to the most sustainable delicacy out there: fish.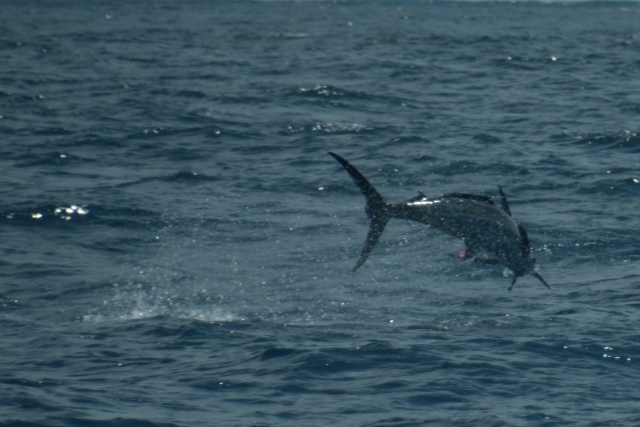 Our recent crossing of the Pacific ocean proved that it is still vibrant with sea life as we pulled in at least one fish every day. The western half was rich with dorado, mackerel, bonito, and wahoo. The East proved to have less dorado but a wealth of tuna particularly yellow fin. The method of catching was simple. Hand lines.
We use a basic spool with about thirty feet of thin line attached to it. Onto that we attach one hundred to one hundred and fifty feet of fishing line. High strength, say 150 pounds. This setup might not be sporting but it is effective and works while under sail. After all the goal is to catch dinner. The lines are then attached to the aft of the boat on either side with a section of bungee added in to absorb the initial strike. In terms of bait, the possibilities are endless. Fresh or plastics work well, my favorite being a standard eight inch trawling squid. Pink varieties have been the most successful. Rig this up with some wire trace and then attach to the hand line. Remember to use a swivel!
| | |
| --- | --- |
| | |
The best thing about fishing at sea is that the average cruising speed of six to seven knots is the best for most fish varieties. Wahoo like it a bit faster but will strike whatever they find in the middle of the big blue. On the leg from the Galapagos to the Marquises we scored my first ever hat trick consisting of a dorado, a wahoo, and a skipjack tuna, all within ten minutes. (The first line we had thrown back after taking off the dorado snagged the skipjack as soon as it went tight).
Fish love to gather around anything floating in the ocean, from logs to debris, and even though this might be something we usually avoid in this case it pays off to make a close pass. Especially under sail you can bring your lures within meters of these gathered fish without them even noticing. This is a sure way to hook a dorado any day and also changes your perspective on the crazy amount of logs that litter the leeward sides of the Papua New Guinea island chains.
Fishing at sea can be easy and cheap with very little gear needed to make many successful catches and fill your freezer with beautiful steaks and fillets for weeks to come. Do not let the fact that beef is unavailable stop your from having a great BBQ on the back of the boat!