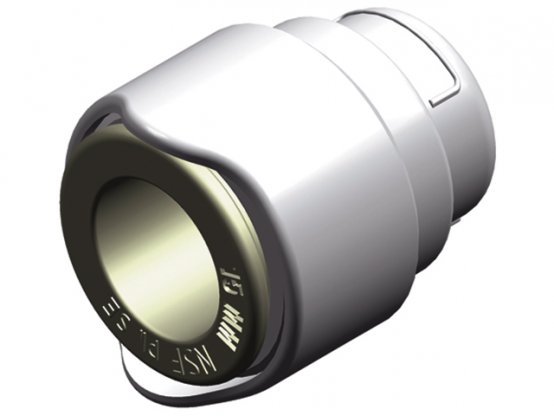 | | |
| --- | --- |
| Manufacturer Part No. | WX1546B |
| | |
| --- | --- |
| List Price: | Special Order |
Delivery Options:

Pickup In-Store Only

(FREE)
Product Description
Fittings and pipework design ensure easy installation and re-usability of components. The simple two step installation procedure does not require special tools to make a watertight connection.
Features and Benefits:
– Unique "Double Gripper" design provides secure lifelong pipework retention even at excessive pressures.
– The innovative "cage collet" eliminates leaks where fittings are installed close to tight bends.
– The collets have an internal support ring ensuring O ring seal is held in position and does not distort or leak under pressure.
– High integrity single piece moulding improves the strength of the fittings.
– Outer sleeve incorporates collet cover, thus preventing accidental pipework release.
– Collet clips are not necessary and therefore reduce installation time.
Minimum Bend Radius Recommendations:
Whale semi-rigid tubing is flexible and can be bent into a tight radius to facilitate easy installations. This reduces the number of fittings required and the cost of the total water system. The minimum Bend radius of 12mm tubing is 60mm
Caution: ideally the temperature should be set at 115ºF (46ºC) for health and safety reasons, higher settings will increase the risk of scald injury.

Warning: The temperature of the hot water supplied to taps & showers should be controlled in a range of 110º to 140ºF (43º to 60ºC) with fail safe set at 180ºF (82ºC)
At 150ºF (65ºC) pressure shouldn't exceed 6 bar (87PSI),
At 68ºF (20ºC) pressure shouldn't exceed 12 bar (174PSI)
<< return to products
*Prices shown are tax exempt Sint Maarten prices, store prices may vary as a result of shipping cost and taxes, please contact a store close to you for location prices