The Sint Maarten Yacht Club celebrated the arrival of a specially designed sailing boat, designed to take individuals with disabilities on the water. One of the goals of the Sint Maarten Yacht Club is to make sailing available for a broader audience. Sailing is the perfect sport to experience confidence and freedom on the water, and to improve your skills. The SMYC wants to make sailing accessible to everyone, regardless of abilities. With the new boat, called an RS Venture Connect, the SMYC will make sailing possible for this specific target group. Something that Budget Marine supports and would like to offer a helping hand to this special group of sailors.
The container with the RS Venture Connect arrived from the Netherlands on the end of June The container was delivered to Budget Marine to be unloaded and put together and tested by the instructors of the Sint Maarten Yacht Club.
"We are looking forward to sailing with the students from the White and Yellow Cross Care Foundation," said Sam Peeks, sailing instructor at the Sint Maarten Yacht Club. "We had the chance to meet these students a few weeks ago, we were happy and impressed to see their enthusiasm. With the arrival of the boat, we are even more excited to start the special sailing classes in September. We hope that this program will not only introduce these students to sailing but it also helps to improve their confidence".
This program is supported by R4CR which is financed by the Government of the Netherlands via the Sint Maarten Trust Fund. The latter is administered by the World Bank and implemented by the NRPB (National Recovery Program Bureau). The R4CR program is locally managed by the VNGI (International Cooperation Agency of the Association of Netherlands Municipalities) in close cooperation with 4C Foundation and other local partners. These funds make it possible to purchase this special boat and run the program for 1 year.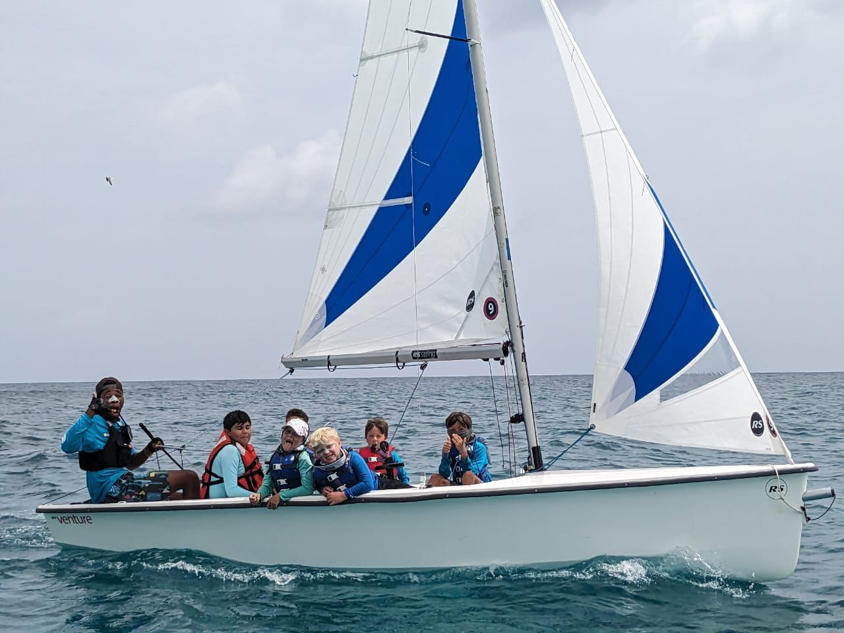 Currently, the SMYC is running their annual Sailing Summer Camp, in which the boat is being used as well. It is a new experience for the children, as they are used to sail in a unstable dinghy (small sailing boat). This will broaden their horizon and sailing experience, as they are now able to sail a more stable and bigger keelboat.
Would you like to receive more information about the Sailability project or Sailing Summer Camp? Contact Saskia@smyc.com