One of the many challenges of blue water sailing is keeping your vessel watertight, dry, and sound – in the middle of an unforgiving ocean. This technical corner touches on repair kits, specialty products for quick fixes, safety gear for working underwater, and essential spares. Add them to your voyage preparation list!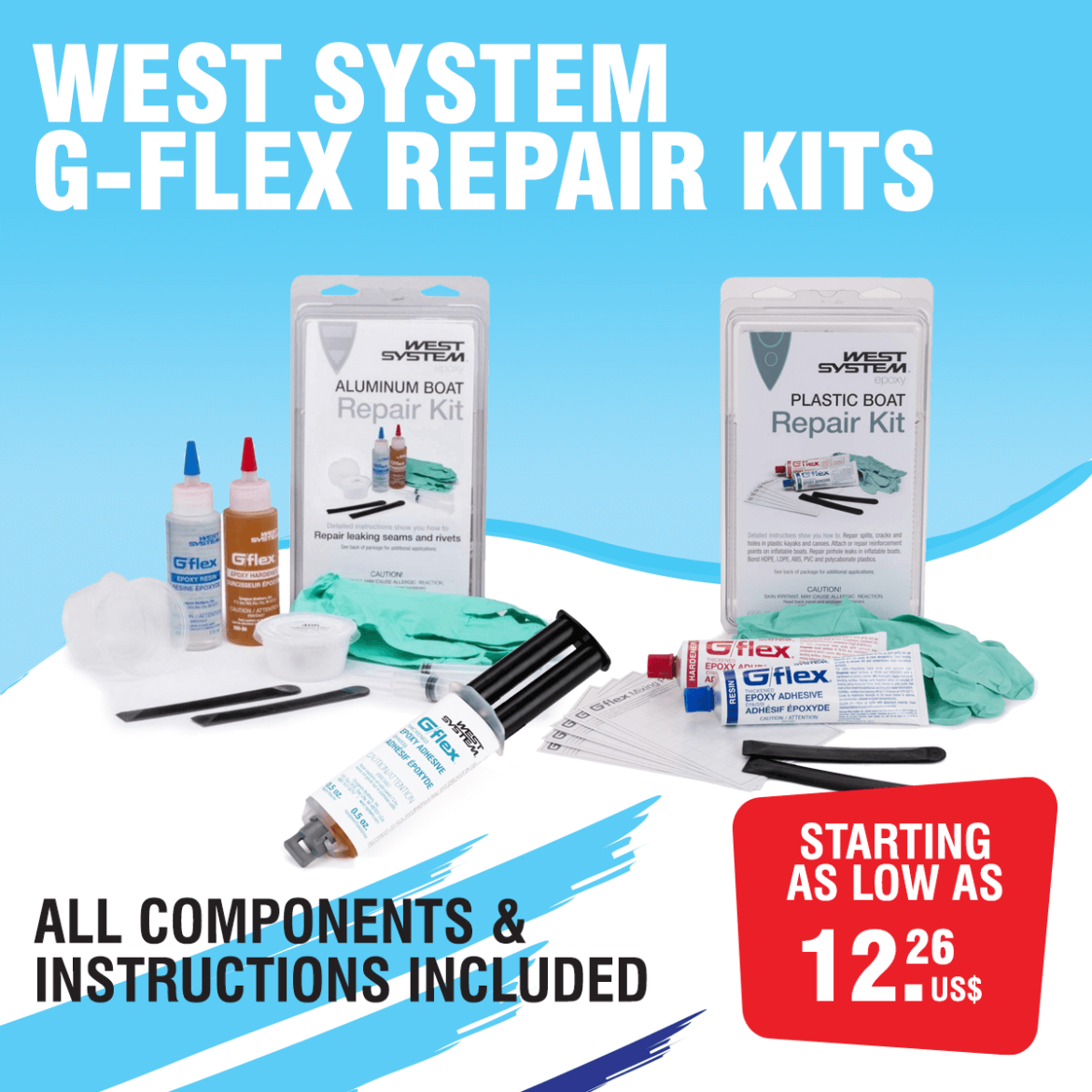 G/flex Thickened Epoxy Adhesive is a toughened, versatile, 2-part epoxy for permanent waterproof bonding of plastic, fiberglass, ceramics, metals, as well as damp and difficult-to-bond woods.
655-K Plastic Boat Repair Kit is designed for making repairs to plastic canoes, kayaks, and inflatables—whether they're made from HDPE, LDPE, ABS, PVC, or polycarbonate plastic. More flexible than standard epoxies and polyester, but stiffer than adhesive sealants, its structural bonds can absorb the stress of expansion, contraction, shock, and vibration.
650-K Aluminum Boat Repair Kit is perfect for permanently sealing leaky seams and rivets, the most common problem on aluminum boats.
655-1 Dual Syringe is handy for very small jobs.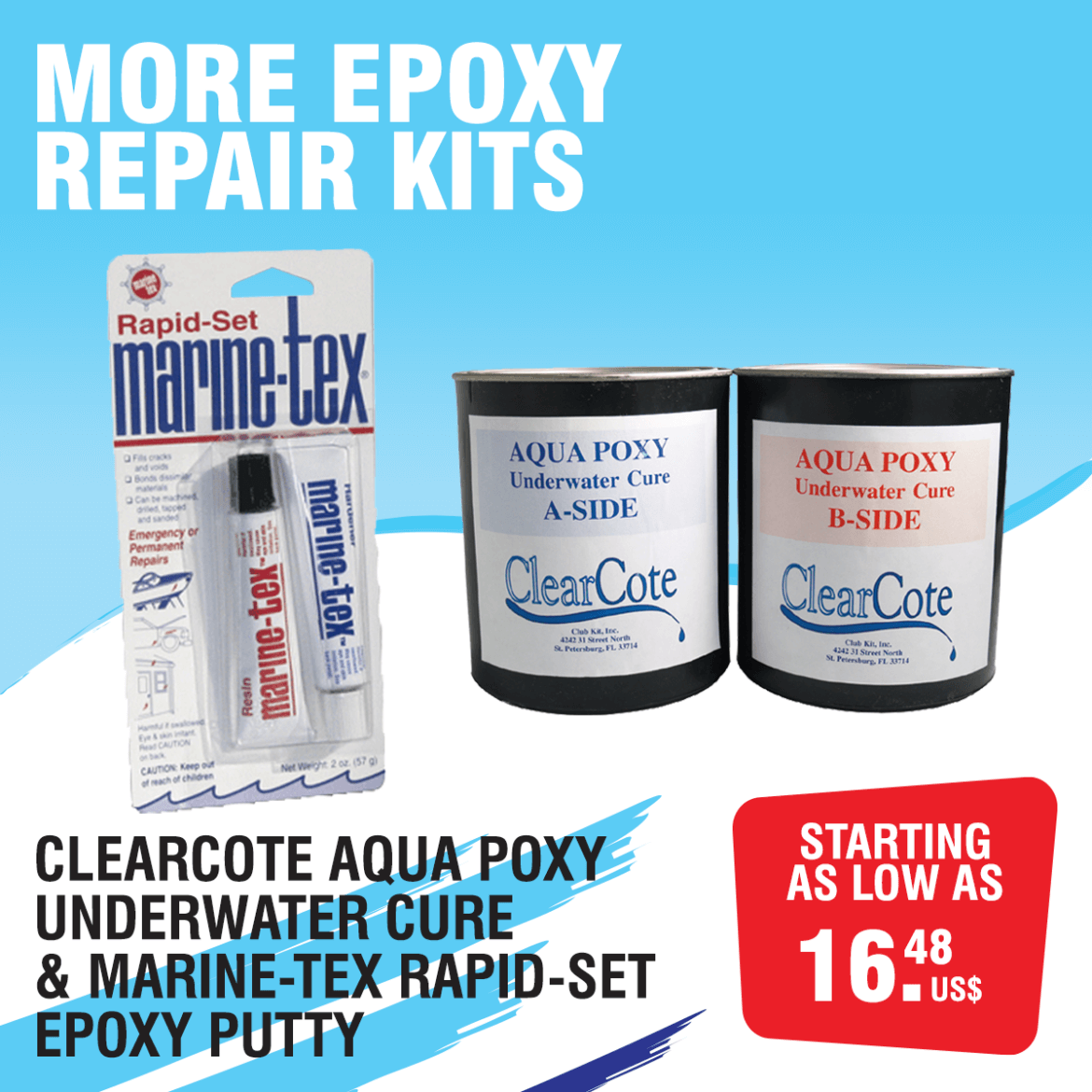 Aqua Poxy Underwater Cure can be applied to steel, fiberglass, and concrete, with unequalled adhesion to submerged or damp surfaces. It is resistant to temperature changes, sunlight, chemicals, solvents, water, vibration, shock, and flexing. Putty consistency makes it ideal for cracks underwater, and permanent repairs on wood/fiberglass/metal hulls.
Marine-Tex Rapid-Set Epoxy Putty is a waterproof epoxy in a convenient 1:1 mix for emergency and permanent repairs. It cures in one hour at 72°F, providing a good bond to fill cracks and voids in fiberglass, steel, aluminum, wood, cast iron and many hard plastics. For quick machinery/mechanical repairs, dockside or at sea, and securing hardware and loose fasteners.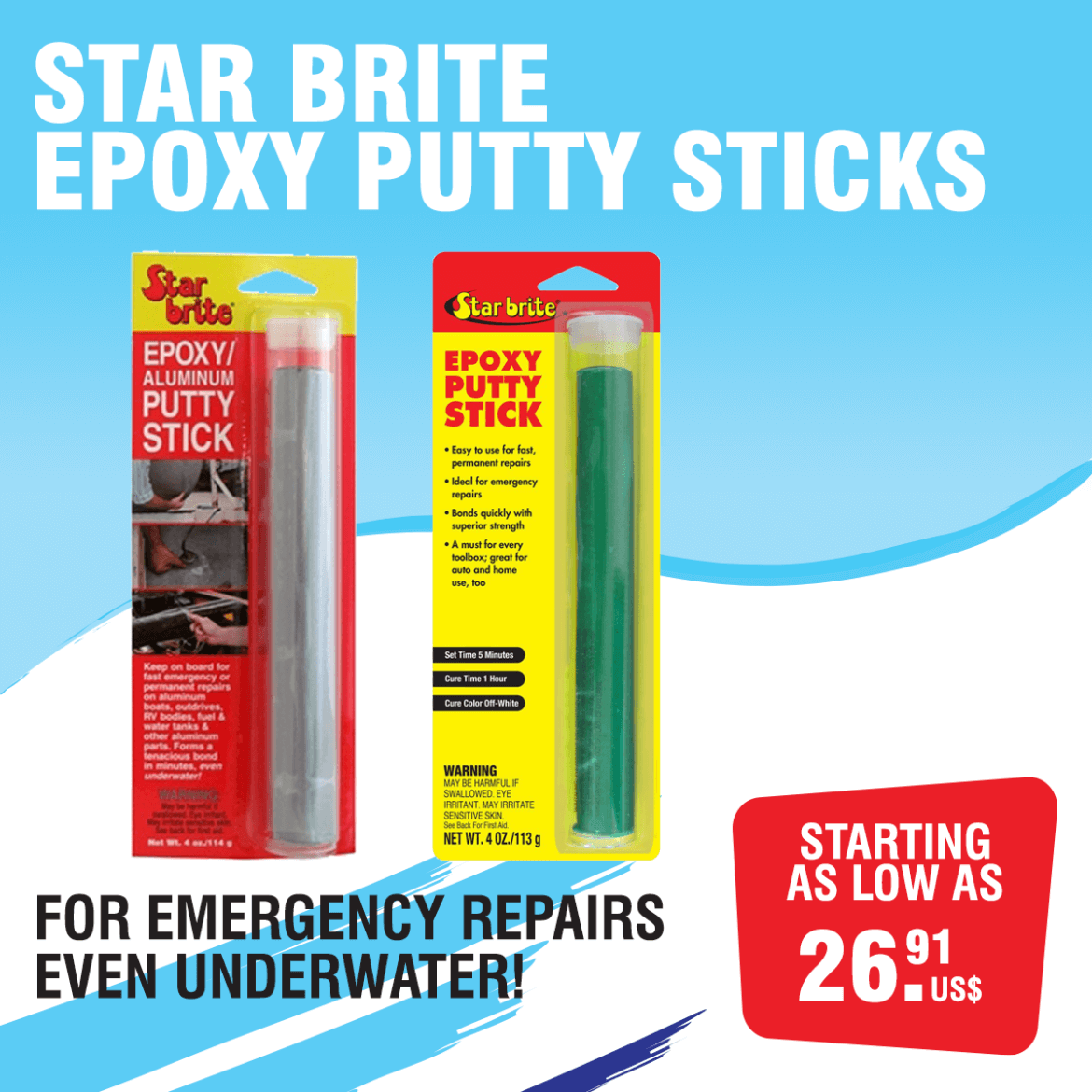 Green Epoxy Putty Stick – for emergency repairs on fiberglass, wood, metal, and plastic. Hand knead it for 1 minute and apply to damaged area. Remove excess material before hardening begins. After 5 – 10 minutes it will harden and form a tenacious bond. After 60 minutes it can be sanded, drilled, painted, or tapped.
Aluminum Epoxy Putty Stick – excellent for repairs on aluminum boats, outdrives, water tanks and other aluminum parts. It cures underwater and special additives cut through oxidation and anodization to maximize adhesion. It can withstand height temperatures and pressures, so ideal for manifolds, mufflers, and drive units.
When applying these products to a wet area, work the material forcefully into the surface and apply pressure until adhesion begins to take effect.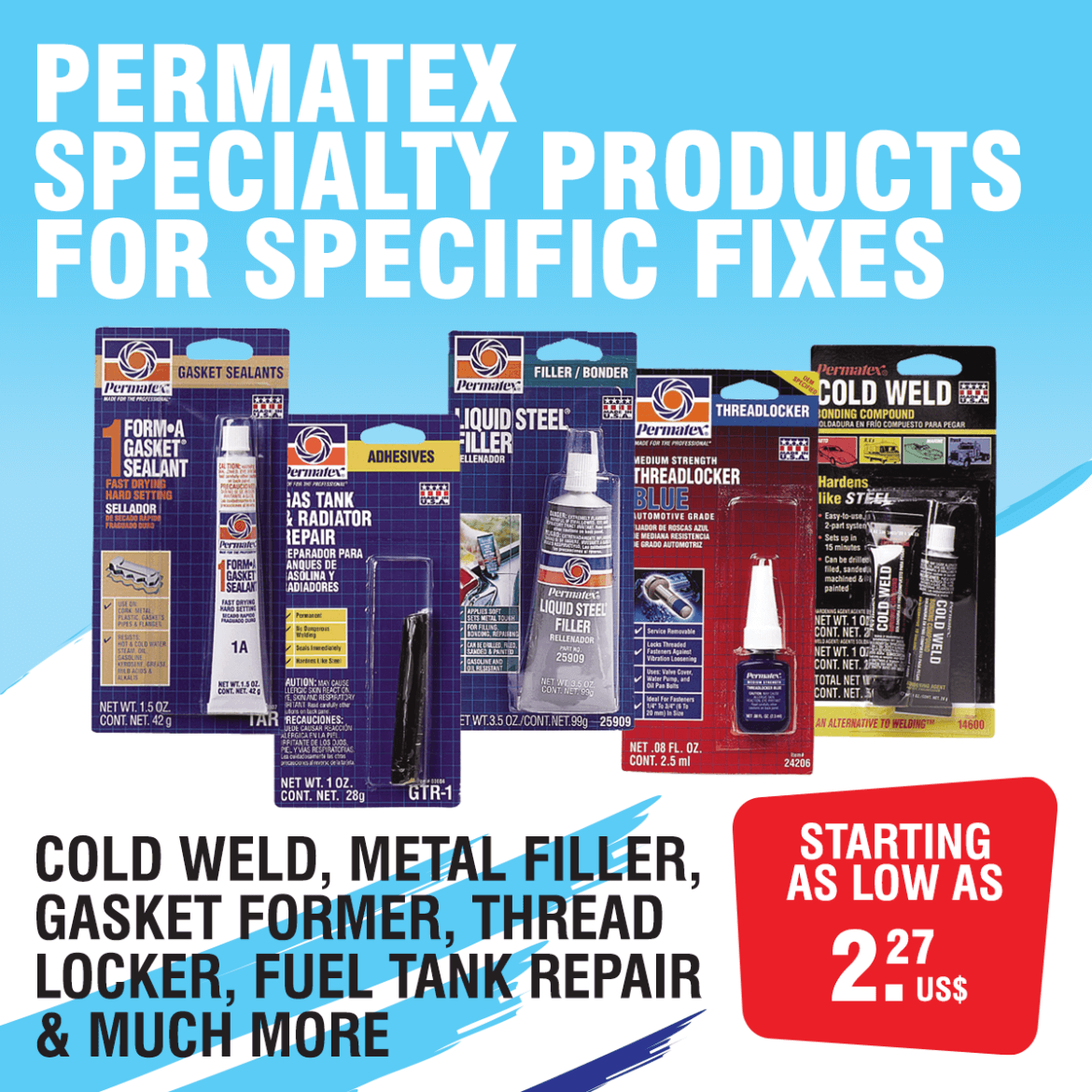 With 100 years in business making 'chemical tools', Permatex has over 350 products, providing market-specific formulations and application methods for a variety of industries, including automotive and marine. Many of these are very useful on a boat and Budget Marine stocks more than 50 of them.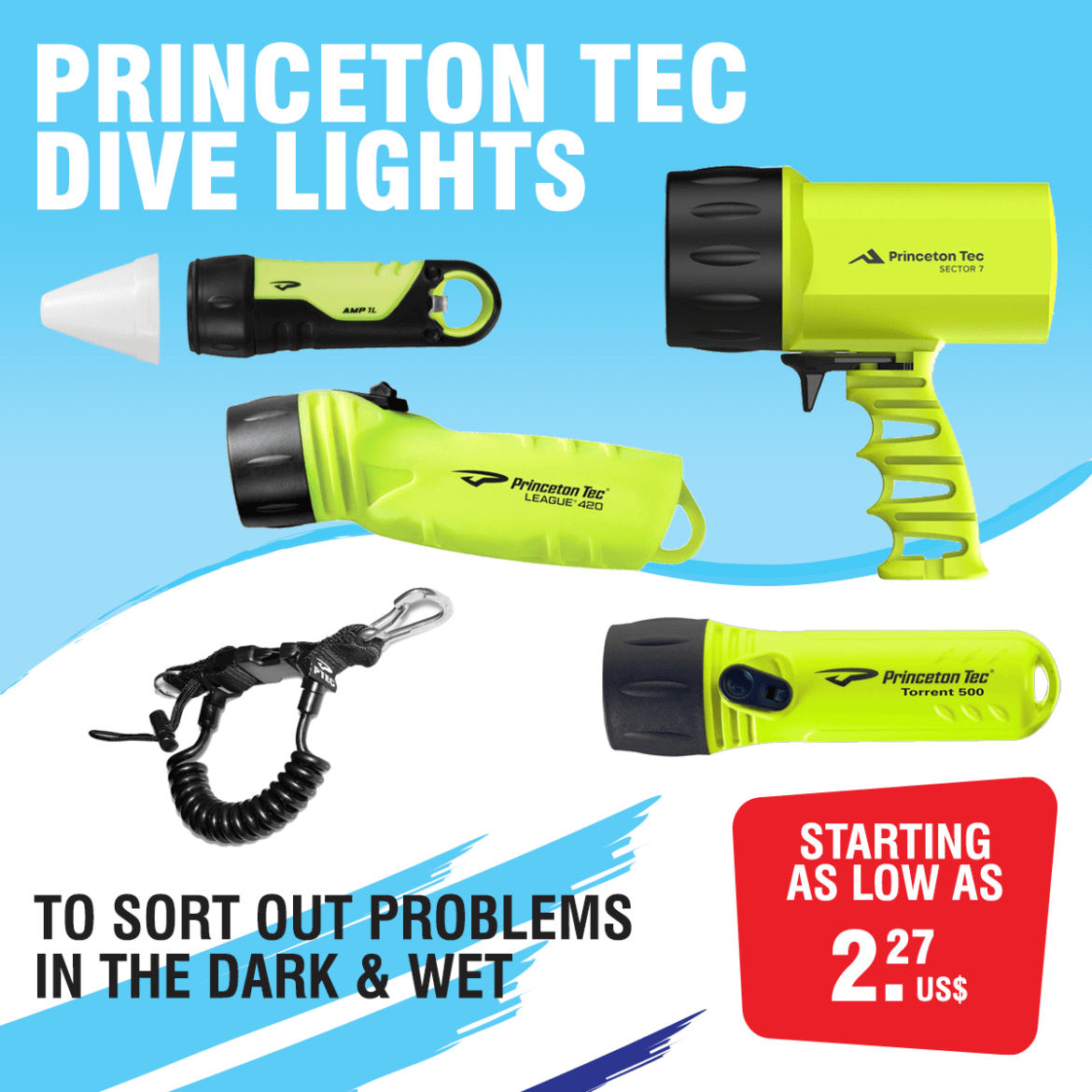 Princeton Tec LED Dive Lights have an IPX8 (International Ingress Protection level 8) rating up to 100 metres. They are compact, comfortable, and lightweight, with user-friendly switches. Attach them with a coil lanyard while working below or above water.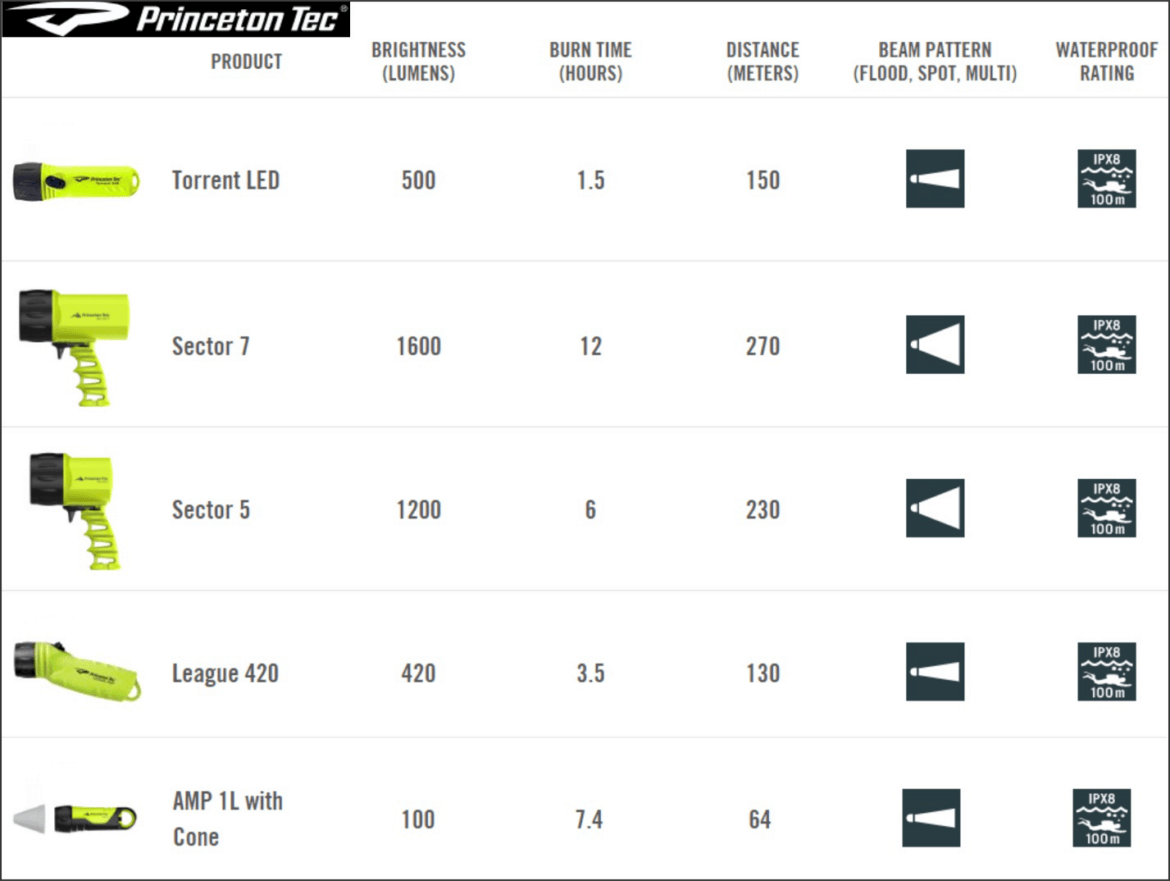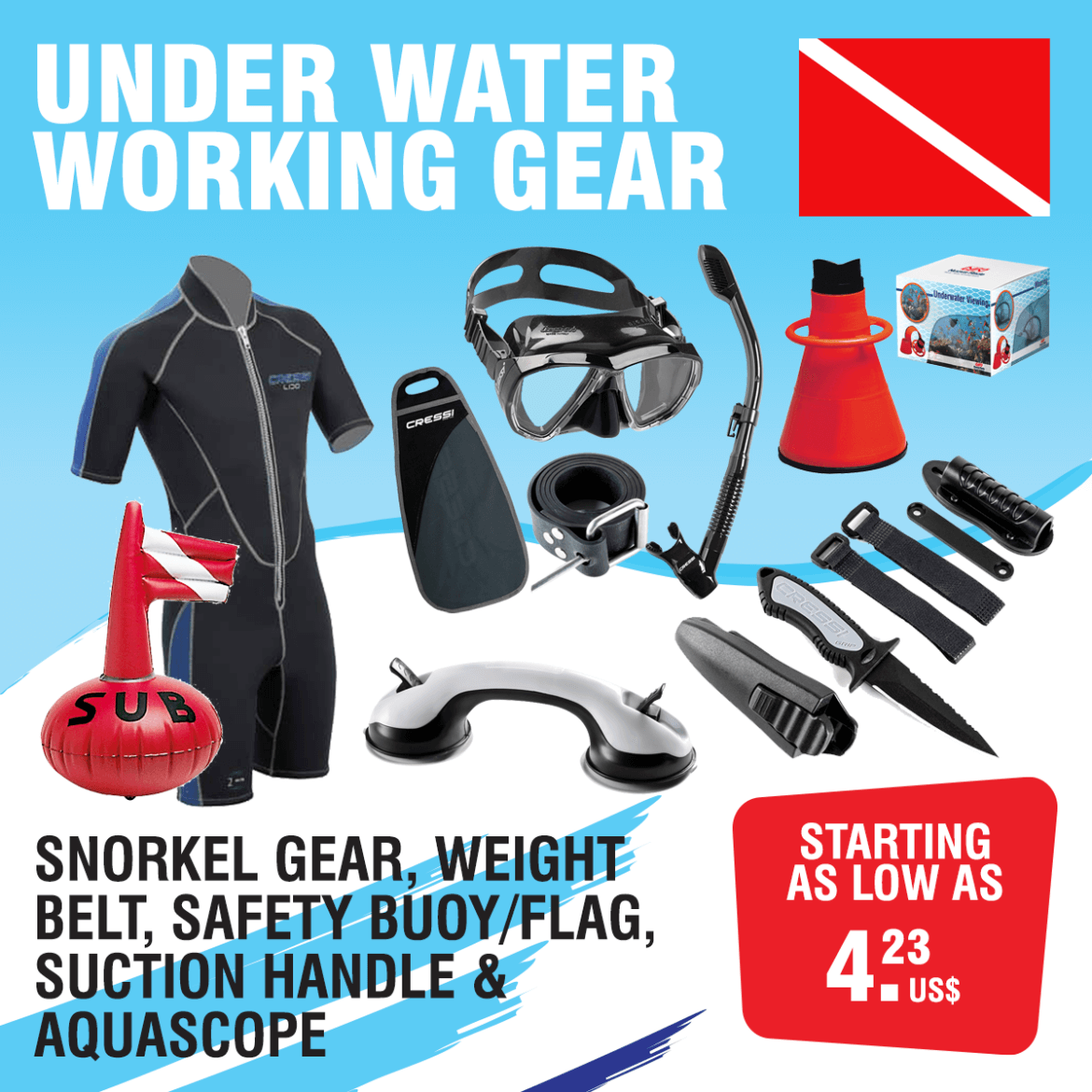 Budget Marine does not stock professional scuba dive gear but does offer a range of items that make it safer and easier to observe and deal with problems such as a propeller entangled in rope, a loose rudder, a faulty thru-hull fitting, a worn-out anode, or heavy fouling on long passages.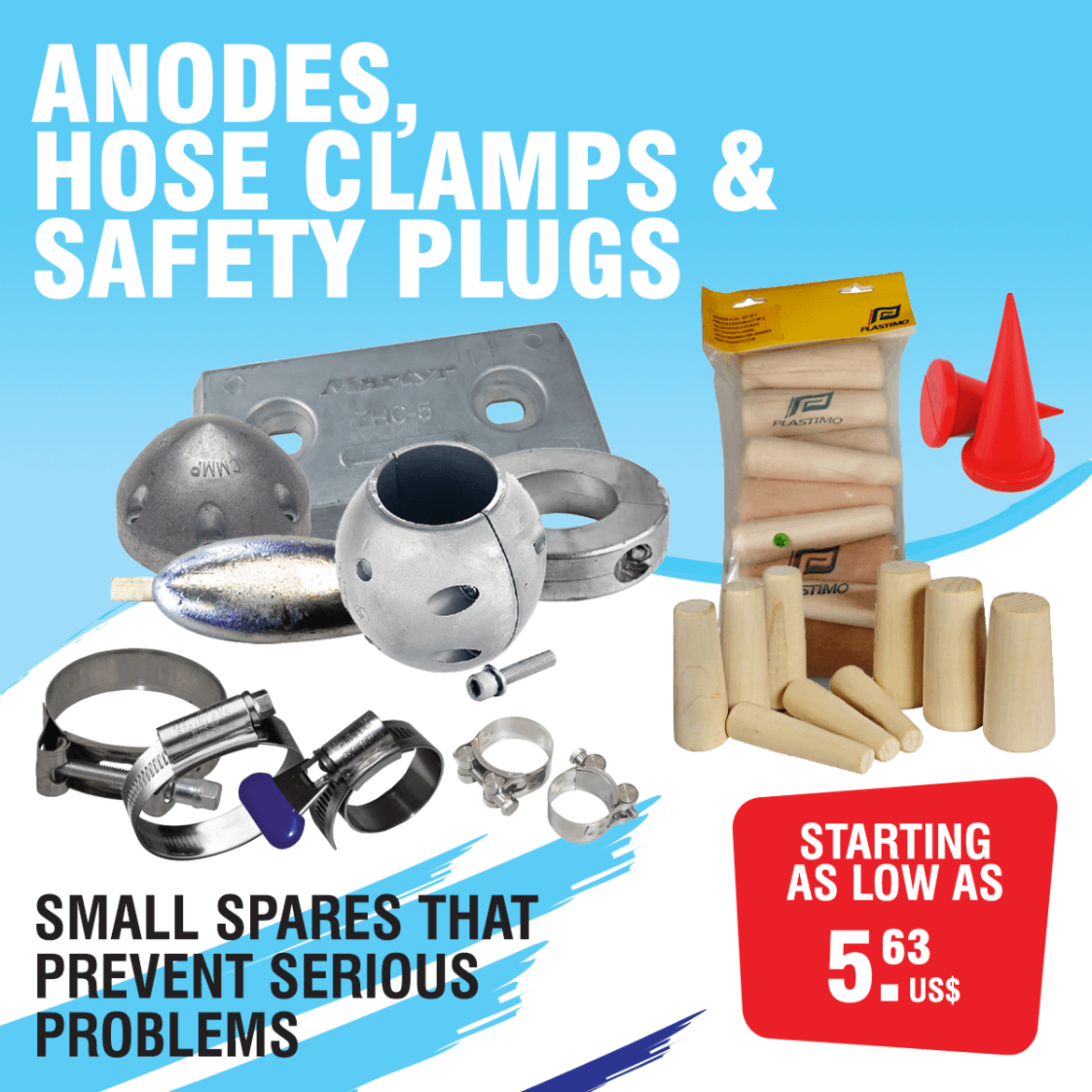 True stories:
A long-distance racing crew of eight thought they had everything needed for comfortable sailing but misjudged the amount of dish washing liquid required for a month. Seven days of washing up with shampoo meant that all the food served had an off-putting scented taste.
A cruising couple crossed the Atlantic in a very small boat. To save space they had a collapsible bucket, but when the loo malfunctioned there was no way to "bucket and chuck it".
Calculate well and add sufficient essentials to your equipment and provisioning list, including at least one robust bucket on a lanyard.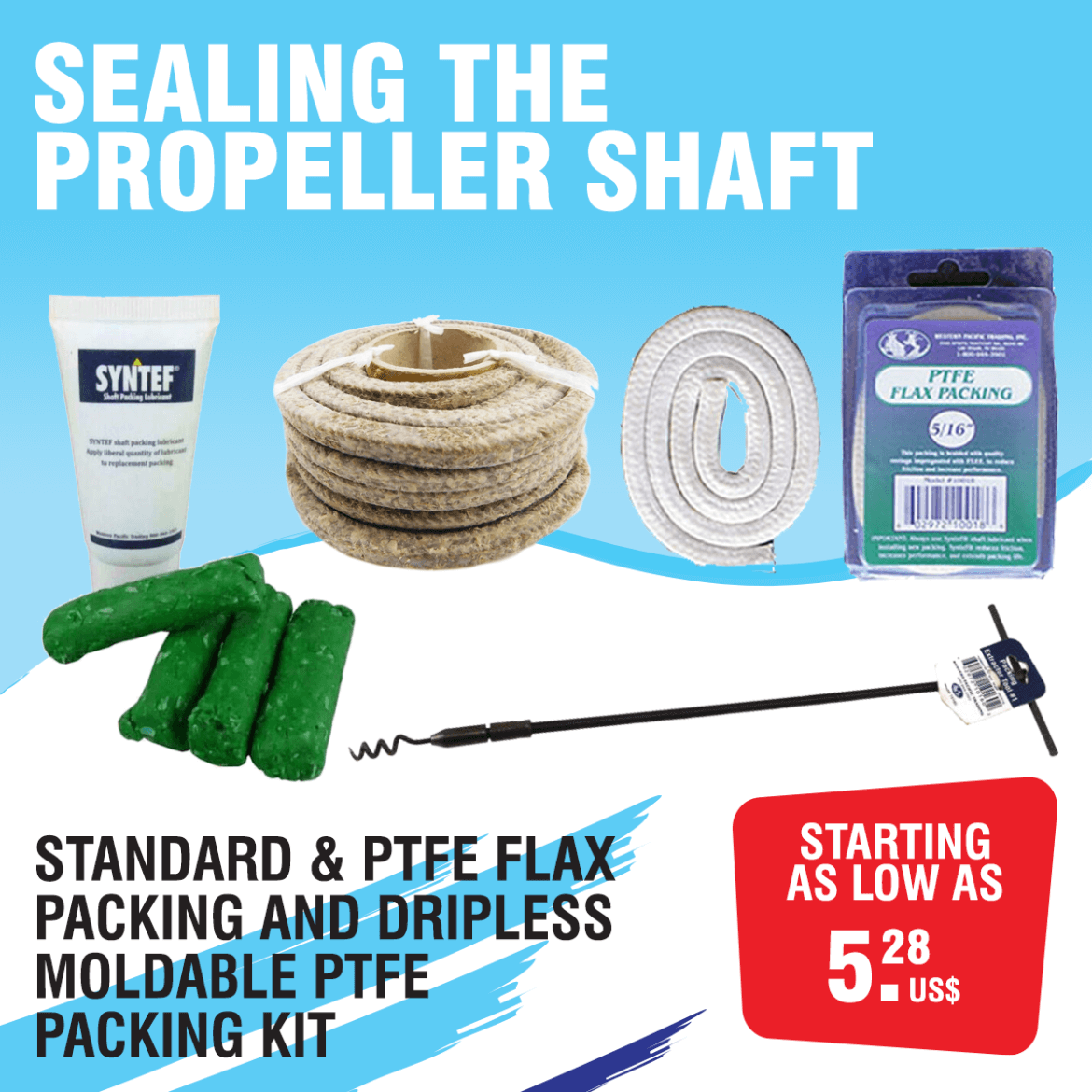 Standard Flax Packing
In the stuffing box, flax packing is compressed around the shaft by tightening the adjustment nut so that 2 or 3 drops of water per minute are allowed to leak while the engine is running, thus cooling/lubricating the bearing. If, over time, the seal breaks down, replacement packing should be inserted. Use a packing extractor to dig out old packing, saving some to measure for replacement.
To calculate packing thickness:

Dripless Moldable Packing Kit is an alternative to traditional packing that molds to the inside of the stuffing box creating a seal which eliminates the need for water. One size fits most shafts up to 1-1/4" (32 mm). Kit contains Syntef shaft lubricant to reduce friction and 4 moldable sticks. Proper installation also requires a package of correctly sized conventional square braid shaft packing (not included in this kit).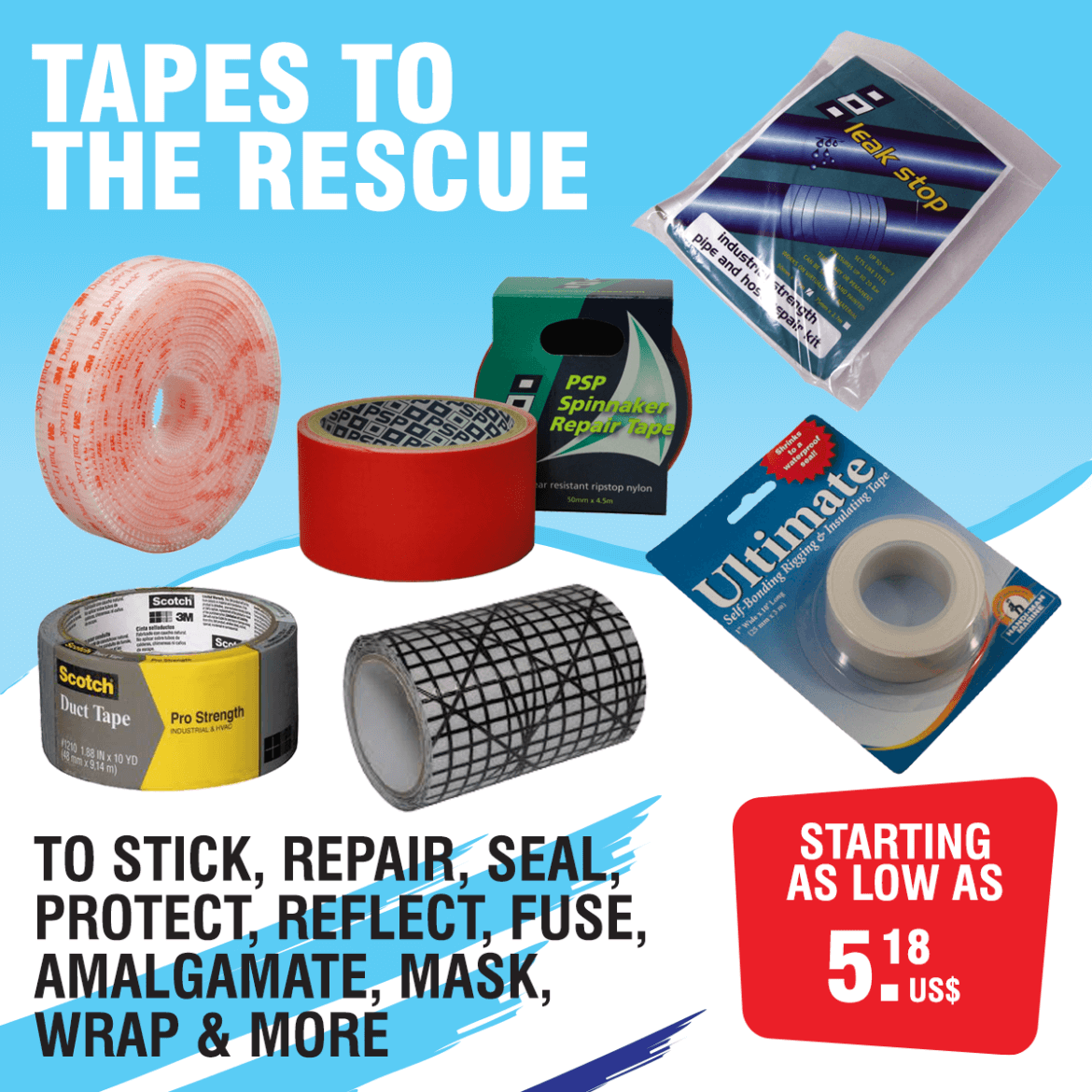 We stock an extensive range of tapes (and tape patches) from marine tape specialist PSP, 3M, Bainbridge and others, including Dacron, Kevlar, Spinnaker, Heavy-Duty Sail Repair tape, and Mylar tape (high clarity UV and salt water resistant, transparent tape for repairs to sail windows and Mylar sails).
Experienced sailors agree: "If you stock up on nothing else, get extra rolls of Duct Tape!