Diesel engines, keep 'em running
A diesel engine in a sailboat is a wonderful thing and I speak as someone who sailed thousands of miles without one. But a boat with an unreliable engine is almost worse than a boat with no engine at all. A sailboat can overcome loss of power in open water, and even in tight spaces, by hoisting sail. (I cringe when I see a boat with all the sail-covers on entering an anchorage.) However, lose power when approaching a dock, say between pontoons, and things can get nasty. Sod's law dictates that if your motor's going to quit, it's going to quit when you need it most.
The number one cause of an unreliable engine is dirty fuel. I recently cut a hole in the top of a fuel tank to fit an inspection hatch and was shocked by what I found. The inside of the tank was covered in thick brown scum and the diesel in the bottom was as thick as tar.
So, how do you protect yourself from dirty fuel? It begins at the dock and the source supply. To start with, let's assume that you are taking fuel from a reputable fuel dock/supplier and not stuff brought to you by the local farmer in rusty 45 gallon drums. Your first line of defense is to run the fuel through your own dedicated, made for the job, filter/funnel as it goes into the deck fill.
Now the fun stuff. Say your engine's running when suddenly the revs drop and the engine stops. Fuel starvation is the first thing to look for. Engines should have two filters, a primary and a secondary. The secondary is bolted to the engine and fed by the lift pump (see diagram). The lower part of a primary fuel filter housing usually has a glass bowl, so that you can see the fuel. In good light, you should be able to see any dirt or water that's in there. Shine a flashlight through it if that helps. I've emptied bowls that contain more water than fuel, so be warned.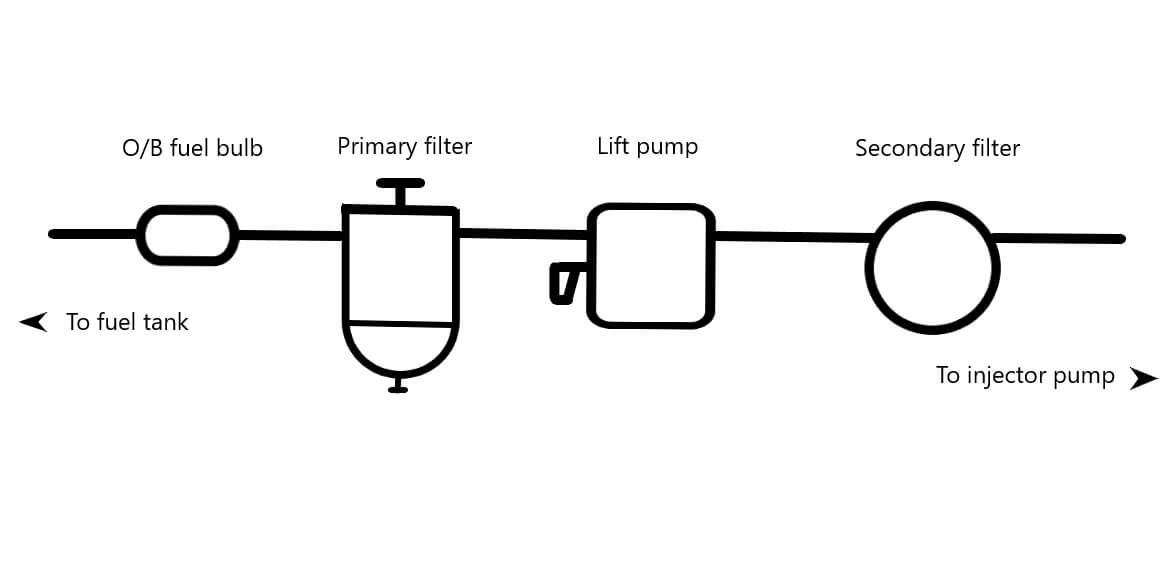 Changing the primary filter should be straight forward although some do call for a contortionist. Depending on the brand of filter/housing you have, turn the handle or loosen the bolt and remove the bowl and filter (some spin off). Make sure you catch any spills. If fuel ends up in the bilge and is carried overboard by the bilge pump, you could be in serious trouble. Before replacing the filter, clean the entire housing and make doubly sure the seals are clean. If the situation permits then replace the secondary filter too.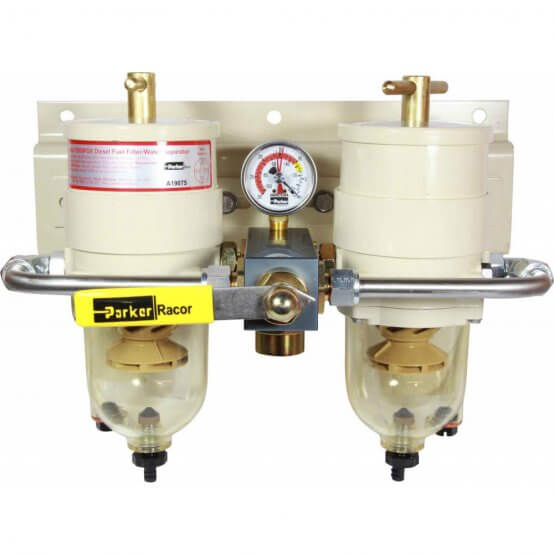 All this filter replacing takes time and perhaps it's really urgent that you get your engine running (it usually is). The chances are that once you replace your primary filter, and bleed out the air, your engine will start. And this is where having a double primary filter with bypass valves comes into its own. Isolating a choked filter and bringing the backup on line takes seconds and can quickly get you out of trouble until such times as you can work on the whole system.
On a delivery to Nova Scotia, we developed serious fuel problems. The boat had been damaged in a hurricane and repaired. Little did we know that the fiberglass fuel tank had also been repaired but never cleaned of the dust and debris caused by lots of grinding. Motoring along happily through the windless Atlantic swell stirred up the muck in the tank. We carried spare filters on board but quickly used them up (it was then we realized why the previous owner was carrying a half empty box of 24). The last filter clogged and the engine died as we came alongside the dock in Bermuda, and we gave it a mighty clout … not a good look for a delivery skipper. We bought every filter we could lay our hands on and again set off north. Becalmed in fog south of Lunenburg, with no filters left and surrounded by fishing boats, we were reduced to running the engine from our reserve fuel supply carried in five gallon jugs, bypassing the filters altogether with a pipe from the containers attached directly to the lift pump. Not something I would recommend except in an emergency because of possible damage to the high pressure injection systems on modern engines.
Tip #1: On my small Yanmar diesel, I have an outboard motor fuel pump (bulb) spliced into the fuel line in front of the primary filter. It makes bleeding the system so much easier.
#Tip #2: There are a number of fuel additives on the market designed to help keep the diesel in your tank in good condition by preventing microbial growth. Manufactures make various claims for these additives. I use them on my own boat and recommend them; just be sure to read the instructions carefully before using.
Tip #3: Don't wait until you have a fuel problem, service the system regularly.
Author: Gary Brown/OceanMedia
Product List