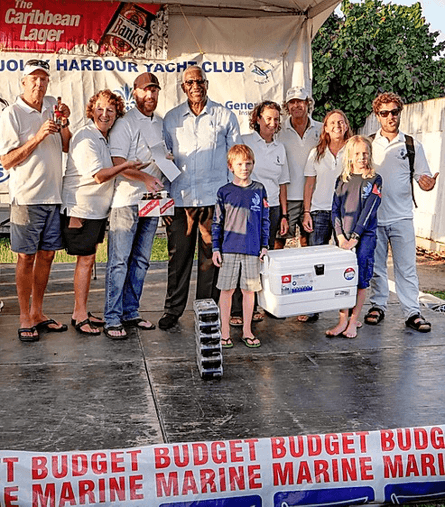 19 boats took to the water out of Jolly Harbour on Saturday 15th February for the first four races on of the Valentine's Regatta, sponsored by Absolute Properties, Budget Marine, North Sails and Seahawk Premium Yacht Finishes and kindly supported by Jolly Harbour Marina.
We were delighted to have some Jolly Harbour Yacht Club regulars, as well as welcoming several boats from Antigua Yacht Club, who made the journey over from Falmouth. In particular, we welcomed two boats and crew from the National Sailing Academy. We are always delighted to see the youngsters out on the water, that is, until they start beating us older guys!
It was forecast to be strong winds with some serious rain, potentially storms and squalls, however we managed to get away with just a few rain showers. In addition, we had wind gusts up to 36 knots of wind as well as the usual sunshine that we are used to in Antigua. All of which makes for interesting sailing out on Five Islands Bay.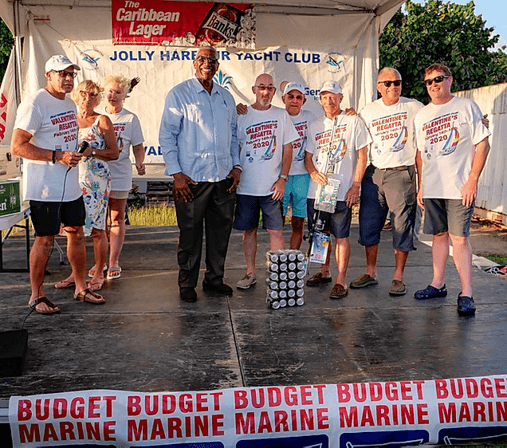 The four classes: sport boats, racing boats, racer/cruisers and cruisers all had lively competition out on the water. We saw some spinnakers flying in the sport and racing classes, and there was an almost photo-finish at one point between Liquid and Taz going either side of the committee boat. All boats had the additional obstacle of a couple of mega-yachts at anchor, who I'm sure were enjoying the racing from their vantage point. There were a couple of boats that suffered some damage, in particular note that Full Monty had a problem with their foresail after the first morning race, and so did not start the second race in order to make some repairs. Incredibly and admirably, the boat skippered by Grahame Williams, was able to change sails and return for the third race and came out looking fighting fit.
The final race of the day ended up finishing outside the anchorage of Jolly Harbour. The provisional results came on Saturday evening with Scarlet Oyster winning every race in their class and therefore was the boat to beat!
After a fabulous regatta dinner at Al Porto restaurant, with entertainment from 1761 Degrees band, the competitors readied themselves for the second and final day of racing, with all titles still up for contention.
18 boats took to the water out of Jolly Harbour on Sunday as Nate skippered by Claude Lambert retired from the regatta, but we hope to see them again next year. All the boats had a challenging day with weather varying from lows of 2 knots of light wind up to 36 knots with heavy rain and squalls and incredibly low visibility during the morning, with many boats requiring spotters to see the Budget Marine marks on the course due to the extreme weather! The first race saw some tight racing, with several crews donning their rain coats and warm layers; ever-prepared for any eventuality, even here in Jolly Harbour, Antigua.
The four classes all showed excellent displays of skill, teamwork and sportsmanship. Freya, the classic boat suffered a ripped jib in the first race, but admirably continued with a much smaller storm jib. The second race of the day saw a photo-finish between Imagine of Falmouth and Full Monty, both regular Jolly Harbour yachts, with Imagine pipping Full Monty to the post on the water. High Tide also suffered damage and were unfortunately forced to retire from the rest of the regatta. We look forward to seeing them again on the water soon.
The final race of the regatta saw all boats finishing back into the Jolly Harbour anchorage, with Cruiser and Cruiser/Racer boats having a modified course, which resulted in boats from three classes all approaching the finishing line at the same time, making for a spectacular view, but also impressive skills by the committee boat, noting down all the finishing times!
Prize-giving on Sunday 16th February took place at the Green beside Al Porto, where we were honoured to have His Excellency the Governor General of Antigua Sir Rodney Williams KGN, GCMG hand out the prizes: we thank him for his continued support of this regatta. NSA boat Spirit (helmed by Jules Mitchell) won the Sports boat Class, with the youngsters pipping experienced professional boats Liquid and Taz to the post. Tanner Jones' boat Blue Peter took the medal for the Sports class, beating other Jolly Harbour regulars Seal, Pims and Ocean Harmony. Scarlet Oyster helmed by Ross Applebey won the first prize in the Cruiser/Racer class, with a fantastic effort by all on board, but in particular to Annie Cossar (4 months old) and Freya Applebey (6 months old) for their tactical contributions, with both babies and mothers on board throughout the whole regatta! In the Cruising class, Imagine of Falmouth, ably skippered by Jon Constantine, Vice-Commodore of the Jolly Harbour Yacht Club won, with a very close second for newcomer Seafalke II.
In addition to class prizes, there was also a prize for the best overall boat to be determined by number of bullets. However, as there was nothing to separate Scarlet Oyster and Blue Peter a tie was declared and the Absolute Properties Best Boat Overall Trophy was awarded to them both. Congratulations to all the winners!
We would like to thank all skippers and crew who participated, we wish you well for the Caribbean 600 and the rest of the sailing season and hope to see you back racing in Jolly Harbour again soon.
We are particularly grateful to our major sponsors: Absolute Properties, Budget Marine, North Sails and Seahawk Premium Yacht Finishes. The Regatta was kindly supported by Jolly Harbour Marina. We are also thankful to the many organisations and businesses who support our regatta with donation of prizes and to Al Porto restaurant for hosting us over the weekend. Last, but certainly not least, we thank the many volunteers and helpers on the water, off the water, in advance of the Regatta and throughout the weekend, who all help ensure the smooth running of the Valentine's Regatta, without whom, it would not be possible to put on such a successful event.'
-By Elizabeth Garcia