For optimum performance, good quality brushes and rollers are an investment, but it makes sense to use a low-tech, less expensive tool if adequate for the job. Choosing the right product all depends on your project.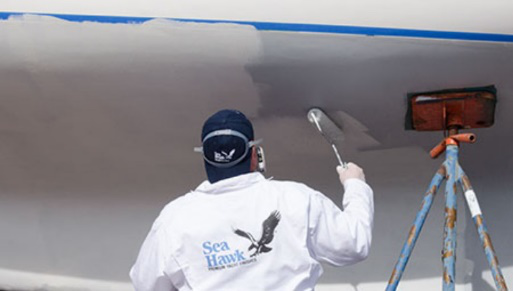 Antifoul application
Rollers – Many bottom paint manufacturers recommend using a 3/8″ nap roller that will apply a thick coat with orange peel-type finish. On ablative paints, that texture will smooth out a little as the boat moves in the water. A smooth, slick finish results in faster speed through the water. If you want a smoother finish, use a 3/16″ to 1/4″ nap roller.
Foam rollers can be used, but they lay down a thinner coat of paint. For proper antifoul protection more coats will be required to to build up correct mil thickness (as specified by the manufacturer). When applying solvent-based paints, a solvent-safe foam roller cover should be used, constructed so it won't fall apart.
Varnishing – You need a brush that is dense, has a chisel tip, and won't shed bristles, such as a good badger-hair brush. Oil-based varnish takes longer to dry and is best applied with a natural bristle brush.
Some professionals even use a good foam brush, applying thin, smooth layers to achieve the final finish. The advantage of throw-away foam brushes is you don't use solvent to clean the applicator, saving on cost and eliminating the need to dispose of used solvent.
Painting – The brush needs to hold plenty of paint, so a bristle brush is best. Disposable, throwaway China chip brushes are adequate for small jobs or those where perfection isn't a priority. Foam brushes can't be used with polyurethane paints.
Rolling-and-tipping requires a careful brush cleaning regimen. An oval-shaped badger- or China-bristle brush with a chiselled, fan-shaped tip is best.
Brush Care – Never leave a natural bristle brush soaking in thinners as it will dry out the bristle's natural oils. Instead, soak it in kerosene, suspended so the tip is off the can bottom. Rinse it twice in mineral spirits or thinners before re-using.