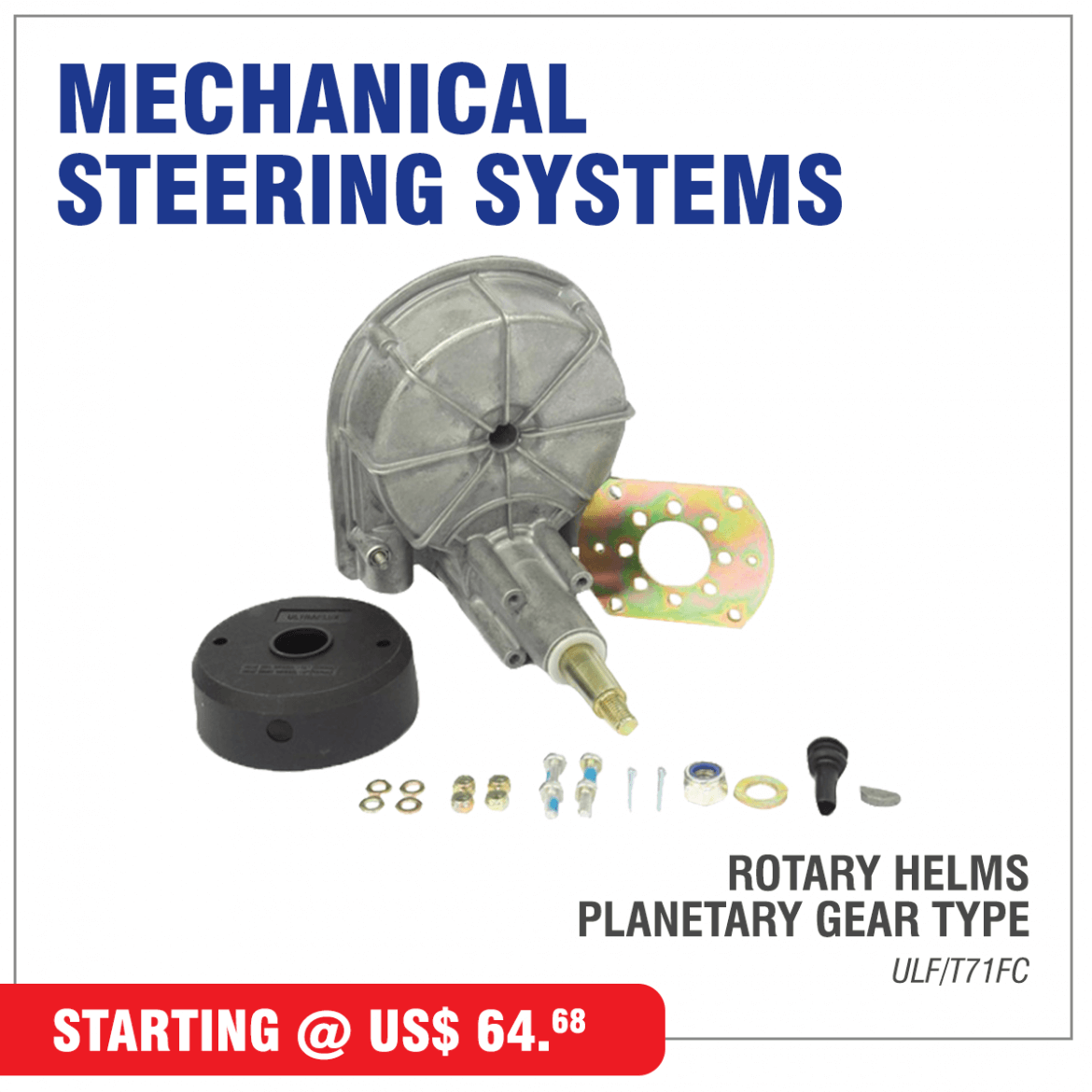 Good handling performance and provide safe operation for smaller powerboats (up to 34′). They consist of a wheel, helm, push-pull cables and connection kits
The helm is the mechanism behind the instrument panel that converts the wheel's rotary motion into a push-pull motion on the cable. The steering wheel attaches to the helm. Rotary steering helms have a round gear around which the cable turns as you turn the wheel.
Planetary gear type:
This alternative style uses three or more gears that mesh internally with the cable drum to move the core of the steering cable. The Safe-T II design from SeaStar, or the similar Rotech T71FC helm from Uflex, takes up the least possible space behind the dash, so it's recommended for boats with small dashboards, or with instruments clustered around the wheel.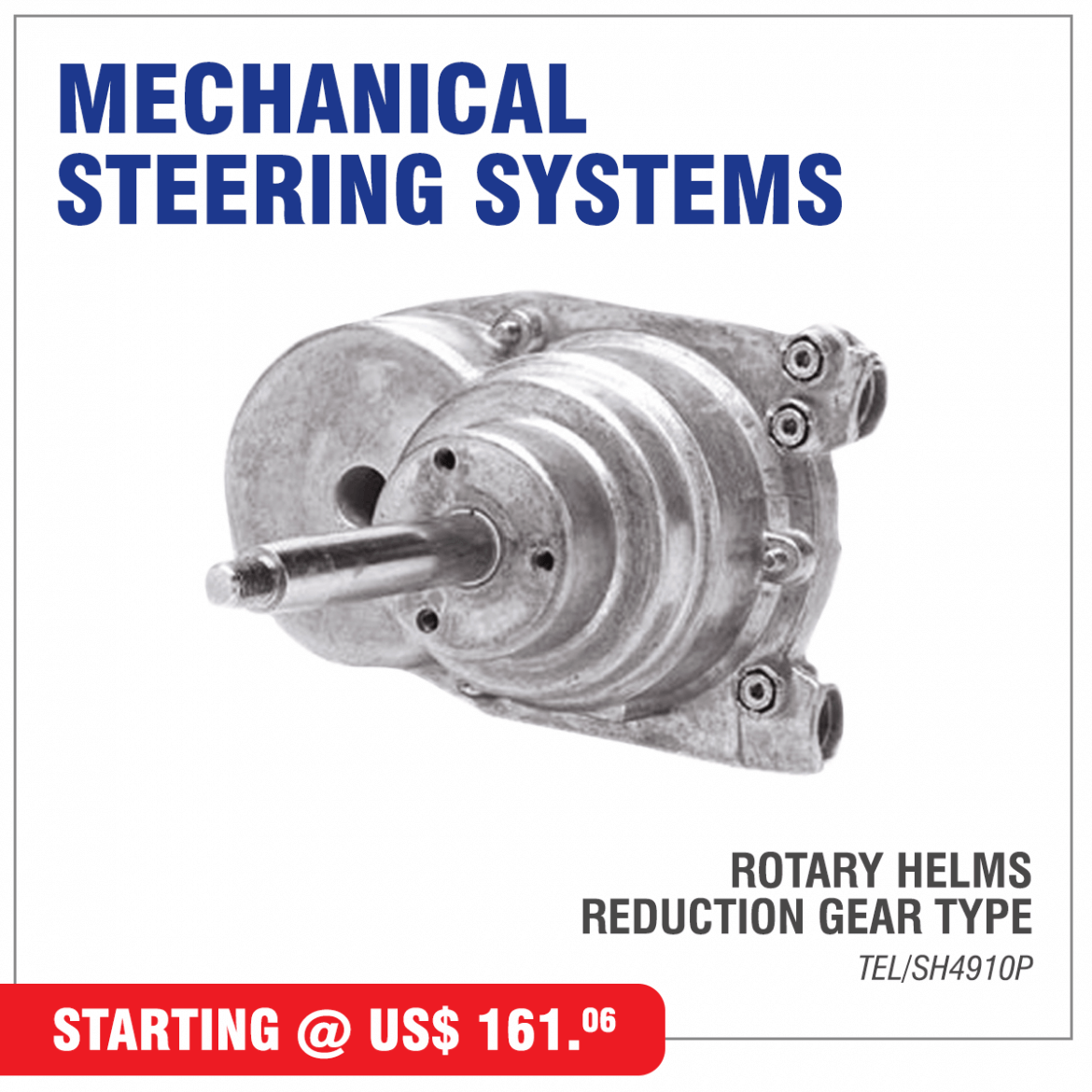 Reduction gear type:
One or more gears mesh with the steering drum to move the helical core of the steering cable. This original rotary design (which include the Big-T and Safe-T helms) is still best in terms of strength and efficiency, since there are usually only two gears. These helms have the drawback of requiring a fairly large round assembly behind the dash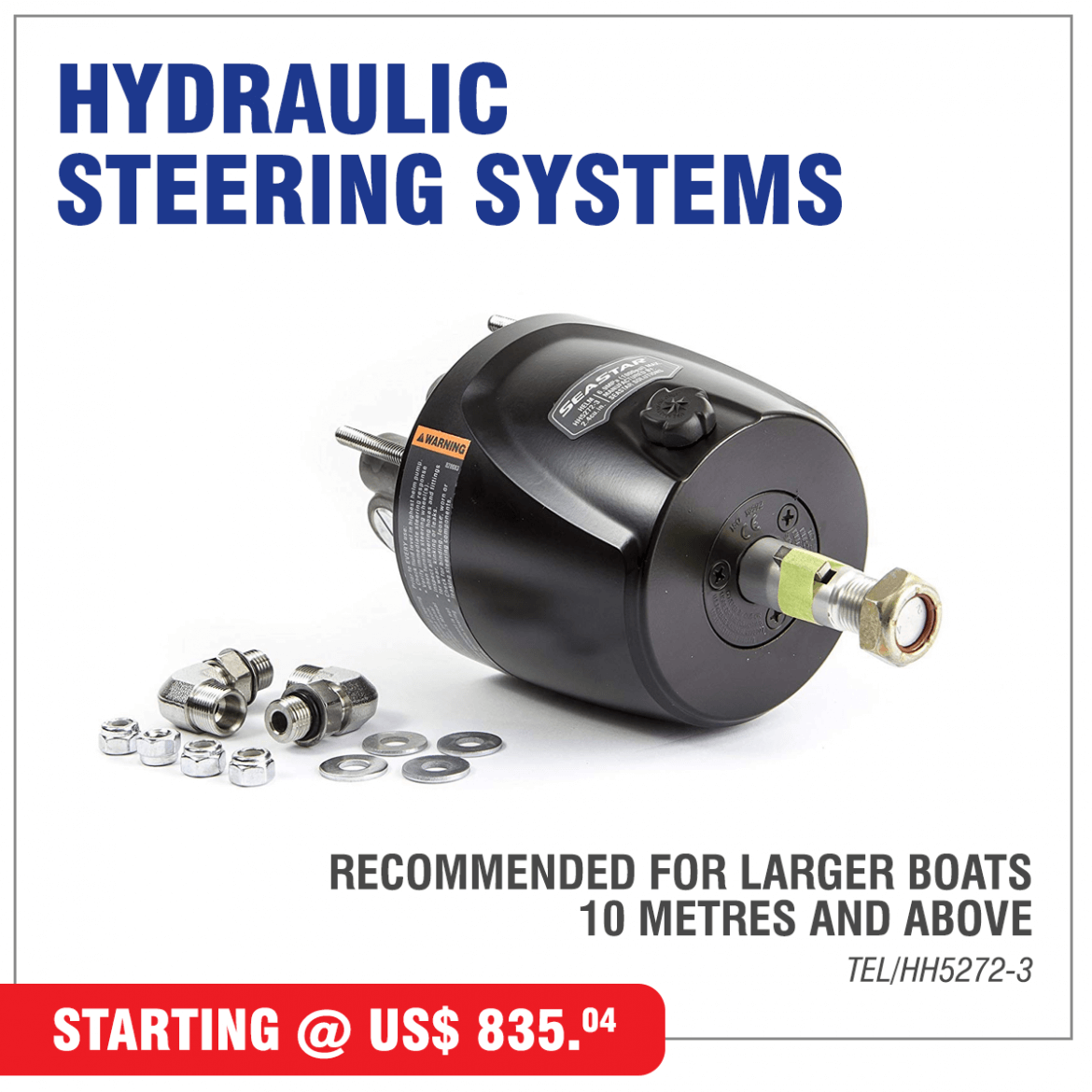 Hydraulic Steering Sytems
A hydraulic steering system is recommended for larger boats 10 metres and above in length and those moving at high speeds. The torque (or force) of a large outboard motor means it can be difficult to bring out of a turn or veer sharply from heading straight with mechanical steering.
During operation, a clockwise turn of the boat's steering wheel will force hydraulic fluid from the helm pump unit into the boat's starboard side hydraulic line. The fluid is then be pumped into the cylinder which causes the cylinder rod to either retract or extend.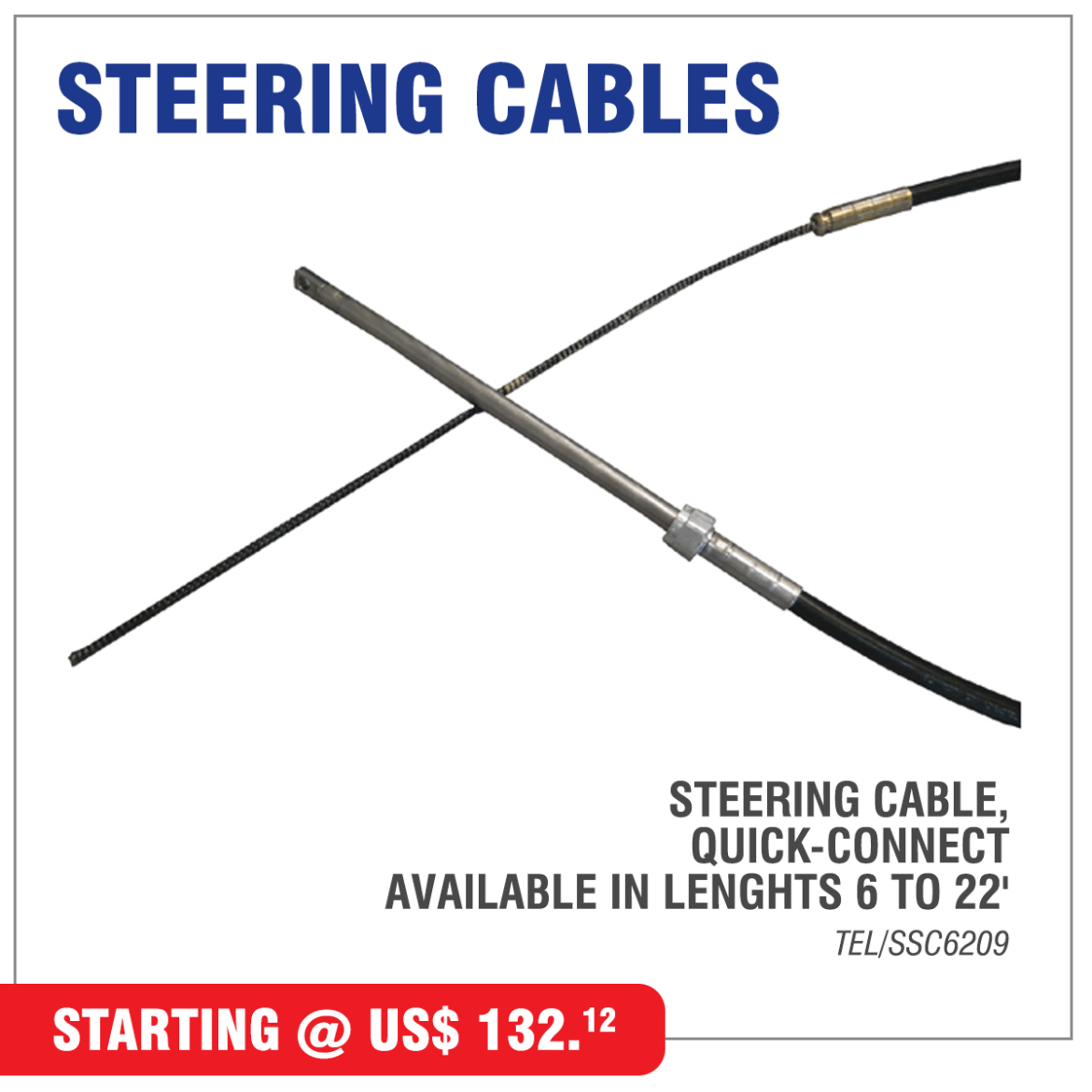 As you spend more time out on the water, you may notice that steering your boat has started to feel different, more stiff. As steering cables age, they can become less responsive. Steering components are a very important part of your boat and damaged or old cables can lead to trouble while out on the water.
Proper inspection of your steering cable at least two to three times per season is very important. Inspection should include looking at the cable jacket for signs of damage such as cracks and cuts. Also, look closely at both ends of the cable and inspect the surrounding hardware for corrosion, wear or rust. Next, check to see if the cable is difficult to move.
If you find the cable has any of the above damage or is difficult to move, replace your parts immediately to avoid dangerous situations while out on your boat.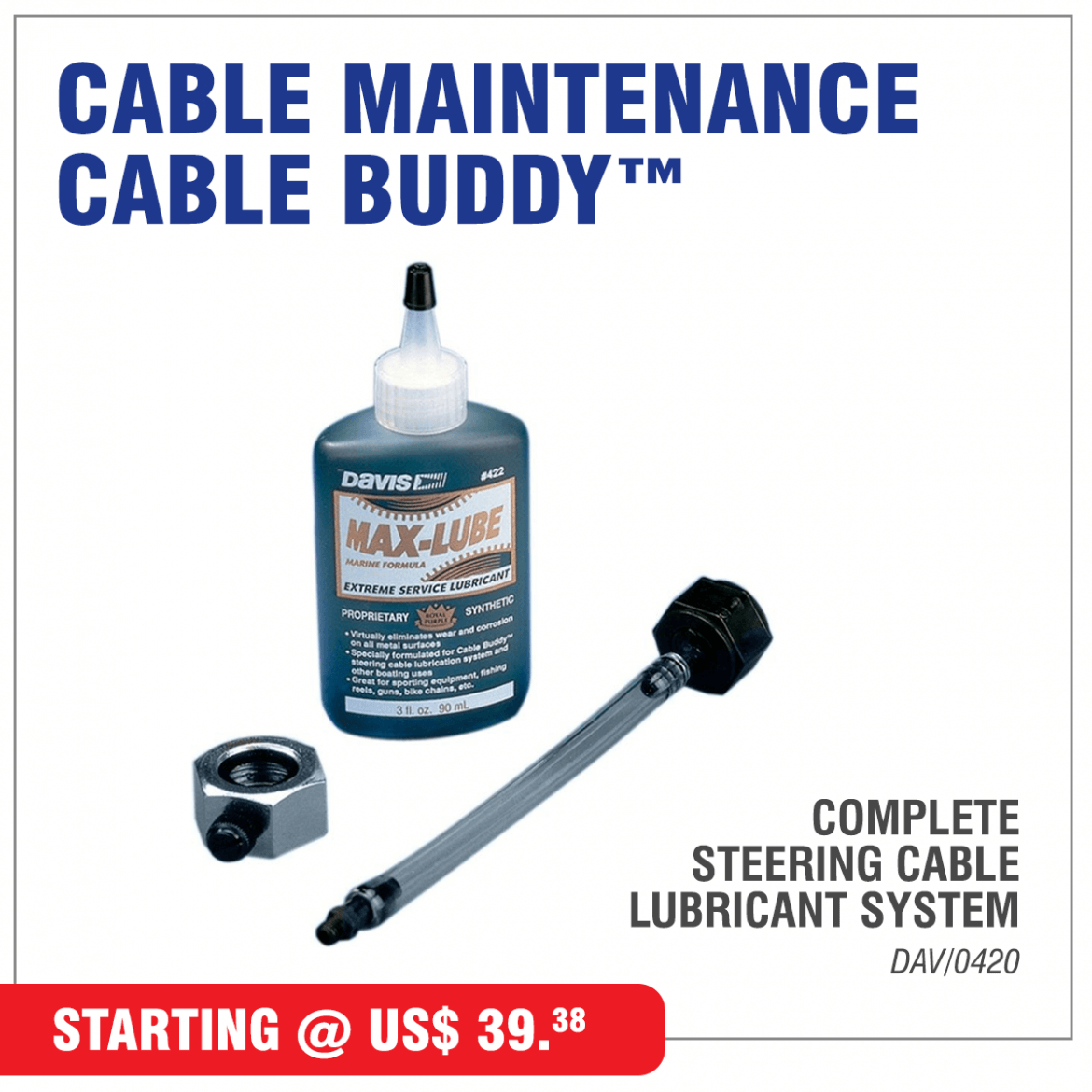 CABLE BUDDY™
Cable Buddy™ is a complete steering cable lubricant system. Seals moisture out, puts lubricant in. Prevents corrosion and freezing to -40°F (-40°C). Cable Buddy lubricates and virtually eliminates all wear in the inner cable, where most problems occur. Works on inboard, outboards, and inboard/outboard steering cables. Fits all major US and foreign motors (7/8″ x 14 pitch threads). Easy to install.
Makes steering easier and safer on boats with inboard, outboard, or inboard / outboard steering cables.
Prevents corrosion and freezing, lubricates otherwise inaccessible inner cable.
Seals the critical area of the steering cable from moisture intrusion while allowing delivery of proper oil to the cable.
7/8 x 14 threads fit Johnson / Evinrude and all Japanese outboard motors.
Three parts of the Cable Buddy system:
• Cable Buddy™ lube nut, made of marine grade stainless steel, comes with sealing washer and plug.
• Oiling tube assembly.
• Max-Lube™, the ideal lubricant for steering cables. Max-Lube has high water separation properties and affords corrosion protection in extreme conditions. Maintains flow at temperatures as low as –40°F (–40°C).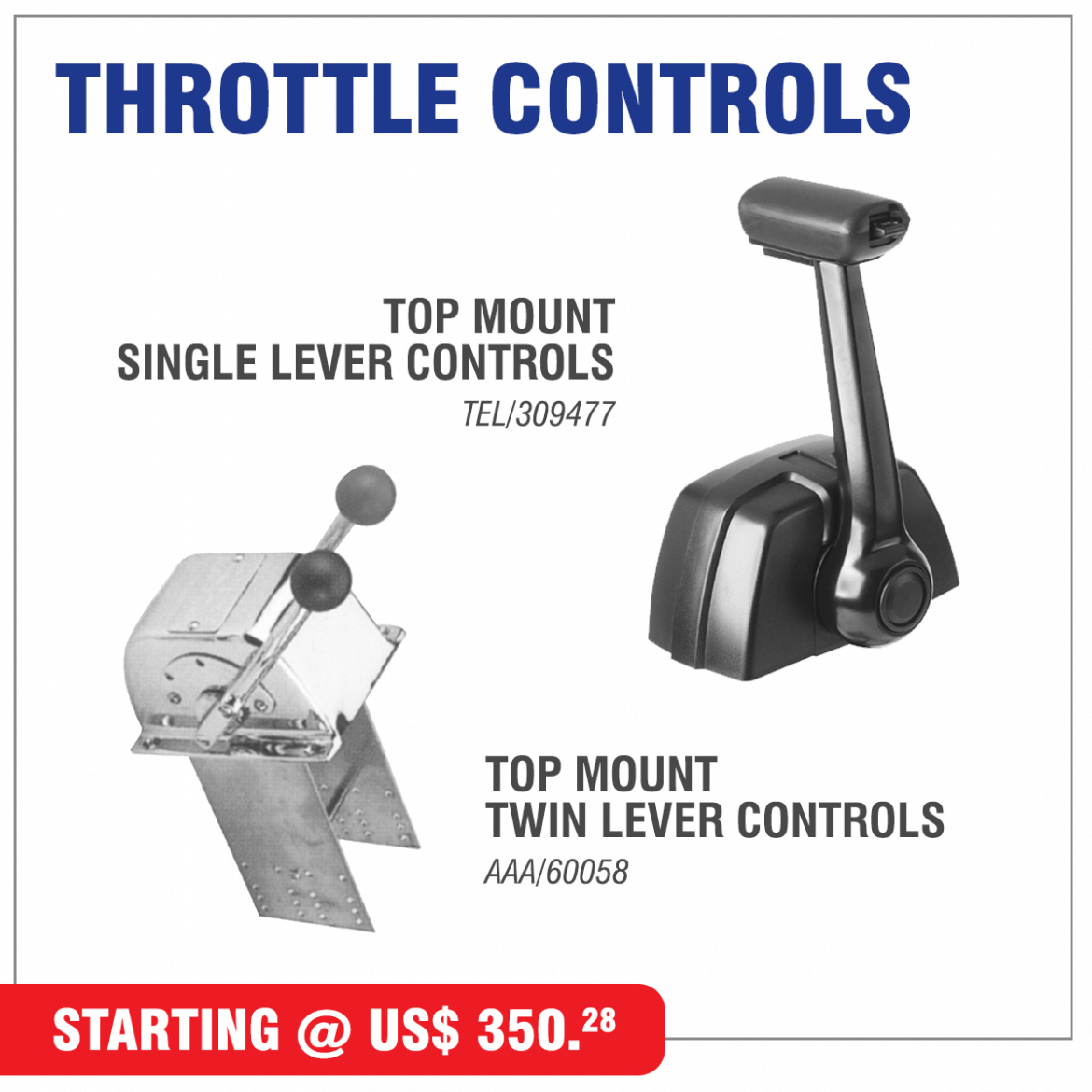 Intro
Dual-function mechanical controls are the most popular type of control in use today because they make boat handling easy. Both shift and throttle are operated by a single lever in a very instinctive action. Shifting is quick and can only be done at low rpm, which protects the engine's shift mechanism. Two cables are used: one for shift and one for throttle.
Single-Function Controls
On these controls one lever performs one function, either shift or throttle. The controls themselves may have one lever to control either shift or throttle, or two levers (one for the shift and one for the throttle).
Twin engine applications commonly use two two-lever single function controls. Both levers of one control operate the throttles, and the levers of the other control operate the shift mechanisms
Top mount
Top Mount Twin Lever Controls Two lever / single action control: each lever operates separately either the throttle or the shift. Suitable for use with outboard, inboard or I/O power plants.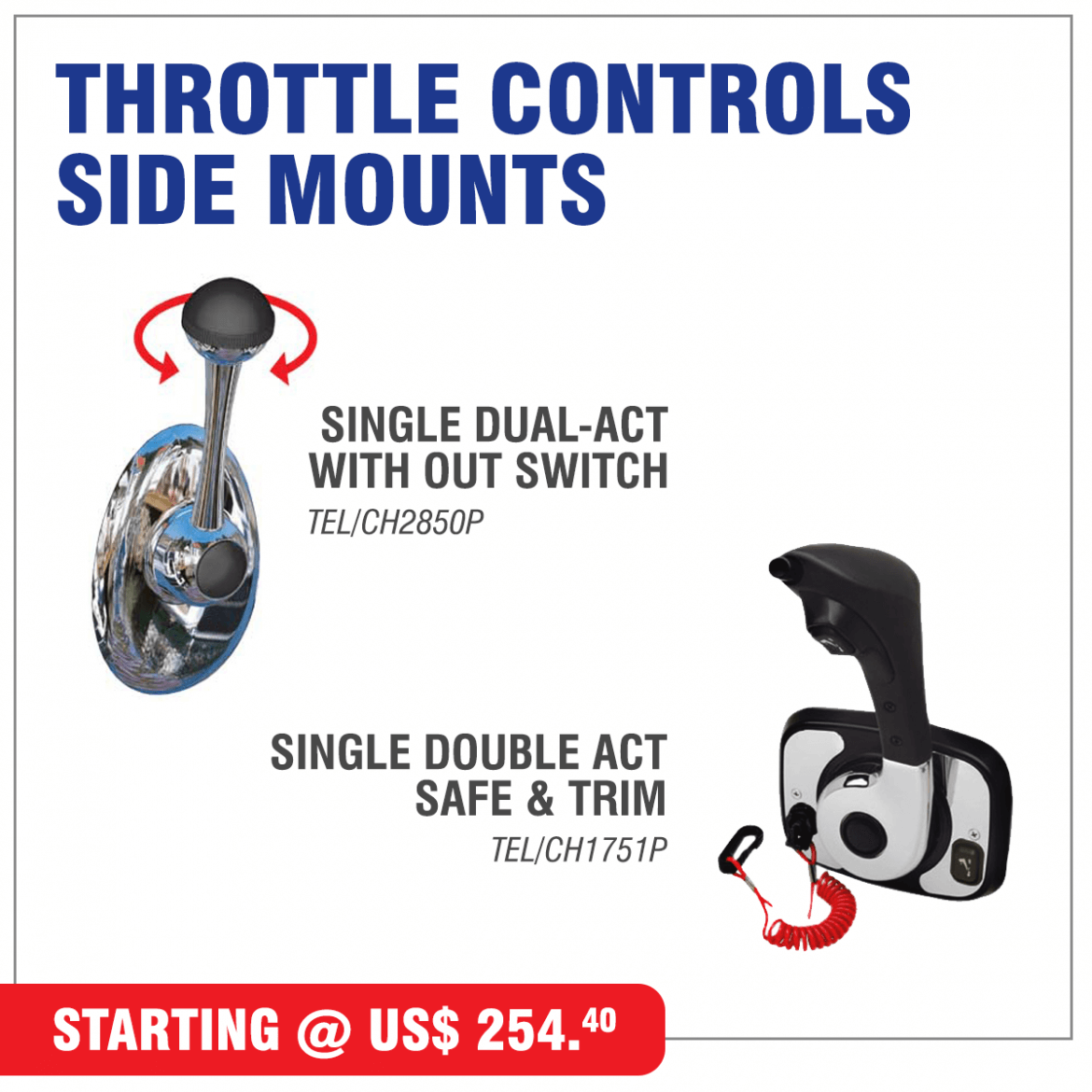 Side mount
Engine Control Side Mount Lever provides you both throttle and shift operation for outboards and inboards at low shifting loads.