Few things are more important on a boat than a strong anchor and sound chain, but a weak link in any part of your ground tackle system may mean your boat comes to rest in an unexpected place. Information to help you select and maintain these essential items, is shown here.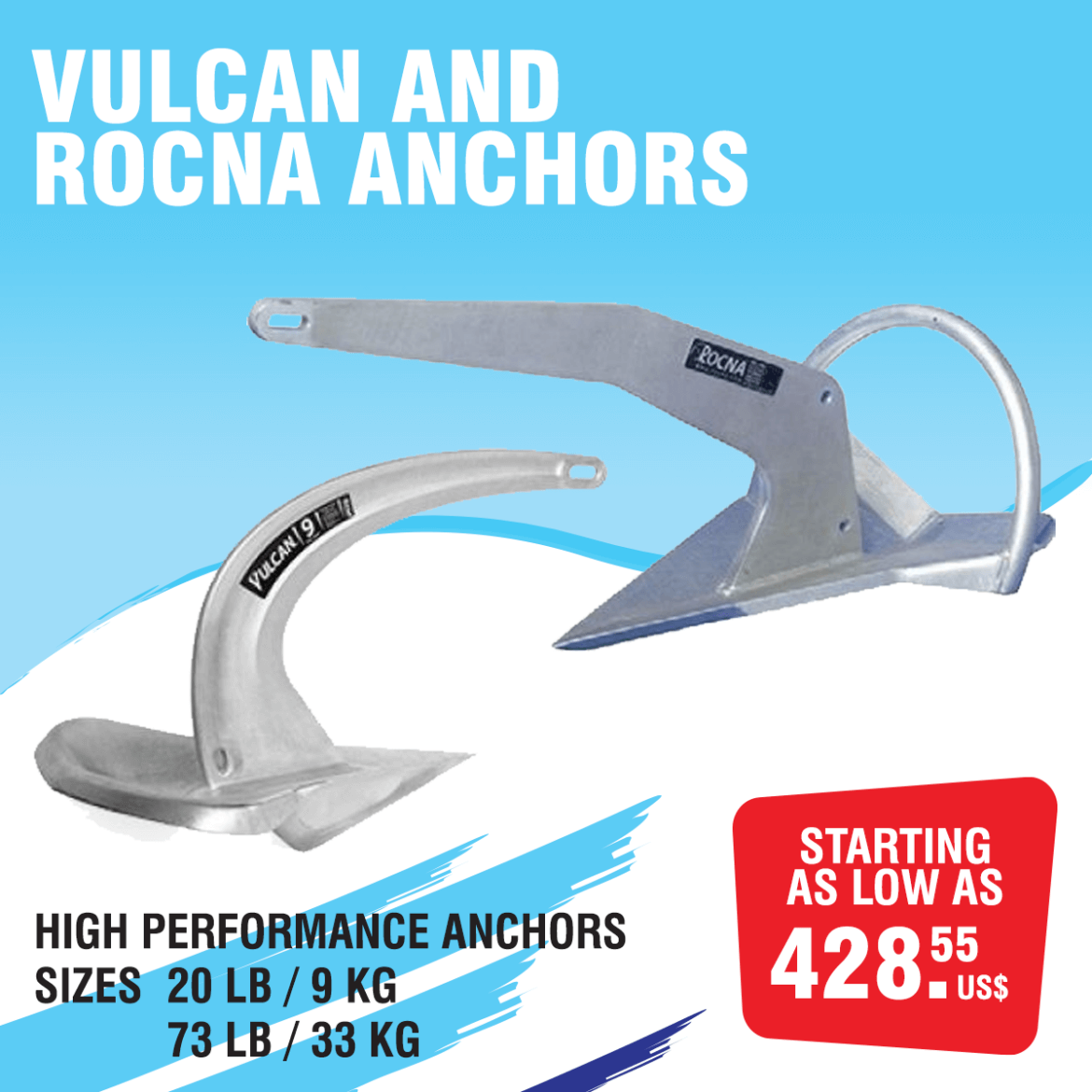 The VULCAN anchor's roll-palm™ at the rear of the fluke self-rights the anchor. The V-bulb™ extends fluke ballast downward for maximum leverage and the large concave fluke provides strong holding power. The shank profile ensures a snug fit on the bows of a wide range of vessels, encouraging self-launching and self-stowing on most bow rollers. Its high tensile steel I+V profile™ shank design provides high resistance to bending and excellent setting performance, with the lower V edge cutting into the seabed for secure burial.
The ROCNA anchor roll-bar means the anchor always arrives at the ideal angle for penetration, and the setting skids guide the fluke tip which acts as a sharp chisel cutting into the seabed. A third of the anchor's weight is on its fluke tip, ensuring an instant, reliable set. The large concave fluke gives great resistance and holding power in soft seabeds and on hard/weedy sea floors, its chisel tip bites deep.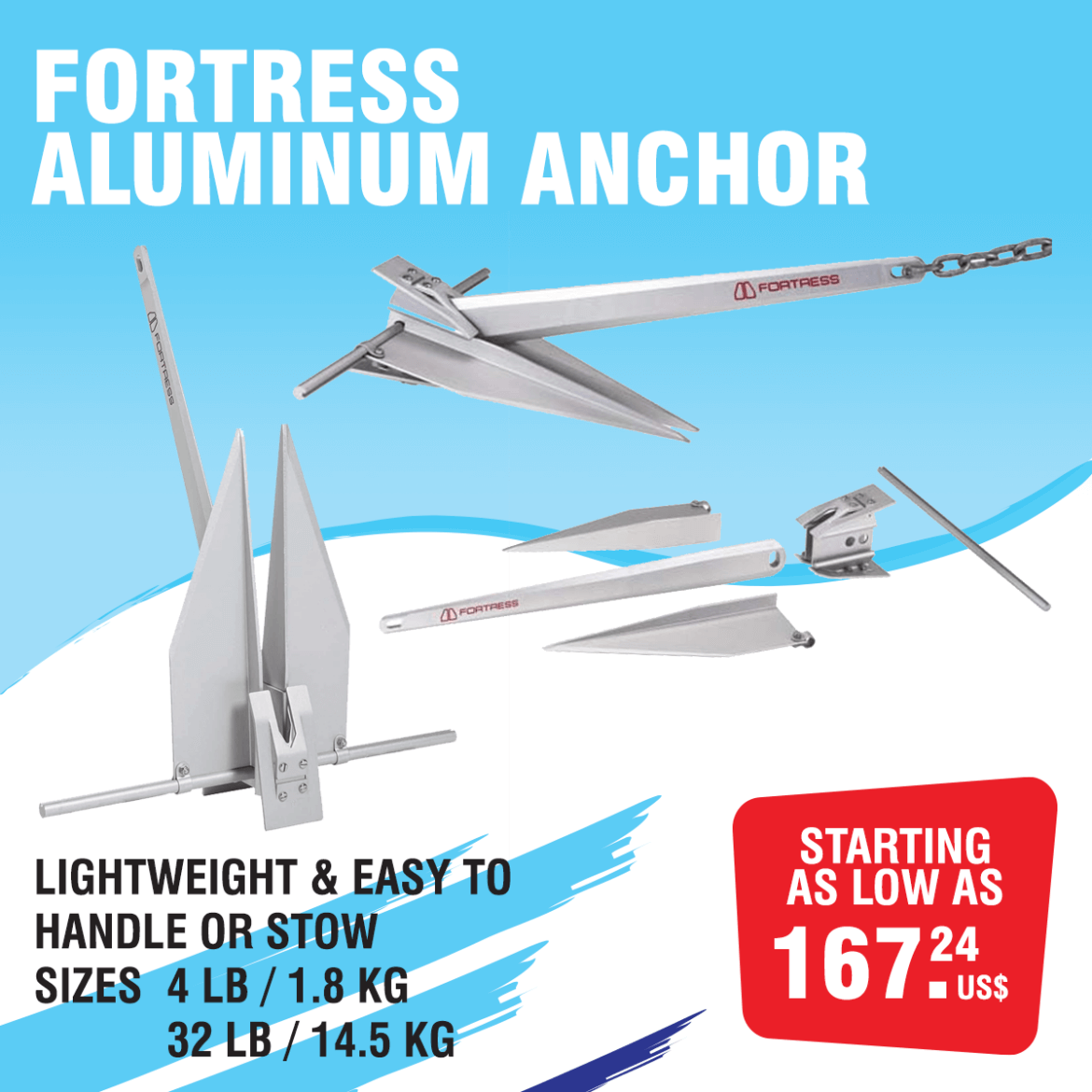 FORTRESS anchors are precision-machined from an aluminum-magnesium alloy, which ensures easier handling along with faster setting and deeper penetration in common sea bottoms compared to traditional and much heavier steel anchors. They have two shank/fluke angle options – a 32° angle for sand, mud, or clay, or a 45° angle for soft mud. A big advantage is their light weight for handling and the fact that they can be quickly disassembled for compact storage as a spare or storm anchor.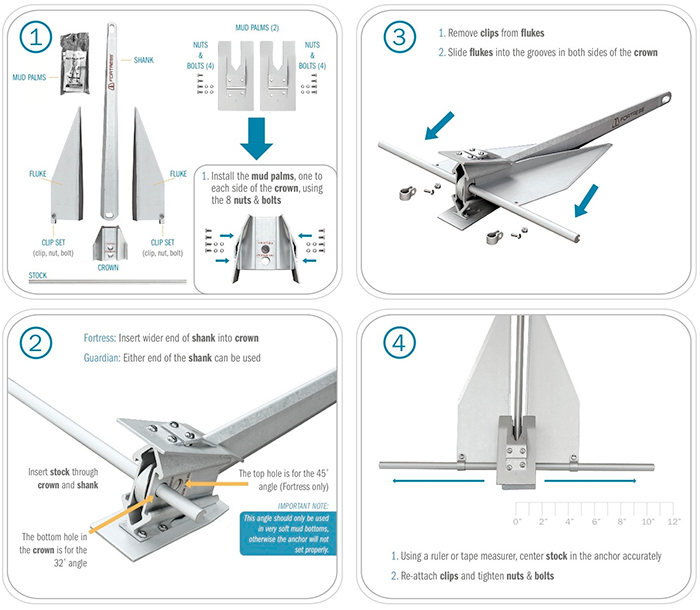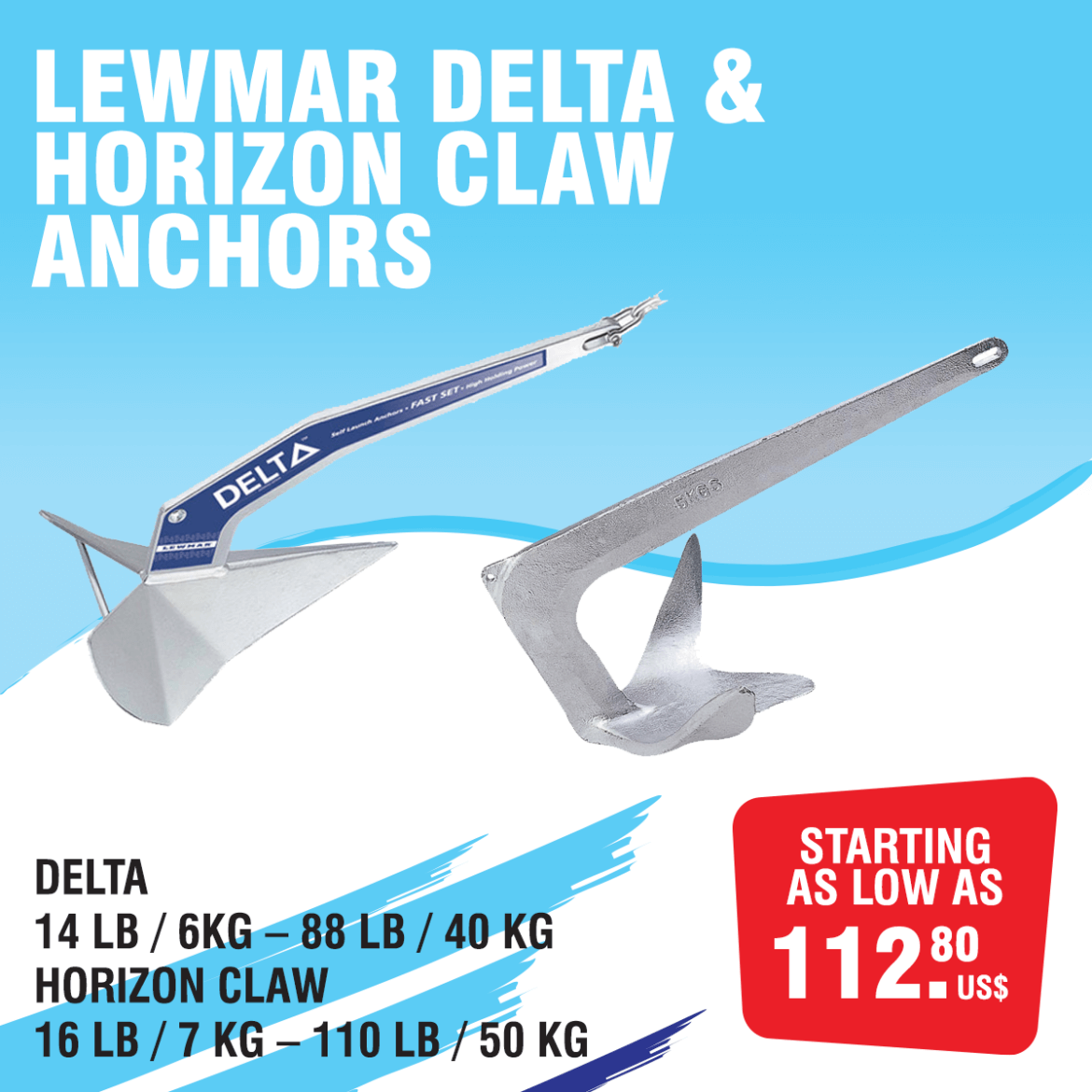 The DELTA anchor with its shank profile and ballasted tip is self-launching, and the low centre of gravity and self-righting geometry ensure that it will set immediately. Manufactured from high grade manganese steel, its performance is consistent and reliable.
The HORIZON CLAW anchor design is based on anchors used to secure oil rigs in the North Sea. It has a high–grade, cast-steel one–piece construction that sets quickly and deeply in a variety of seabeds, but is best in rock, weed, and coral. Stows easily on the bow roller of most boats.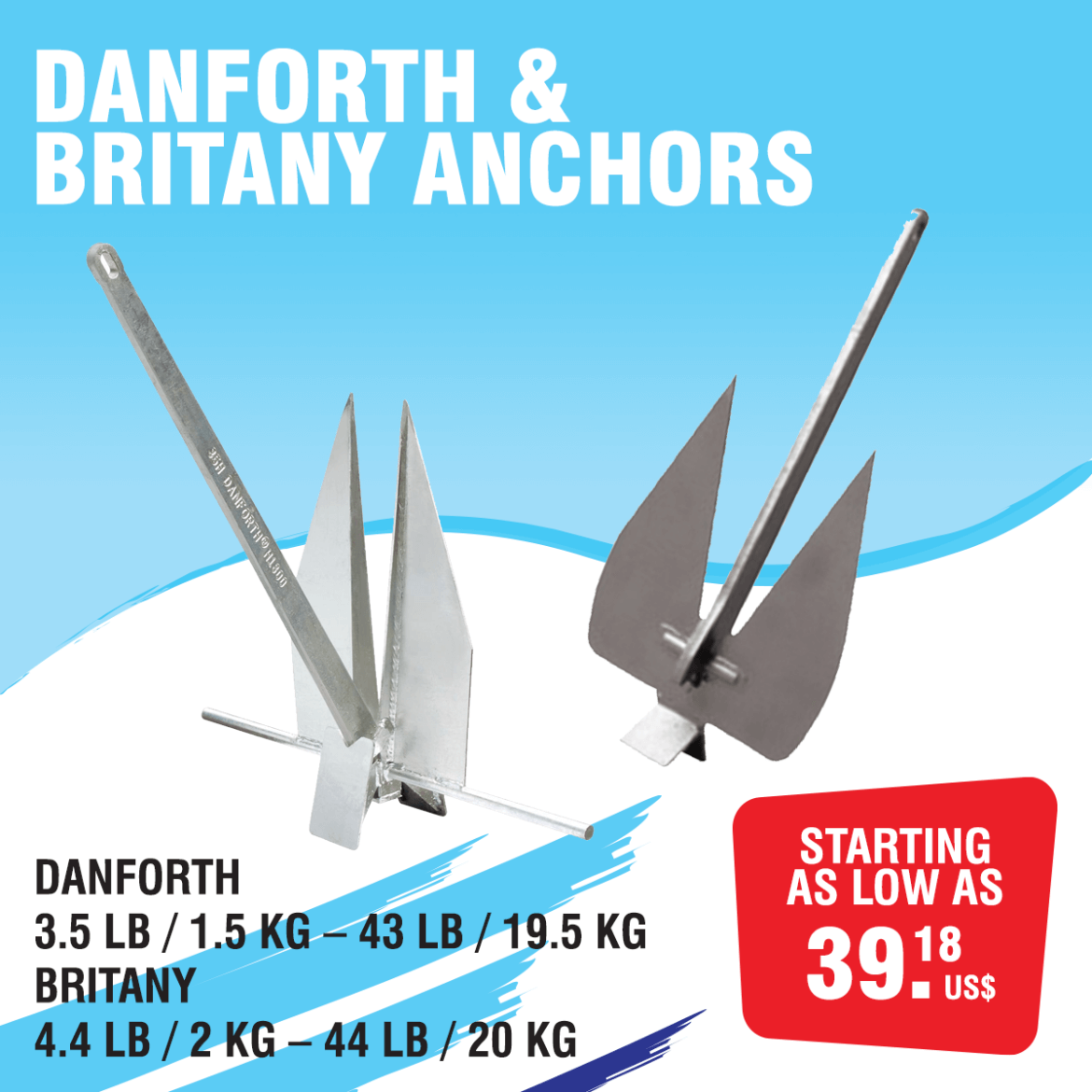 The DANFORTH anchor has a shank that is made of high strength steel and steel flukes that are strong and wide. Each anchor has a hot dipped galvanized coating for long-lasting protection.
The BRITANY anchor has thin flukes with sharp edges that ensure quick digging even in the hardest seabed. The high resistance shank cast in one piece gives perfect resistance, even to a strong lateral pull.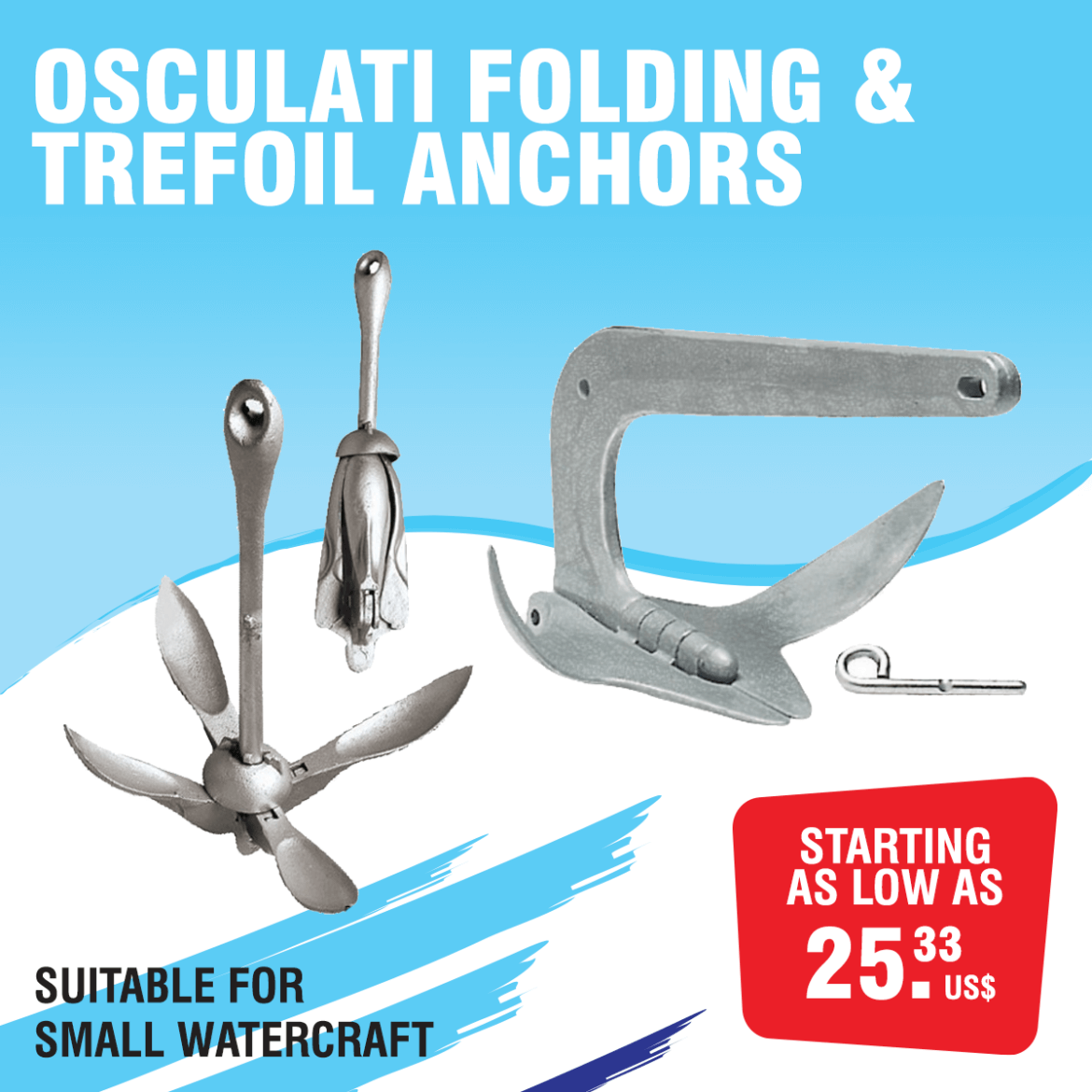 FOLDING grapnel anchors made from hot galvanized cast steel are best suited to small watercraft, such as dinghies, kayaks and canoes or small fishing boats. Four tines fold out from the anchor to grab onto rocks or other objects on the bottom.
TREFOIL anchors combine good holding power with the convenience of folding grapnel anchors that are easily stowed onboard.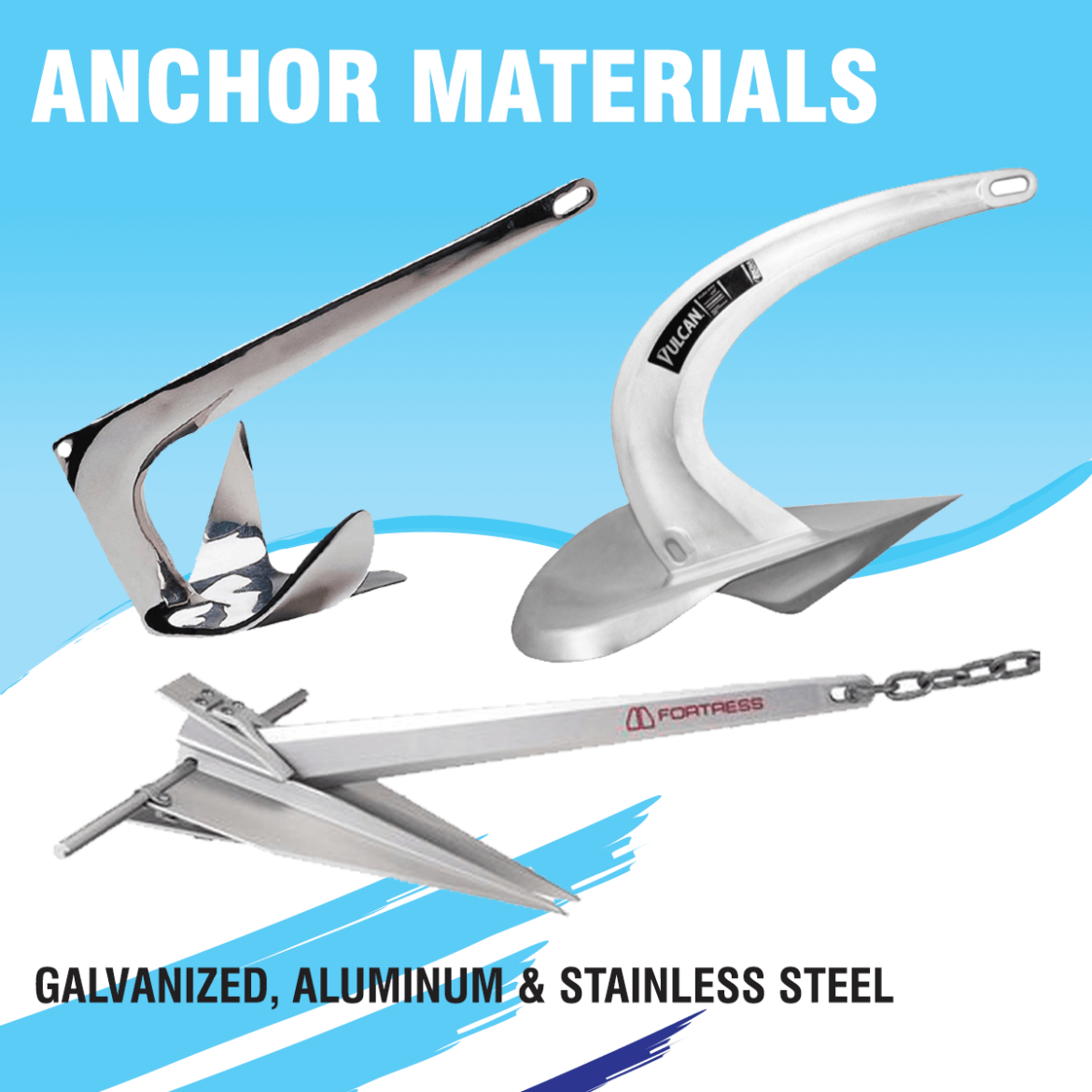 Galvanized Anchors have a protective, corrosion-resistant coating over a mild steel or a high-tensile steel core. While similar in appearance, performance differs significantly, as mild steel may only be half as strong as high-tensile steel, so always check specifications. Galvanized anchors don't look as good as polished stainless steel or aluminum but are usually less expensive and strongly recommended for the harsh marine environment. They may need retreating with galvanizing, should the coating wear off with use.
Aluminum Anchors are high-strength and lightweight. They depend on their ability to dig into the bottom for a good hold. A good choice if weight is an important factor but they can cost more than galvanized or stainless steel.
Stainless Steel Anchors are exceptionally strong and, when new, are bright and good looking. Downsides are high cost and potential for scratches and surface corrosion.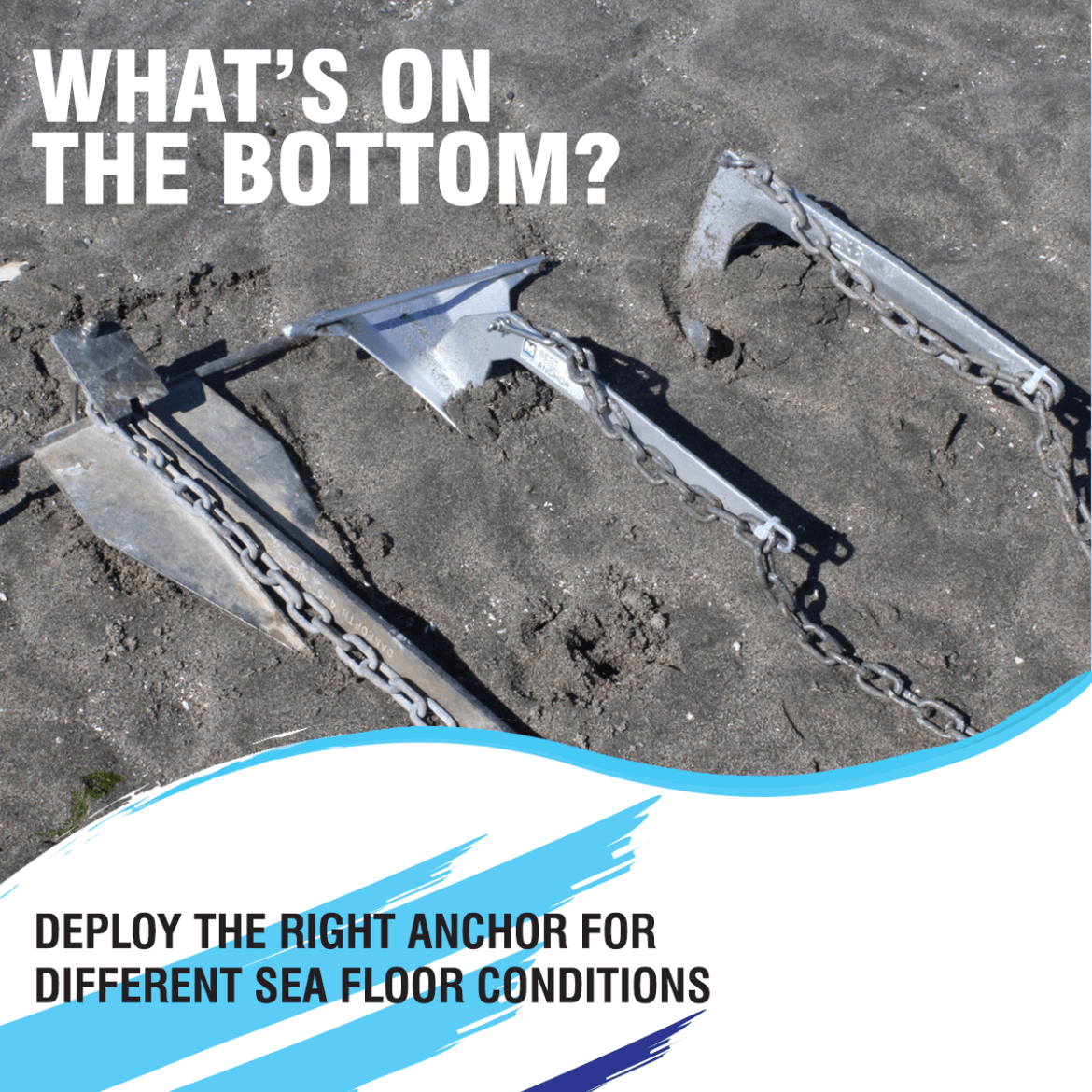 Rocks: The best option for rocky bottoms is a strong plow-shaped anchor that will hold firm on its point. Grapnel anchors are another option for smaller boats.
Mud: Anchors with wide angles and larger fluke areas that will plow through the mud to hold fast to the underlying material. Fortress anchors work exceptionally well holding in mud.
Sand: Anchors that work well in this type of material include scoop and fluke anchors.
Other: Heavy plow, wing and claw-type anchors often perform better than fluke anchors in shale, grass, or clay bottoms.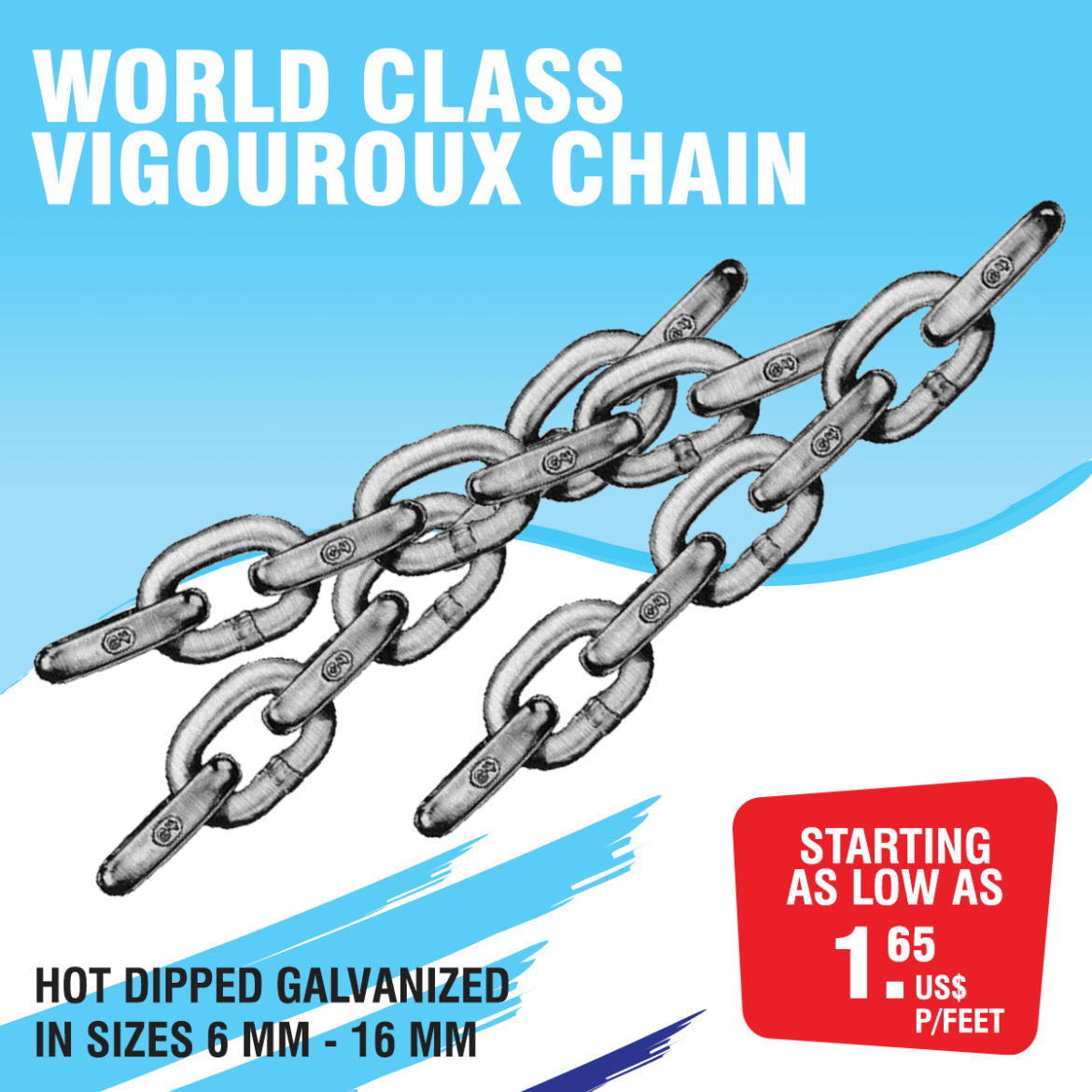 Hot Dip Galvanizing was developed over 50 years ago and is still the most prevalent finish for anchors and chain for motor and sailing yachts. It is not just a surface treatment. Hot Dipping in molten zinc forms a multi-layered deep-seated fusion with the steel which means that the natural abrasion caused by anchoring will only have a gradual effect. However, all galvanizing will eventually go rusty in a wet and salty environment, such as your chain locker.
Change your chain if it has lost more than 10% of the nominal diameter or shows strong oxidation. Clean it with fresh water after lifting anchor, avoid rubbing the links, don't use acids to clean it, and check your anodes regularly.