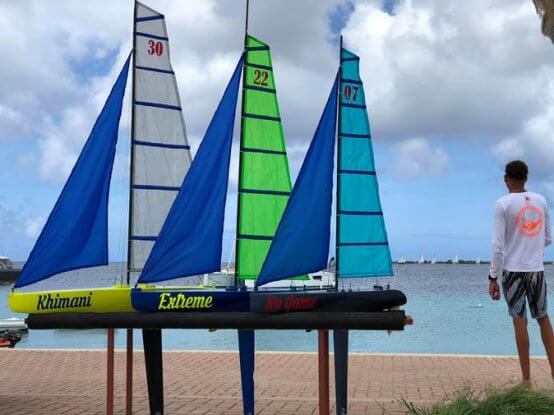 Kant'i Awa Snack is a small bar with a million dollar view on Bonaire's waterfront next door to the old Regatta house. The owner Gaston Chirino recalls the old days when the Regatta was about sailing and the community. The ambiance along the shore and in the water was the focus. But in recent years, that community inspired focus shifted to a big festival in town and lost a lot of its charm.
Having regular events for the cruisers Arnd Chirino, Gaston's nephew, and Jeamy Zaalman, now managing Kant'i Awa Snack together, have gotten to know many cruisers. They decided to organize their own Regatta on August 15th and 16th and were able to convince a large number of cruisers to race their homes! Nine yachts joined the sailing races with some very tight competition. The first three boats finished within one and a half minutes of each other after over two hours of racing! Ronnie Ramos, visiting from Puerto Rico on Campechano, offered his expertise to our start committee headed up by Viktor Wijnand, our race director, and Marjolein. They yacht Ventura sitting in the perfect position, was our start boat, hosted by Enzo and Patricia visiting from Chile.
It was really great to get the cruising community together with the local boats and the local people both on the shore and on the sea.
There were more than 90 competitors registered in total with all the Yachts, Beach Cats, Sunfish A, Sunfish B, Optimist A Optimist B, Kite Foils and Wind Surf Foils, And then in front of Kanti Awa there were the Micro Boats, kayaks, Stand Up Paddle boards and adults sailing the tiny Optimists.
Between races, everyone was treated to a great BBQ with plenty of drinks and music. The cruisers arriving on Bonaire are required to quarantine for two weeks prior to enjoying our island, so you know they are known to be Covid free, yet there was plenty of space for people to participate yet distance.
Micro boats are unique 30", 35" and 40" models of boats. Sails and rudder set they are released at the start line and must reach the finish without adjustments. With new excitement, there is talk of workshops to build new boats and challenges other sailors to dust off their old boats and join the next competition, the Bonaire Regatta in October! There will also be a workshop for cruisers to build mini-replicas of their own or other favorite boats as well.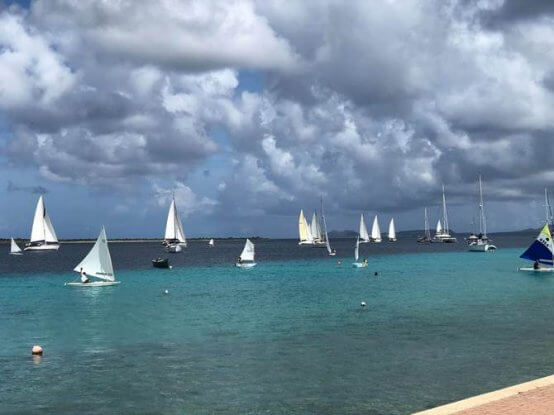 With not quite enough wind for the kiters and wind surfers, only the foilers found enough to rise to the occasion! Many of the Sunfish sported the colors of the flag with the Blue Destination sails from the 2019 World sunfish competition here on Bonaire.
Sunday afternoon completed the competitions with kayak, SUP and Optimist races for anyone to take part. Not only did they race, but, the SUP racers had to begin sitting, while the adults in the 'opti's had to begin in the water and get in the tiny boats without tipping them over. It was entertaining for all on shore for sure!
At the awards ceremony the winners were surprised with beautiful trophies hand crafted by Jopie Soliano. Throughout the weekend there was great music provided by Mimoun, DJ Marv, Kabes and more!
Besides those already mentioned above, Ton Nuijten, Alexander Tromp, Pamela Teitel, Kabes Soliano, Bon Sailing, BSSA Sailing Association and STINAPA were of a great help in organization and safety. Of course, without assistance and sponsors none of this could be possible; Alfa and Omega, Black Ice, Bondigro, Budget Marine, Budget Car Rental, Chirino Dental Clinic, Foster BV, JC Herrera, Jibe City, Kite City Bonaire, Now Immigration, Obersi Group, Ruxi Grill and Sweet Treats Bonaire all offered great support to make this a reality.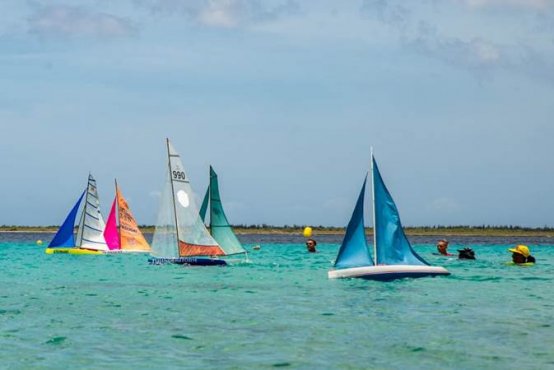 RESULTS
Cruisers: First – Taima1; Second – Piano; Third – Papyro
Beach Cat: First -Ton Nuijten
Kite Foil: First – Christiaan Zweers; Second -Pieter Sweers;
Third – Maarten Cicilia
Wind Foil: First – Nigel; Second – Hendrick; Third – Gilbert
Sunfish A: First – Sipke Stapert; Second – Alfred Ramon Martis (Yellowman);
Third – Ton Nuijten
Sunfish B: First – Kyren Ogenia; Second – Luca Davidsson;
Third – Aline Brommel
Optimist A: First – Gilbert Lai; Second – Paxienrocque Martis
Optimist B: First – Yemina Mary; Second – Noah; Third – Osdally Mary
Micro Boat 30": First – Everardo Janga; Second – Farid Ayubi
Micro Boat 35": First – Everardo Janga; Second – Farid Ayubi
Third – Farid Ayubi
Micro Boat 40": First – Farid Ayubi; Second – Everardo Janga
Third – Sandro Joosten
Kayak: First – Christiaan Elderson
SUP: First – Wijnand de Wolf
Adult Optimist: First – Walter Benschop