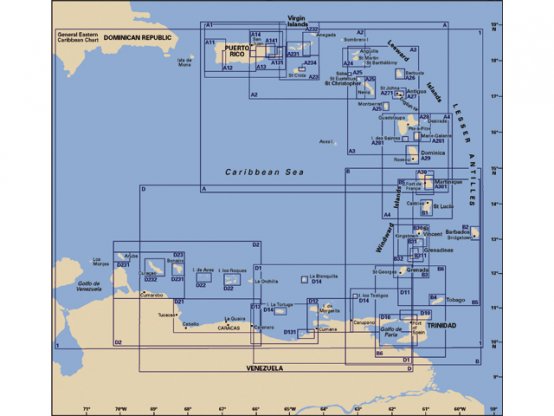 | | |
| --- | --- |
| Manufacturer Part No. | IMR/A28 |
| | |
| --- | --- |
| List Price: | Special Order |
Delivery Options:

Pickup In-Store Only

(FREE)
Product Description
Yachting Charts for the Caribbean Sea
For decades, the range of Imray-Iolaire charts has found favour with yachtsmen of all nationalities and is the standard requirement for sailing the islands of the Eastern Caribbean.
Imray charts were compiled by D.M. Street Jr., who has been sailing the Caribbean for the past 50 years. The charts are not damaged by folding. The back of the charts have sailing and harbour directions. They're the most widely sold charts in the Caribbean.
Imray-Iolaire charts are printed in colour and published in a standard size of 25 x 35.5 inches (640 x 900 mm). Most of the charts incorporate large scale plans of the most important harbours and anchorages within the areas covered. They are corrected to the time of dispatch and accumulated corrections for the entire series are published annually. Correction notices are also available on request from the publishers for individual charts. Previous editions cannot be corrected.
Imray charts are published on water resistant, foldable paper that can be drawn on with soft pencil or ballpoint pen. They can be ordered in two formats – an approximately A4 fold format that is supplied in a robust PVC wallet, or as a flat sheets. Check with your Budget Marine location as to which they stock, or can special order for you.
<< return to products
*Prices shown are tax exempt Sint Maarten prices, store prices may vary as a result of shipping cost and taxes, please contact a store close to you for location prices