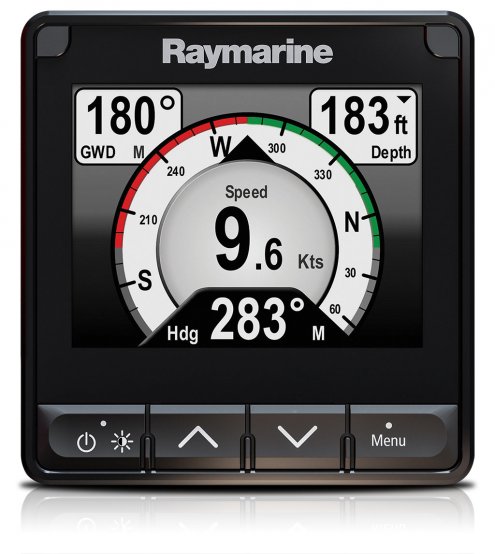 | | |
| --- | --- |
| Manufacturer Part No. | E70327 |
| | |
| --- | --- |
| List Price: | US$ 552.07 EACH |
Product Description
The i70s features a large, ultra-bright 4.1″ LCD screen with enhanced LED backlighting for superior visibility day and night. The LCD is optically bonded to the i70s' front window for high contrast and a wide viewing angle.
The i70s multifunction instrument is packed full of powerful features and is exceptionally easy to use. The i70s is compatible with SeaTalkng as well as NMEA2000 networking. User-selectable data source selection allows for easy integration on multi-sensor networks.
The i70s features a sleek, low-profile design complementing the latest Raymarine multifunction displays. Each i70s instrument ships with 2 snap-on bezel options in the box featuring the latest eS Series square-cornered design. One bezel is black, complementing eS and gS Series systems while the other is gunmetal (silver) to complement aSeries and eSeries MFDs. The i70s also includes a snap-on sun cover.
Compatibility:
p70 and p70R Autopilot Controllers have new bezel and sun cover accessories. These new square cornered bezels complement the i70s and eS Series multifunction displays, as well as the all-new matching sun cover.
Connectivity:
The new i70s instrument is equipped with a single SeaTalkng connector. When planning an i70s installation or replacing an older i70 instrument please make sure to use a 5-way SeaTalkng connector block or SeaTalkng T piece to connect the i70s instrument to a SeaTalkng or NMEA2000 backbone.
Software:
The software for both the existing i70 and the new i70s has been upgraded in order to be compatible with the p79S in-hull smart transducers – v3.06. Go to raymarine.com to download the latest i70 software.
<< return to products
*Prices shown are tax exempt Sint Maarten prices, store prices may vary as a result of shipping cost and taxes, please contact a store close to you for location prices