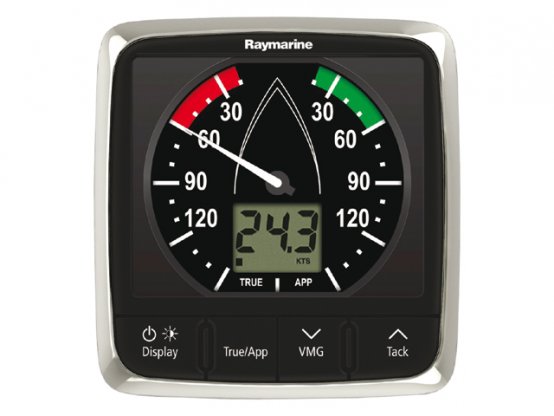 | | |
| --- | --- |
| Manufacturer Part No. | E70150 |
| | |
| --- | --- |
| List Price: | Special Order |
Delivery Options:

Pickup In-Store Only

(FREE)
Product Description
The i50 and i60 Instruments from Raymarine offer boaters an excellent combination of great looks, high performance and extreme value. Designed to accommodate either stand-alone or fully integrated installations, the i50 and i60 instruments feature Raymarine's exclusive SeaTalkng networking for simple installation and practically bullet-proof reliability. Each instrument offers extra-large digits and readouts, razor-sharp LCD displays and red backlighting for outstanding visibility in all lighting conditions. Both i50 Digital and i60 Analog Instrument displays are fully compatible with our i70 Color Multifunction Instrument too. Boaters can now customize their systems with any combination of monochrome LCD, color LCD and analog instruments as needed. Raymarine also offers the p70 and p70R Color Autopilot controllers which also match with our instruments and multifunction displays.
For the ultimate in flexibility the i50 and i60 Instruments support SeaTalkng and NMEA2000 CANBUS networking, as well as our original SeaTalk 1 networking. This makes upgrading older instruments a breeze. Connect your analog depth, speed and wind transducers directly to respective instrument display, or use the displays as repeaters for SeaTalkng or NMEA 2000 smart transducer data: the choice is yours.
i50 and i60 Instruments are designed to operate from 12V DC power, and are ultra-efficient drawing less than 1 watt as repeaters, or 2.4 watts while hosting a transducer. All of the i50 and i60 Instruments are waterproof to IPX6 standards.
Features:
Ultra-modern design complements Raymarine's latest a and c Series Multifunction display and instrument systems.
Large, crisp LCD displays with high contrast for excellent visibility.
Red backlighting for outstanding night-time visibility.
SeaTalkng, NMEA2000 and SeaTalk-1 Networking for maximum flexibility.
Built-in transducer connections on Depth, Speed, Wind and Tridata simplify installation.
Same mounting hole as older ST60 instruments
110mm x 115mm profile and 90mm circular cut-out
Fully compatible with i70S, p70 and p70R Color Instruments and Autopilots.
Raymarine's i60 Wind Instrument is a full featured analog wind display for cruising and racing sailboats, as well as large power boats. The i60 Wind Instrument features an easy-to-read analog wind direction pointer with high-contrast text and graphics and smooth response. Wind speed is indicated on the i60 Wind's integrated LCD display. The i60 Wind Instrument is available packaged with a Raymarine performance standard masthead transducer or a display-only kit is also available for adding additional wind instruments at remote locations.
The i60 Wind Instrument can calculate and display wind speed, wind direction, Beaufort wind speed, maximum wind speed, velocity made good (VMG), and tack. The i60 also offers alarms for high and low apparent wind angle, low true wind speed, and maximum true wind speed. When integrated with a compatible compass heading sensor or autopilot, and speed instrument (sold separately), the i60 Wind Instrument can calculate true wind speed and direction in addition to apparent. For this it needs boat speed input which can come from an i50 Wind or i50 Tridata.
<< return to products
*Prices shown are tax exempt Sint Maarten prices, store prices may vary as a result of shipping cost and taxes, please contact a store close to you for location prices