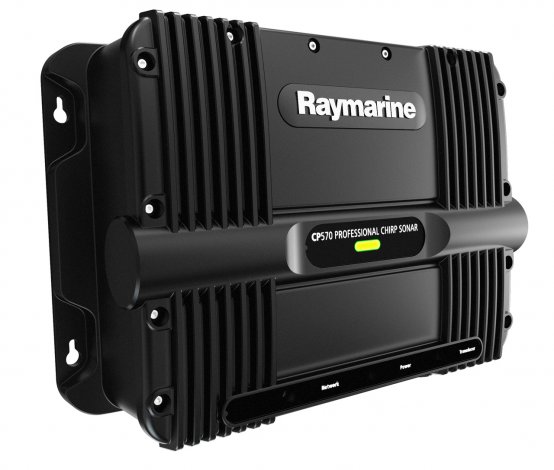 | | |
| --- | --- |
| Manufacturer Part No. | E70258 |
| | |
| --- | --- |
| List Price: | US$2,258.18 EACH |
Product Description
High-Performance Sonar Module For Professional & Tournament Fishing
Engineered for serious blue water angers, the new CP570 Professional CHIRP sonar brings cutting-edge blue-water sonar performance to Raymarine multifunction displays. CP570 features Raymarine's latest generation intelligent CHIRP signal processing, allowing the CP570 to see through dense schools of baitfish, identify thermoclines, and simultaneously target desired game fish with exceptional clarity.
Features:
•Smarter automatic sensitivity controls that let fisherman adjust the sonar sensitivity while intelligent noise filtering automatically reduces water column noise and enhances target separation.
•Raymarine's exclusive digital surface filtering reveals fish target throughout the entire water column.
•Two fully independent sonar channels deliver faster target identification and up to 4kW of combined output power.
•Target fish, identify bait, and track the sea floor down to 10,000ft. (3,000m) with two adjustable CHIRP sonar channels.
•Hunt for fish in different parts of the water column with the CP570's two fully independent 2kW sonar channels.
•The CP570's ultra-fast ping rate processing delivers accurate bottom tracking in extreme offshore conditions
Many different transducer options available. These include thru-hull, in-hull, dual element or single element pairs. Please contact us for details and prices.
<< return to products
*Prices shown are tax exempt Sint Maarten prices, store prices may vary as a result of shipping cost and taxes, please contact a store close to you for location prices