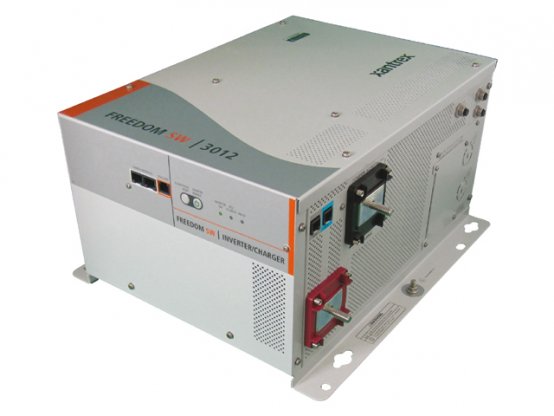 | | |
| --- | --- |
| List Price: | Special Order |
| | |
| --- | --- |
| Product code: | XAN/815-3012 |
Delivery Options:

Pickup In-Store Only

(FREE)
Product Description
True sine, high surge, wide temp and full featured, the Xantrex Freedom SW Series represents the most advanced and capable inverter chargers in the mobile market. Available in 3000 W with 150 A charger and 2000 W with 100 A charger, these units are packed with features like "Generator Support Mode" which enables the Freedom SW to supplement a generator when AC loads exceed the generator's capacity. They're stackable for extra power and with the ComBox accessory, data logs and system control can be pushed to your tablet or phone. Powerful enough to run air conditioning! With a powerful long term 2x surge and other industry leading features, the Freedom SW series will handle any boat power requirement. Also available in 24V.
Parallel and Series Stacking
Parallel stacking enables the Freedom SW inverter/chargers to double the AC output in inverter mode. Series stacking enables the Freedom SW inverter/chargers to generate 120/240 V split phase output.
Features:
Parallel stacking enables the Freedom SW inverter/chargers to double the AC output in inverter mode
Series stacking enables the Freedom SW inverter/chargers to generate 120/240 V split phase output
Temperature compensated charging for most climate conditions
Battery over-voltage and under-voltage protection
Can be used with AutoGen Start accessory, ComBox accessory
<< return to products
*Prices shown are tax exempt Sint Maarten prices, store prices may vary as a result of shipping cost and taxes, please contact a store close to you for location prices