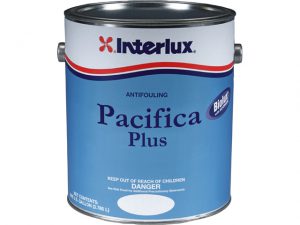 | | |
| --- | --- |
| Manufacturer Part No. | YBB260GL |
| | |
| --- | --- |
| List Price: | US$272.68 GALLON |
| | |
| --- | --- |
| Product code: | INT/YBB260GL |
Product Description
Pacifica Plus is designed for those looking for a copper free antifouling. Pacifica Plus is a dual biocide antifouling that uses Biolux® Slime Blocking Technology to combat slime and Econea® to ward off barnacles and zebra mussels. Because it wears away with use, the performance of Pacifica Plus is directly related to the amount of paint applied (thin film thickness may lead to premature fouling).

Features;
Outstanding Copper-free bottom paint.
Contains Econea™ to control shell growth and Biolux® Slime-Blocking technology.
Clean, crisp, bright colours.
Fast dry, low odor.
High solids, reduced solvent emissions.
Polishing action for improved fuel efficiencies which equals reduced Carbon Dioxide and Sulfur Dioxide into the air.
Suitable for all substrates, including aluminum.
<< return to products
*Prices shown are tax exempt Sint Maarten prices, store prices may vary as a result of shipping cost and taxes, please contact a store close to you for location prices