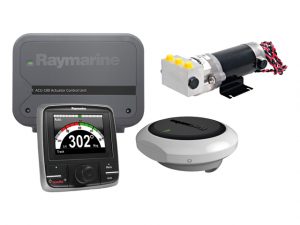 | | |
| --- | --- |
| Manufacturer Part No. | T70154 |
| | |
| --- | --- |
| List Price: | Special Order |
Product Description
Raymarine's Evolution Autopilot systems deliver remarkable performance, simple installation and zero calibration! They are available for cockpit pilots and built-in below deck pilots for both power and sail.
Evolution autopilots perceive their environment and then instantly calculate and evolve steering commands to maximize performance. The result is precise and confident course keeping, regardless of vessel speed or sea conditions.
The Evolution EV Ai sensor core combines an advanced 9 axis solid-state sensor with the Evolution autopilot processor into a single easy-to-install housing.
It rapidly monitors heading, pitch, roll, and yaw and has such processing power that it completely removes the need for calibration. This sensor is fully waterproof and can be mounted almost anywhere above or below decks. The Ai software in the high speed processor is able to learn the steering characteristics of your boat. It applies just the right amount of helm to keep your boat on course in all sea states, while keeping power consumption to a minimum.
The EV-100 Power Pilot brings top level steering performance to smaller, hydraulically steered power boats. The included 0.5 litre hydraulic pump is suitable for steering rams of capacity 50 to 100 c.c.
The p70R control head has a colour display and features a rotary knob for course setting. It can also be used as a power steering control. The Evolution EV Ai sensor core brings superior steering and requires no calibration after installation. It is waterproof and can be mounted above or below deck. 12 volt operation.
It includes:
0.5 litre 12 volt hydraulic pump for steering rams 50 to 100 c.c.
Waterproof EV-1 Ai Sensor Core
ACU-100 Actuator Control unit
p70 Control Head with colour display and SeaTalkNG connectivity
Cable kit
SeaTalkNG connectivity allows control from the p70 control head or from any networked a-series, c-series or e-series Multi Function Display
<< return to products
*Prices shown are tax exempt Sint Maarten prices, store prices may vary as a result of shipping cost and taxes, please contact a store close to you for location prices