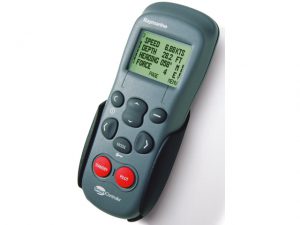 | | |
| --- | --- |
| Manufacturer Part No. | E15023 |
| | |
| --- | --- |
| List Price: | Special Order |
Product Description
Take command of your Raymarine Autopilot from anywhere onboard. Adds safety and convenience to your autopilot system. Never again be out of reach of your autopilot controls.
Combines wireless remote control of Seatalk autopilots with a wireless repeater for all your Seatalk instruments. Set a new course to steer or monitor vital instrument and navigation data in the palm of your hand. Big on features, the waterproof SmartController is lightweight and compact for easy handling. The bright backlit display and ergonomic keypad offer straightforward operation with access to up to eight user defined data pages. The SmartController features a rechargeable battery that provides up to two weeks of operation on a single charge! The convenient mounting cradle simply connects to any SeaTalk® network and automatically recharges the batteries from the SeaTalk® network power supply.Upgrading your network to wireless is fast and easy thanks to SeaTalk networking. Simply connect the included wireless base station into your existing SeaTalk network, and you're done! Up to 32 feet (10 meters) wireless operating range from the base station. Add extra base stations if you require more range.
Features:
Waterproof
A crisp, high contrast 64 x 127 dot matrix display
Backlit display and keypad
Up to eight user definable data pages
Single, dual or four line data displays
Graphical CDI (Course Deviation Indicator) display
Note: Requires RAY/E22158 Seatalk converter to use on Seatalk NG systems such as the Evolution.
<< return to products
*Prices shown are tax exempt Sint Maarten prices, store prices may vary as a result of shipping cost and taxes, please contact a store close to you for location prices