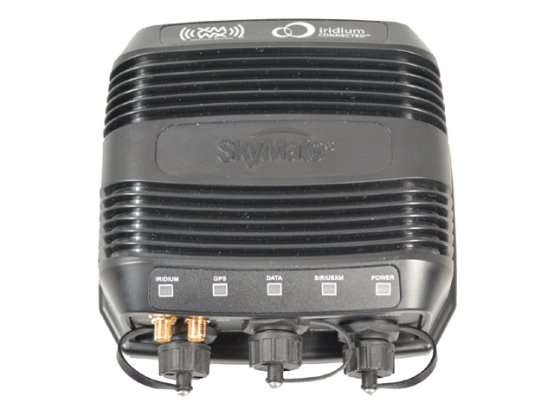 | | |
| --- | --- |
| Manufacturer Part No. | 1000-300 |
| | |
| --- | --- |
| List Price: | US$ 1,846.85 EACH |
| | |
| --- | --- |
| Product code: | SKY/1000-300 |
Product Description
Skymate have replaced the Skymate 100 Email System with i1000. The new unit has many advantages. It uses the Iridium satellite system. This system does not have any gaps in coverage, so it is truly worldwide. Email delivery is faster because the system does not need to wait as long for a satellite pass. The Iridium satellite network consists of 66 satellites giving continuous global coverage.
The i1000 has a much smaller antenna which eases installation. The antenna includes a GPS receiver which simplifies automatic position reporting and weather forecast delivery. The unit is also capable of receiving Sirius XM radio service within the Sirius XM service area.
The i1000 has built in WiFi. This means that email can be sent and received from any wireless device. So you can use any combination of laptop, tablet or smartphones. There is a control pad which indicates that a message has arrived even if no output device is connected. The control pad can also send an emergency (SOS) position message. Again it is not necessary to have a device connected in order to send an SOS. Power consumption is very low at less than 4 watts from 9 to 32 volts DC.
The included messaging interface is very simple to use via the web browser on the connected devices. There is no installation of software required and compatibility is assured for Windows, Mac, Android, iOS and Linux. Service is by subscription and costs are very similar to the previous system.
Request Weather on Demand Get real-time forecasts with NEXRAD Radar images or 24-hour NOAA charts whenever you want them. Plus, receive text forecasts and 5 day projections with details such as wave height, wind-speed & direction, and buoy reports. You can also set up automatic position reporting at whatever interval you choose. Position reports will be sent to your designated email addresses so that friends and family know where you are.
Choose a service plan to suit your usage:
Platinum Plan 50,000 characters for just $69.99 per month $1.40 per additional 1000 characters
Gold Plan 20,000 characters for just $34.99 per month $1.90 per additional 1000 characters
Silver Plan 8,000 characters for just $17.99 per month $2.25 per additional 1000 characters
DryDock allows you to maintain your account for just $6.99 a month
There is a one time activation charge of $99
<< return to products
*Prices shown are tax exempt Sint Maarten prices, store prices may vary as a result of shipping cost and taxes, please contact a store close to you for location prices