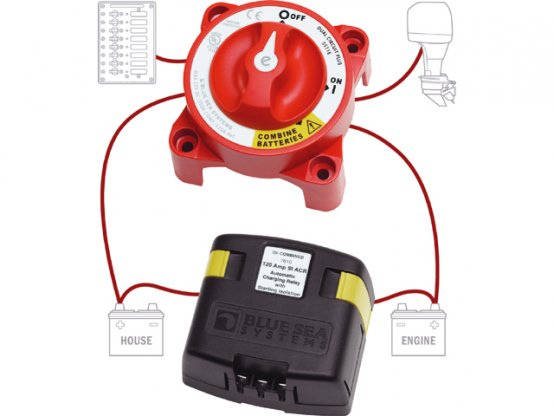 | | |
| --- | --- |
| Manufacturer Part No. | 7650-BSS |
| | |
| --- | --- |
| List Price: | Special Order |
| | |
| --- | --- |
| Product code: | BLS/7650-BSS |
Delivery Options:

Pickup In-Store Only

(FREE)
Product Information
Battery combiners contain voltage detection circuitry. When the voltage on one battery (often the engine start battery) rises above a preset level, a second battery or battery bank is paralleled with the first battery. The rise in voltage shows that a charge source is available and so both batteries get charged at the same time. When the voltage falls the link between the batteries is disconnected and the batteries are discharged individually. The advantage over battery isolators is that there is no voltage drop associated with the diodes in an isolator.
A complete two battery bank management solution containing BLS/5511E and BLS/7610.
Dual Circuit Plus™ Battery Switch isolates engine and house circuits, and combines battery banks for emergency starting.
The 120 Amp SI ACR automatic charging relay combines batteries for charging.
Full installation instructions included.
<< return to products
*Prices shown are tax exempt Sint Maarten prices, store prices may vary as a result of shipping cost and taxes, please contact a store close to you for location prices