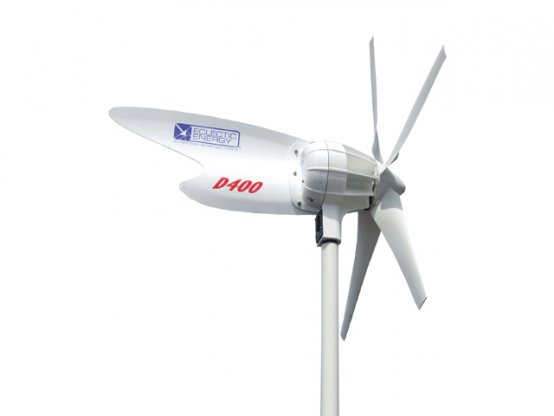 | | |
| --- | --- |
| Manufacturer Part No. | 80040 |
| | |
| --- | --- |
| List Price: | USD2,650.65 EACH |
Delivery Options:

Pickup In-Store Only

(FREE)
Product Description
The D400 Wind Turbine is designed from the ground up to solve all the problems inherent in other turbines. The 3-phase alternator is specially designed to produce maximum power without having to spin at very high speeds. The turbine blades are designed to match this moderate speed operation extracting the maximum amount of energy while remaining extremely quiet. High blade tip speeds are a major cause of turbine noise. The D400 avoids this problem with its lower tip speed and specially designed 5-bladed rotor.
Many turbines transmit low frequency noise and vibration through the hull of the boat. This is caused by increased turning resistance each time the rotor passes one of the alternator poles, an effect known as "cogging". The D400 uses an axial field, ironless rotor which means there is no cogging and hence no transmitted vibration. The D400 alternator uses large, powerful magnets and heavy copper windings which allow it to produce high power at lower turbine speeds.
The highest quality, corrosion resistant materials are used throughout. This ensures a long, trouble free operational life in the tough marine environment.
Features:
Silent and vibration free
Highly efficient and productive at all wind speeds
Low maintenance "fit and forget" engineering
Attractive, visually pleasing design
Robust construction, corrosion resistant.
Note: To avoid overcharging the batteries and over-speeding the turbine, a shunt type regulator must be used.
The recommended regulator is LVM/6TB12 (24 volt LVM/6TB24)
<< return to products
*Prices shown are tax exempt Sint Maarten prices, store prices may vary as a result of shipping cost and taxes, please contact a store close to you for location prices