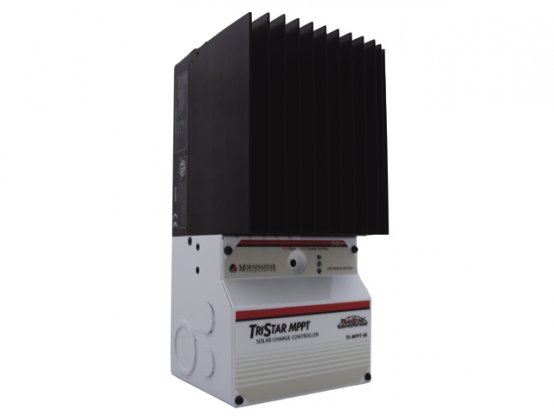 | | |
| --- | --- |
| Manufacturer Part No. | TS-MPPT-45 |
| | |
| --- | --- |
| List Price: | Special Order |
| | |
| --- | --- |
| Product code: | MST/TS-MPPT-45 |
Delivery Options:

Pickup In-Store Only

(FREE)
Product Description
Morningstar's TriStar MPPT solar controller with TrakStar Technology™ is an advanced Maximum Power Point Tracking (MPPT) battery charger for off-grid photovoltaic (PV) systems up to 3kW. The controller provides the industry's highest peak efficiency of 99% and significantly less power loss compared to other MPPT controllers.
The TriStar MPPT features a smart tracking algorithm that maximizes the energy harvest from the PV by rapidly finding the solar array peak power point with extremely fast sweeping of the entire I-V curve. It is capable of charging battery systems up to 48 volts. It can charge 12 volt systems from higher voltage solar arrays such as the Solar Innova 190 watt panels.
Robust thermal design and no cooling fans
Parallel circuit design provides less stress and longer life for electronic components
No mechanical relays
Extensive electronic protections including PV short circuit protection
Epoxy encapsulated inductors and conformally coated printed circuit boards
An optional monitoring panel or PC interface can be fitted. This monitor shows state of charge, charge current, total amp-hours. It logs system data, provides diagnostics and records equalization cycles.
<< return to products
*Prices shown are tax exempt Sint Maarten prices, store prices may vary as a result of shipping cost and taxes, please contact a store close to you for location prices