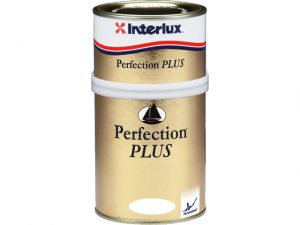 | | |
| --- | --- |
| Manufacturer Part No. | YVA950KITQT |
| | |
| --- | --- |
| List Price: | US$ 125.95 QUART |
| | |
| --- | --- |
| Product code: | INT/YVA950KITQT |
Product Description
A high performance clear polyurethane, offering multiple solutions from one product, Perfection® Plus delivers the ultimate in clear wood coating performance. The chemical cure urethane formulation combines with a best-in-class UV and HALS package to offer outstanding chemical and abrasion resistance and superb gloss and gloss retention that lasts four times longer than conventional one-part varnishes.
Exceptional gloss and gloss retention. Interlux's top-of-the-range clear urethane/varnish.
Fully compatible with oily woods like teak and iroko after adequate degreasing and substrate preparation
Chemical cure gives resistance to fuels, oil and mild acids and alkalis
Up to four times longer service life than ordinary varnishes
Can be used in combination with Perfection Finish as a glaze coat (when professionally sprayed) to increase flow, leveling and durability.
<< return to products
*Prices shown are tax exempt Sint Maarten prices, store prices may vary as a result of shipping cost and taxes, please contact a store close to you for location prices