In today's modern sailing world one of the most integral parts of a boat is the electrical system. The amount of electronics available for sailors has increased exponentially in recent years, all of which require adequate power. Ten inch touch screen chart plotters paired with refrigeration units and inverters needed to charge the copious amounts of personal gadgets all take tremendous strain on a boat's DC system. While boat owners upgrade their power generating devices they may overlook basic factors such as the size of their battery banks and the wires that distribute the power. With increased load comes a need for increased storage and distribution. Batteries have come a long way as seen with companies such as Mastervolt that now supply lithium ion batteries for decreased charge time and increased load. These are out of the question for many people at the moment but it will no doubt become standard in the near future.
With the increase of electrical units onboard wiring has become out of control. Boats now have lines and lines of wires for all sorts of things that run to and from the batteries or breakers or fuse boxes or control panels. Most boats now have both AC and DC resulting in two complete sets of wiring and the addition of generator and shore power units. All these systems are comprised of delicate and corrosive materials. The enemy of the modern sailor is not so much the boat and rig but the maintenance of its electrical components: salt=corrosion.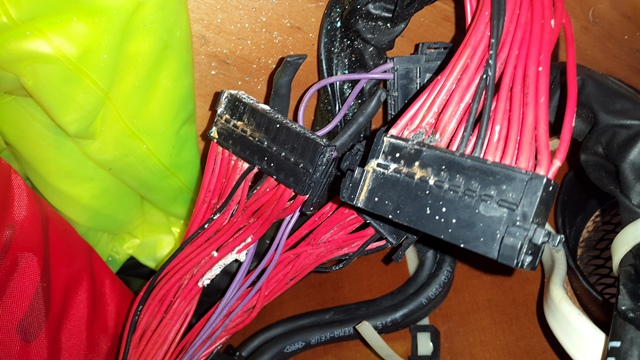 Corroded Connector
It is in any long distance sailor's best interest to have a good understanding of his systems, how they are wired, and how to troubleshoot when a problem arises. Recently my water maker's low pressure pump died. This meant no water maker for our South Atlantic crossing as we were planning to leave in a couple days. I dismantled the pump and removed the pump head establishing that the motor was still fine when bypassed. A new pump head is around $300 but after a good look it was obvious that only the pressure switch on the head had gotten wet with salt water and corroded. The switch proved to be removable and a replacement cost $3. The switch was not vital for the use of the pump (as it could be bypassed) but it is always better to fix a problem rather than postponing it.
Repairing Waterpump
As boats get older their wiring starts to deteriorate whether you like it or not and spare wire with crimp connectors and a soldering gun are a must have. Self-amalgamating tape is a great way to protect your splices or connections but old fashioned electrical tape works well too. Many times one cannot apply any plastics over a fresh connection so a healthy dose of heavy duty corrosion inhibitor is a great way to cover it. On top of that, I believe in going over all your connections, whether behind a switchboard panel or your battery terminals, with corrosion inhibitor every so often to keep the grease nice and thick.
Max Loubser
Ready Set Sail