Having the right gear and equipment isn't going to turn you into Jimmy Spithill over night, but it will make a difference in your race results. From electronics that help you hone your skills, to apparel that protects you from the elements, there are all kinds of equipment that can help you to cross the line first and still be able to enjoy the parties afterward.
Electronics for Training and Racing:
It used to be that tactical sailing electronics were the domain of rich and famous racers. Now there are a variety of much less expensive GPS enabled starting and tack assist tools that almost anyone can afford. They all have a start mode to help you to optimize your position at the start, and in race mode can help you to be on the right tack at the right moment to help you to cross the finish line first. It takes some training to really optimize the use of these tools, but you will find that they are themselves great training tools for sailboat racing.
The most simple to use, but very advanced race timer is the Velocitek Prostart, with its combination of accurate GPS, rapid updates and clever software. Velocitek was for several years a benchmark for GPS racing compasses/timers. They've pared down the Prostart to the basics to make this easier to operate and very reliable. This unit gives you easy to read time to start, distance to line, speed over ground, course over ground, and a graphic wind shift indicator. The Velocitek website has great a great demo video as well as reviews.
With its acquisition of Tack Tick, Raymarine became the leader in wireless electronics for racing. The Micronet range from Raymarine includes tactical race instruments for boats from dinghies to racing yachts. The ability to wirelessly connect Micronet instruments and transducers can give you one point access to all the data that you need to improve your racing performance. The accuracy, reliability, large easy to read displays, easy installation, and almost limitless power with solar charging make these instruments must have sailing tools.
We use both the Velocitek Prostart and the Raymarine Race Master on our Melges 24. We enter a virtual start line on the Prostart for use as a starting tool, and use the Race Master during the race for tactical data. These tools have helped us to win races throughout the region – and if we can blow our own horn a little bit, we've won a lot of them.
Garmin has also entered the race, so to speak, with its Quatix Watch. The Quatix gives some of the same racing tools in a GPS watch with many other features. Actually, it's easy to forget to mention that it tells time when describing the features of the Quatix. It is a very good tactical sailing watch, with a start line countdown timer and tack assist mode, as well as tide information, altimeter, barometer, and 3 axis compass. It can stream NMEA 2000 data, and act as a Garmin Autopilot remote control, a MOB alarm, remote control for the Garmin Virb HD Action Camera, and it shares data via ANT+ or WiFi with compatible Garmin electronics and other mobile devices. Look at these videos for more info.
Hi tech is never going to be an alternative to things like tell tales, wind indicators, a good boat and sailing skills, but these gadgets are a great way to up your game – and they're kind of fun too.
Don't dress like a tourist:
It isn't about style – although our technical apparel is stylish. Ending the day with sunburn, bruises, or chafed palms is no fun. Good gloves, padding, deck shoes, sun protective clothing and sunglasses are something we take very seriously, that's why we carry Gill products.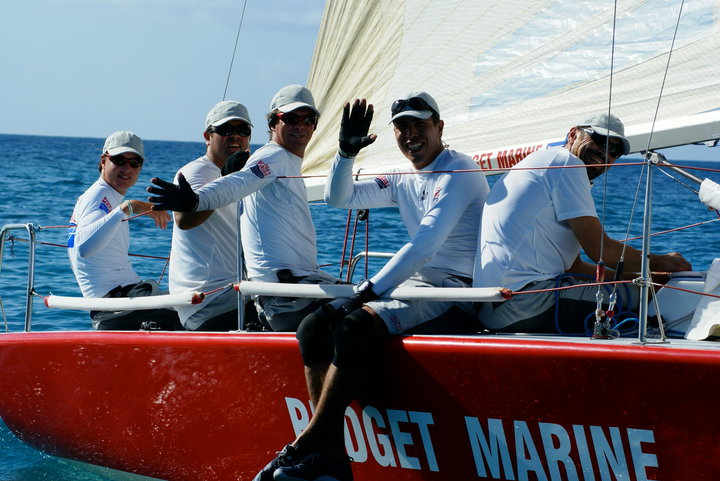 If you have raced enough, you are already aware of the difference that the right pair of sailing gloves makes. Gill gloves are our favorite, with a selection of long and short fingered gloves that are perfect for different sailing and racing applications.
Most of us are very aware that the Caribbean sun can be brutal. When you are racing with no shade, and with wind, salt spray and sweat magnifying the effects of the sun, you need to be especially careful. The best first line of defense against the sun is UV protective clothing, hats, and sunglasses. Gill technical apparel is designed to keep you safe from the sun, cool when it's hot, and warm when it's not. Hats, visors, and floating sunglasses round out your race wardrobe.
Cheap sunscreens can be a pain – literally. They often contain oils and chemicals that, when they get in your eyes can cause burning and make it pretty hard to see. You really need a sunscreen that stays on, provides maximum protection, and isn't going to blind you if it does get in your eyes. We went looking for the perfect sunscreen, and we think we have found that perfection in the Sol sunscreens that we carry. They are gentle, long lasting, and more waterproof than anything we have tried.
Salty wet shorts and soggy shirts make for chilly nights if you don't have a change of clothing for the evenings' festivities. It might be fun getting wet during the day, but once the sun goes down it's not fun feeling soggy and cold. A dry bag makes it easy for you to put your clothes out of the way when you are racing and have them handy for a quick change afterward. Like that you waste no time and can jump into the fun straight away!